No wonder there's a permanent McCafe out the back of The Block - for the contestants, producers, tradies and workers, caffeine is just about the ONLY thing getting them through the show's punishing schedule. But, this year's there's one couple bucking the trend, going au naturale each morning - Josh and Elyse. They're steering away from caffeine, preferring instead, to down a green smoothie to pep them up, and get them through the day.
"We have a smoothy bar, Green Remedy, down the road, so I am in there every day, or every second day, getting smoothies for all the trades, and myself," says Elyse. "I want to keep them all energised, so I'm, like, 'Drink this green smoothie now!'
So what exactly is in these magic potions?
"I don't even know," Elyse laughs. "Lots of greens! I tell them to pimp it up with as much green super foods as possible, so lots of spinach, kale and all sorts."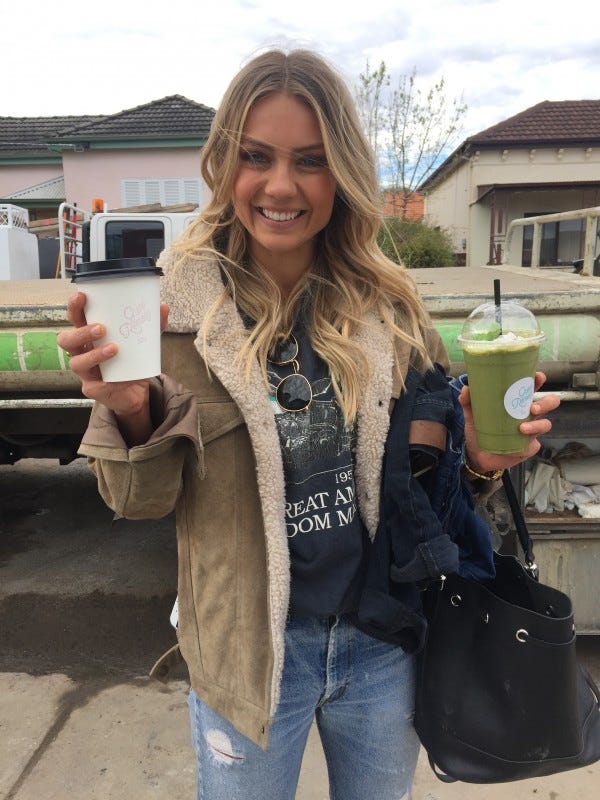 Elyse, a model, and her chippy boyfriend both know how important it is to stay well during their time on The Block, and to try to maintain a positive mindset - even if someone's just racked thousands off your budget (we're looking at you, Ronnie and Georgia!)
"Being happy and putting a positive smile on your face as soon as you wake up [is important]," says Elyse. "You have this amazing opportunity, and you really have just got to make the most of it, and capitalise on that situation, because you are never going to have it again."
Elyse says she tries to eat healthy as much as possible, and is determined to keep up with her exercise regime - even if she's not finding too much time at present.
"Keeping fit is probably the hardest element,' she admits. "I try to get to the gym usually at the start of the week, because at the end of the week I have no time whatsoever."
Elyse's Favourite Green Smoothie Contains:
Pressed organic green apple juice
Coriander
Mint
Cucumber
Lime
Kale
Banana
Mango
SaveSave
Did you like this blog? Subscribe to our newsletter to be the first to receive news from The Block! Subscribe now to receive $20 off your next order.