It's been a year since The Block Brighton...we catch up with the 2020 Block winners Jimmy And Tam

We catch up with Jimmy and Tam and their daughter Frankie from their new home in Noosa hinterland.


It's been a year since The Block Brighton… how fast has that gone?
Time has just flown by, it's unreal to think that The Block 2021 is already on TV. It's kind of like after having a baby and they grow up really fast and you're not ready yet, haha!
What are you up to these days?
We have been very busy, life hasn't stopped really. We have just finished shooting another TV show called Renovate Or Rebuild which we are super excited about. This show was a lot of fun to make with some other past Block couples so you will have to keep an eye out. We also started our own Interior Styling and Design business and did our first big job for Sunshine Mitre 10 Nambour which was a funky lunch room and a memorabilia boardroom. It was so exciting to be able to be creative and come up with some amazing spaces for such an awesome business. We are also in the process of Jimmy starting his own plumbing business, so a lot….
How has life changed for you since then?
Our life is completely different now. We work for ourselves and have our fingers in lots of different pies you could say. We have worked really hard to form great relationships with many people in our new industry and really put ourselves out there. It hasn't been easy but we are really proud of the connections we have made and friendships we have formed.
How long did it take for life to get back to normal?
It took a while to get back to normal were not going to lie, actually I don't think life ever got back to normal. Life now is the NEW normal…..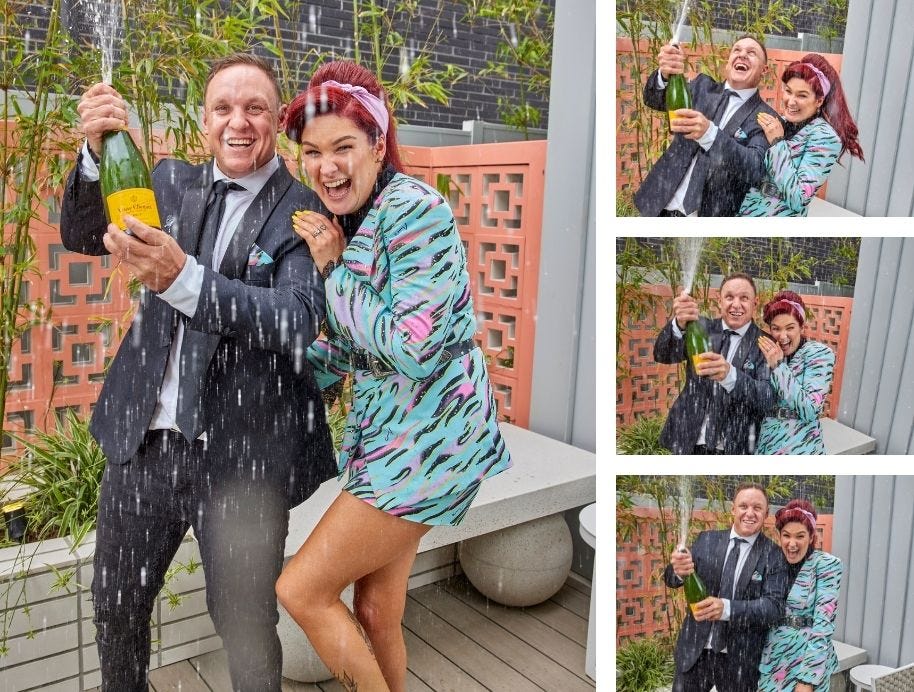 Jimmy and Tam walked away as Block winners in 2020 with $966,000 profit, PLUS $100,000 prize money = a record-breaking $1,066,000!


What's something that has changed forever?
Winning the amount of money we did has set us up for life and we are so so very grateful. It has changed our lives forever. We get to bring up our daughter near her grandparents in a beautiful little town that we never thought was possible for us.
Have you been doing any reno work since then?
We have not and we are itching at the bit to do something. We have done some "work" renovations but it doesn't count, when you're doing your own house it's that much more special.
Has your trademark style changed since The Block?
Funny you say that, but 50's really wasn't our design style before going onto The Block, maybe Tam's dress sense a bit but not design style. But now, we are IN LOVE with anything mid-century! After spending so much time doing that "trademark" style our appreciation for all things mid-century has grown immensely. We also don't pigeonhole ourselves to that style and can adapt to any other styles out there.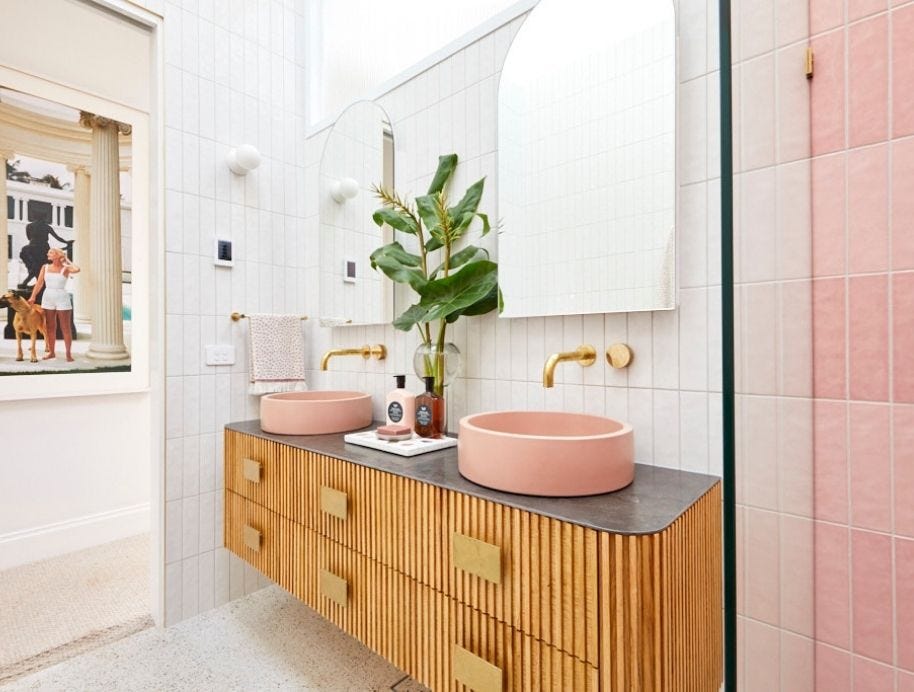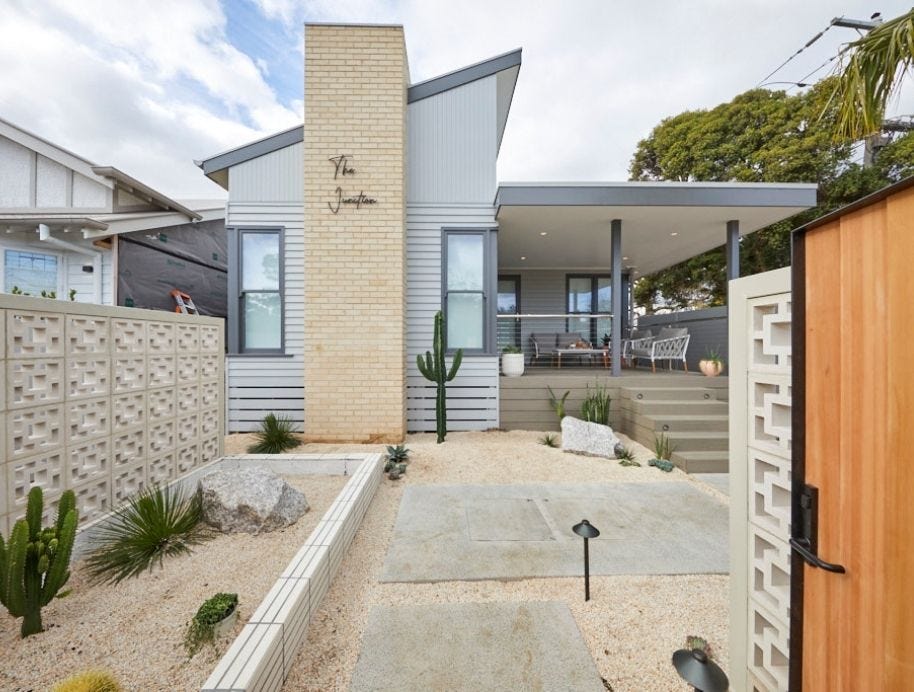 "After spending so much time doing that 'trademark' style our appreciation for all things mid-century has grown immensely," Jimmy tells The Block Shop.
Are you still living in the same area?
No, we have made the move to the beautiful Noosa Hinterland Yay! We had Frankie enrolled in a school in Brisbane and one day thought what are we doing? We want to be in Noosa! So we bit the bullet and did it. We have been living with Tams parents since January so it's been a long road but we finally bought our own home. We are so excited to start our next reno journey as the beauty we bought has so much character and needs a bit of TLC.
Do you keep in touch with the other Brighton Blockheads?
We do keep in contact we have a group chat that we all chime in on every now and then to keep up with what everyone is doing and how they are going.
Do you have any Block besties?
Luke and Jaz - These two humans are our people. We formed a very special bond with them and we feel so lucky to know them. Our Block experience would have honestly been so different without them. We would stop every night to have paint breaks with them and a few beers and wines which helped massively.



Block besties Jimmy and Tam with fellow contestants Luke and Jasmin.
So now you're back on the couch, what's it like to watch the new teams take on their Block journey?
There is mixed emotions, we are excited for them and can see all of their drive and ambition but also know how much of a toll mentally it plays on you. We aren't going to lie watching it back is so much harder than doing it. They should all be so proud of themselves because it's something pretty special they have just achieved.
Can you believe a new crew are following in your footsteps?
Yes, we can and we love it! Go for it we say. We love that there are new contestants giving it there all.
What advice are you yelling at the screen while you watch?
Keep your fridge stocked with food for Keith and Dan (especially Dan!) and don't argue with them because they will make your life harder. Also, worry about your own house, getting involved with everyone else's drama just makes your situation harder.
Would you do it again?
That's an interesting question which we get a lot! No, we have already won a lot of money and are so so lucky to be in the position we are in so we would want other everyday Aussies just like us to have that chance. But if there was a charity Block where we teamed up with other couples then maybe, because we loved the experience!

We think the beautiful Noosa Hinterlands life suits you guys perfectly! (photos: @jimmyandtam Instagram)
Take a look back and Jimmy and Tam's winning Block home HERE


Catch up with other past Block contestants HERE