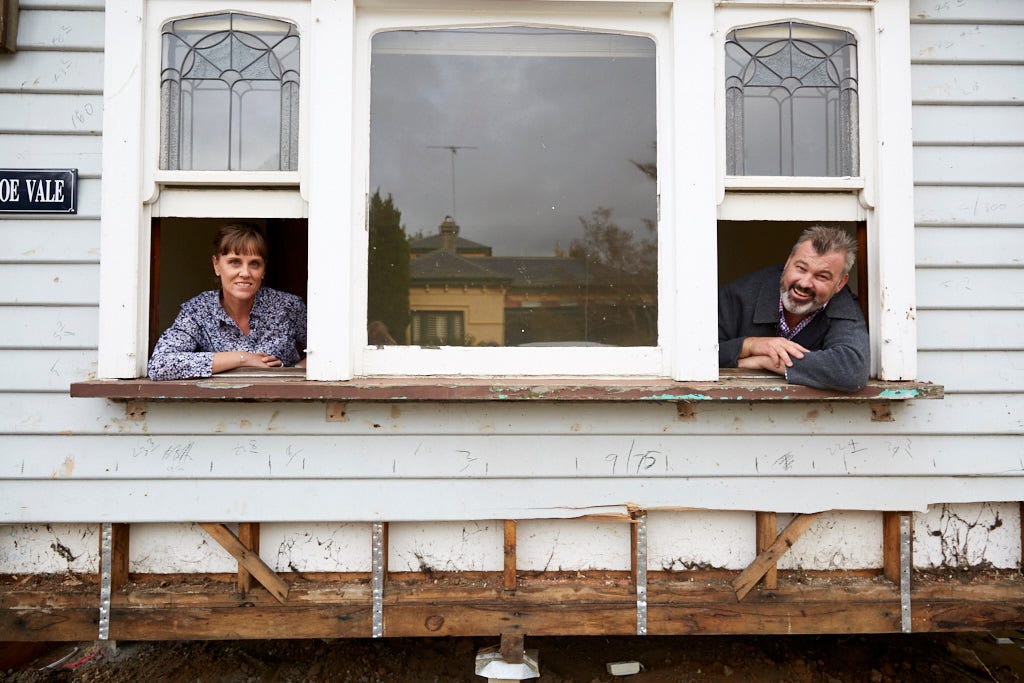 Ahead of tonight's auction, we catch up with Sarah and Jason, who have come from behind to be very real contenders in tonight's finale. And Jason says it's all thanks to his hard-working wife
So, how are you feeling today?
Jason - We are a bit nervous.
Sarah - But whatever is going to happen, will happen, so I feel OK.
Still, it's all pretty nail biting…
J - It is. But we are really proud of what we have created and we believe in what we have built - and especially Sarah's design, from the front of the house to the back.
She has done a great job of bringing it all together…
J - She has. And I think it clearly stands out. And as nervous as we are, I believe we have a product that people want - and that's the most important thing. I must say, that was Sarah's vision from day one…
Many commentators have you neck-and-neck with Josh and Elyse - how does that make you feel?
J - It's extremely gratifying to realise that this house is as good as it is. But quietly knowing that, is great. I am extremely proud of what Sarah has built here - it's been something she's put together from her heart. And I think this is why people walk in here and go, 'Wow.' The house feels like a home. And that's thanks to Sarah.
/media/blog/Block_Auction_2017-41.jpgJason & Sarah The Block 2017 Auctions with kids Henry, Greta & OscarJason & Sarah prior to The Block 2017 Auctions with kids Henry, Greta & Oscar
So, if you do win, what will you do with the money?
S - I don't want to think about it.
J - I hope everyone today, at the end of the day, gets what they want from being on The Block. It would be a really nice thing if everyone walks away with a smile on their face - that is what we are hoping for. How it pans out is impossible to know.
Do you know how many bidders you have?

J - There are lots of people who are interested, but serious bidders are few and far between for most people. Yesterday afternoon we had twelve. And this morning Jeremy, our agent, told me there had been quite a few more.
S - But those twelve aren't just for us - they may be for everyone. So it's hard to know who is really serious about buying your house.
Has it all been worthwhile, even if you walk away with nothing?
J - The experience we have had, and the people we have met...
S - It's an amazing opportunity. And we are very, very grateful for it. We wouldn't change a thing. Whatever happens, happens. But it's always a risk. It's happened before, that no one has made money, or very small amounts. But we know that's a possibility. And we just have to hope for the best.
Sarah, would you want to go on and style properties for a career?
S - I would. I have always loved design and interiors. We live in an unfinished house, so my fantasy life is in a magazine. I love design and style. But most of all, I like to really think about the functionality of the house - it's not just about fluffy cushions, it has to work.
What do you love most about your finished home?
It's very light and airy and bright. I love natural light. I want to be inside a house, and feel like I am outside. I love the light well in our hallway.
To have a look at more pictures of Sarah & Jason's house please click here...
Did you like this blog? Subscribe to our newsletter to be the first to receive news from The Block! And subscribe now to receive $20 off your next order.