Dani Wales from The Home Journal talks to Jenna about her time on Reno Rumble.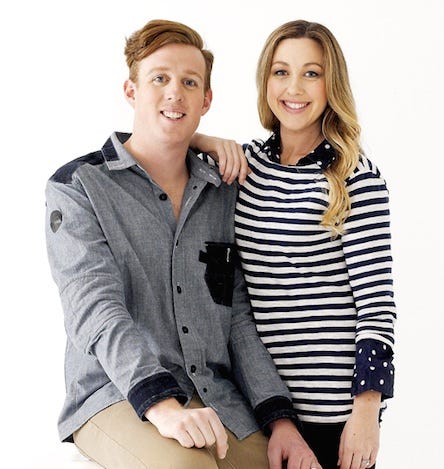 On the back of the disappointing end to their time on Reno Rumble, I caught up with Jenna to find out more about their experience, what's next for the talented couple and who her and Josh would like to see win.
Well, it was an intense judging session on Reno Rumble last night. And to be honest, I'm a little annoyed about it. As much as I like what the Blue Tongues put together – it was not offensive, and all fixed items were neutral and easily restyled, I felt the Redbacks space was much better resolved.
I liked so much about their house and disagreed with the judges on so many aspects. It's easy to be bias as Josh and Jenna are my friends, however I genuinely felt that together with Kyal and Kara, they produced the house that should have won, and taken them into the grand final.
Losing by ½ a point is a killer, and that half a point potentially came down to a technicality. That technicality being the judge's comments about the bathroom being in the wrong spot, and that it should have been where the guest bedroom was. If that was the case, if would have meant that the guest bedroom would have had no windows and therefore would not meet the NCC for natural light in a habitable space. Surely the judges were aware of this, no?
Anyway, with a brief of understated elegance, it would be very easy to take this too far down the "elegant" path and vice versa with the "understated" portion of the brief. However despite the many setbacks throughout the week, as always, the super K's and talented J's came through with the goods come reveal time, and delivered a beautiful home in one of Melbourne's real estate hotspots, Kingsville.
On the back of the disappointing end to their time on Reno Rumble, I caught up with Jenna to find out more about their experience, what's next for the talented couple and who her and Josh would like to see win.
Congratulations on such an amazing job throughout the series… Can you sum up the experience in one word?
RIDICULOUS
What made you want to come back and take part in Reno Rumble?
We wanted to raise money for charity (JDRF, Juvenile Diabetes Research foundation) as Josh was diagnosed with type 1 diabetes 2 years ago.
Which house and/or week was your favourite?
The first week was our favourite as we had all the Redbacks on our team at that point. Our favourite house was probably the Northcote house with a brief of "Vintage with a touch of modern". The house had such a beautiful cottage feel, even before we started work. After we had finished, we felt we had created the perfect family home. We loved designing and installing all the little bespoke details like the leather handles, custom dowel sideboard and Maggie's room.
Which brief did you like working to the most?
We loved the "Mid-Century modern/American" brief in the Yarraville house. Using timbers mixed with modern furniture was really fun.
Which couple did you enjoy working with the most?
We loved working with Kyal and Kara. Josh and Kyal worked great onsite together whilst Kara and I organised all the fixtures, fittings and furniture for the homes.
Which couple did you feel was your biggest competition throughout?
Kyal and Kara are definitely one of the most talented. It always worried us a little knowing that we could be up against them in the final.
What was your biggest hurdle?
Making quick decisions on the first day that we saw the homes. All of those decisions that we had to make affected the layout and design for the rest of the week. Most of them couldn't be changed so we always hoped we could pull it together for reveal.
Can you compare Reno Rumble to The Block at all?
Reno rumble was way harder. Having to do 1+ completed bedroom every week in the first 48 hours, then the rest of the house within the next 72… Ridiculous! In saying that the team aspect really made up for the stress and it made it a lot more fun.
What have you taken away from this experience?
We have made some great friends, extremely good trade contacts and have learnt a lot about ourselves. We've also got some extra little renovating tips and tricks!
Who would you like to see win the competition?
Ayden and Jess because they're original Redbacks! They are genuinely amazing, caring people who deserve all the good things coming their way.
What's next for Josh & Jenna?
We are focusing on our house renovation/build in North Melbourne. We hope to make a start by the end of this year but are currently waiting on a VCAT date in July. Can't wait! We are really excited about our plans and design.
To read more from Dani Wales at The Home Journal, click here.