The follow up to the Vogue Living feature of the newly renovated home of two of our very own Blockheads, Executive Producer Julian Cress and his Block-shopper wife, Sarah (Fan/Feb '17 issue). Part One of this story can be found here.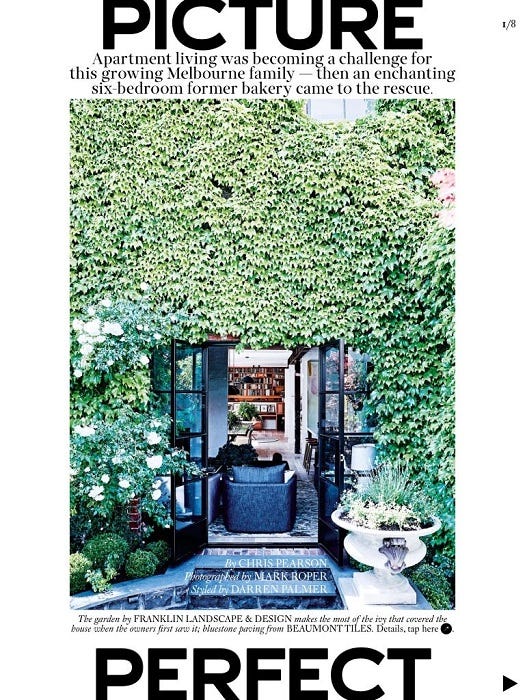 We noticed your bathroom towels are from The Block Shop… What other pieces have you collected at work?
You could say working in the online retailing business is dangerous for the bank account! I constantly come across beautiful things which I'd like to have in my home! I use MUCH willpower all day, every day. Sadly I don't exercise the same restraint for chocolate biscuits.
Unfortunately you can't see some of the beautifu things I've collected from The Block Shop over the years because they weren't in the right position on the day of the shoot! I have a couple of gorgeous Anika & Carter wall hangings in the dining room, beautiful planter boxes by Stix&Flora in the living room, towels by Sunday Minx in the ensuite, a cake tray and candles sticks by Bendo in the pantry and Angus & Celeste's hanging planter's in the book case.
Here's a list of BLOCK SHOP items you can see in Vogue Living: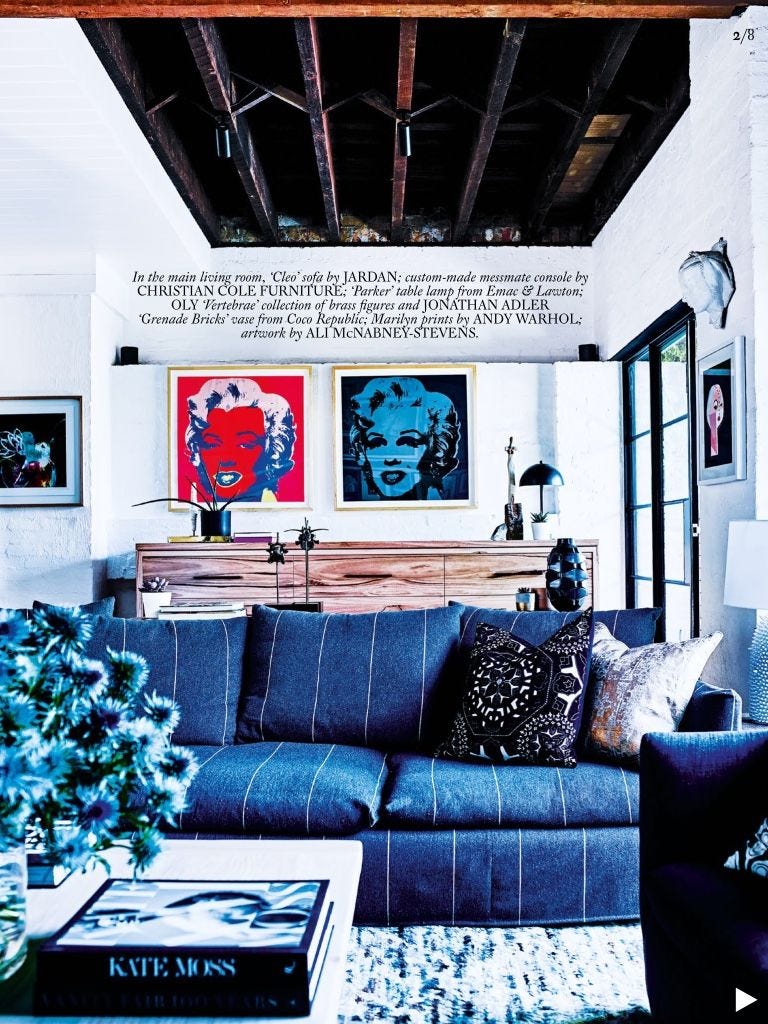 Protea and Blue Bowl Artwork by Ali McNabney Stevens
Assorted planters on console by Coral & Herb
Shell sculpture on console by Raw Decor
Timber Candle by Inoko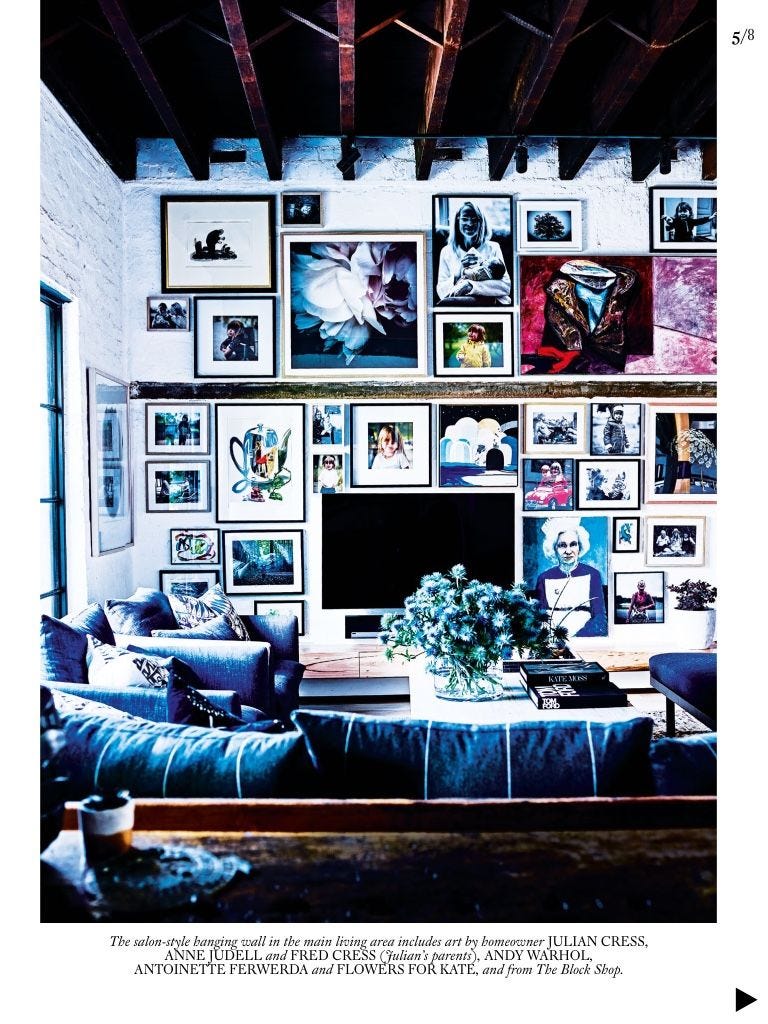 Artwork above TV by Antoinette Ferwerda
Flower artwork by Flowers by Kate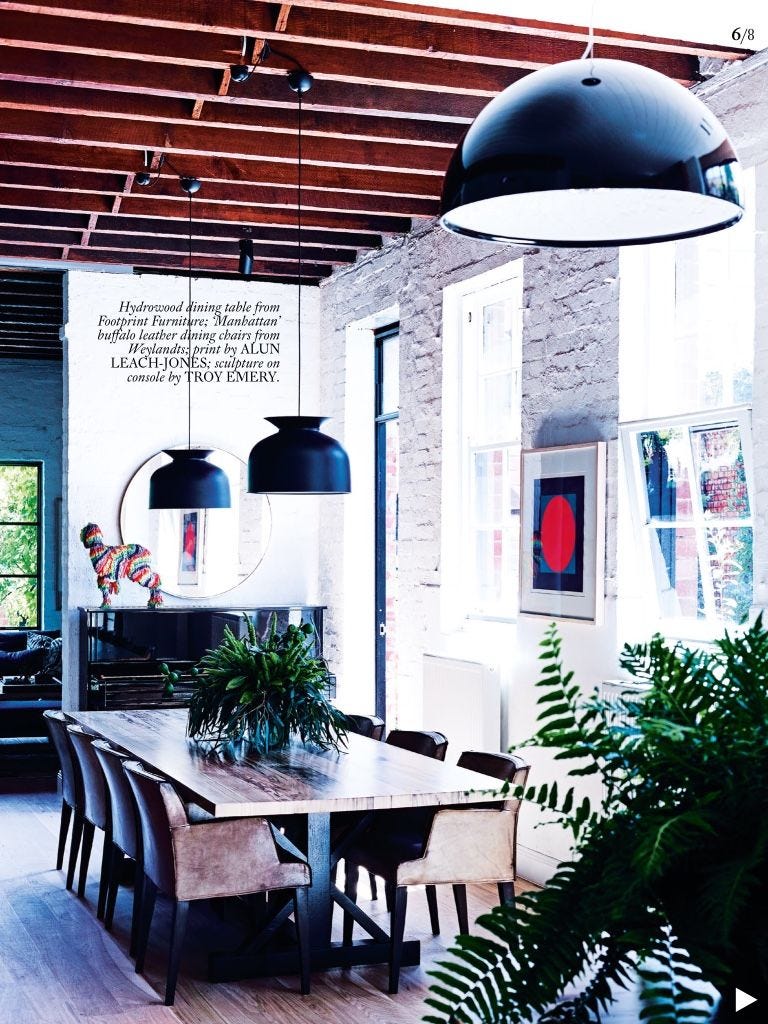 Round Brass Mirror by Print Decor
Table Hydrowood table by Footprint Furniture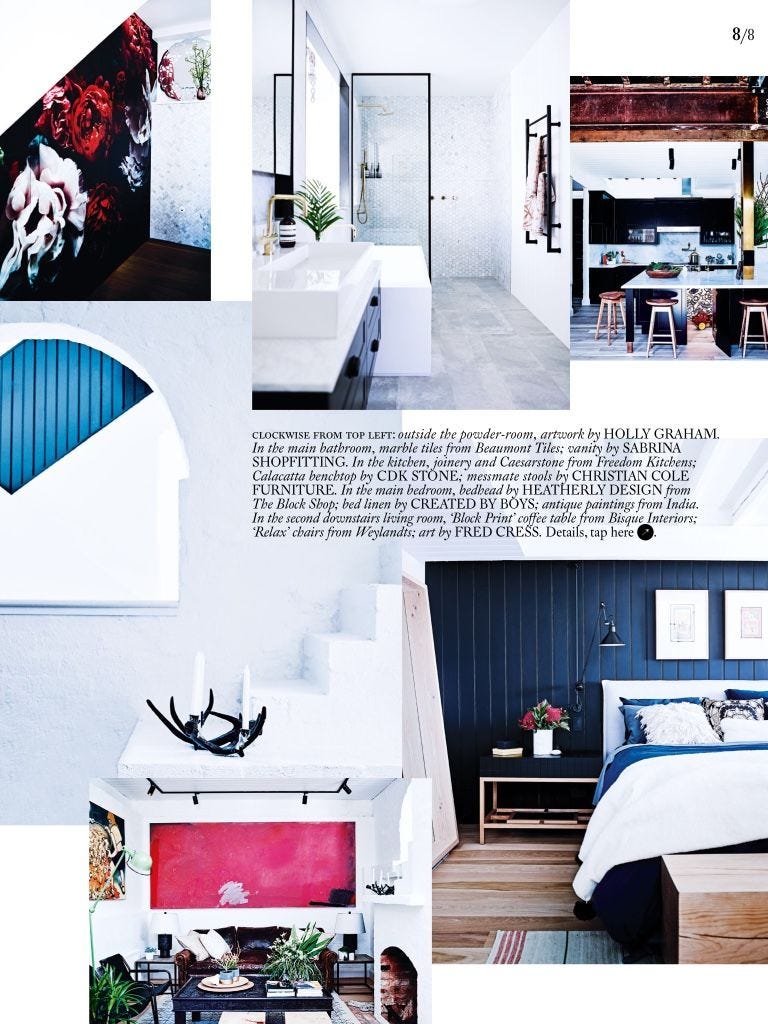 Kitchen
Kitchen by Freedom Kitchens
Stools by Christian Cole
Ceiling lights by Lights Lights Lights
Bathroom
Towels by Ninnho
Bedroom
Vase by Thomas Gannan
Throw from Raw Decor
Office
Circular table by Footprint Furniture
Desk by Christan Cole
Artwork from Tusk Gallery
WC
Peony wallpaper: Picture by Holly Graham and wallpaper by Grafico
Books throughout by Published Art
Were you inspired by any blockheads?
Saying I had a favourite Blockhead would be like saying I had a favorite kid. But having said that, Deanne (Jolly) and I seem to have a similar style and taste - probably because we're the same vintage. But I've been pretty lucky to work with some talented contestants over the years - I'm completely in awe of the work done by Matt & Jane Martino (The Block 2004) and his work since in property development. I also think Dani and Dan's recent house renovation is pretty amazing! I'm in awe of the contestants and what they've gone onto do since being on The Block. There's a huge long list of them who have started really fabulous careers including Alisa & Lysandra, Kyal & Kara, Brad & Lara, Bec & George, Sophie & Dale, Dean & Shay, Amity & Phil, Gav & Waz, Andrew & Jamie, Simon & Shannon, Michael & Carlene .... I'm pretty proud of them all and miss having them around as much as we did when we were filming.
Anything you wish you'd done differently with your house?
I think one of the most important things to do when you're renovating is move on, let go and live without regrets (except that you don't have a million-dollar budget!). Just put things on your mental list for your next project.
You guys watch a lot of Block contestants face road-blocks and problems while renovating…Did you have any major problems or stuff ups?
Thankfully we were not being filmed as there was quite a bit of swearing behind the scenes! I think problems are unavoidable but that doesn't make them easy to accept! Thankfully we both love a bit of problem solving. Julian especially has a knack for understanding all the builder's lingo and is a bit of a genius when it comes to coming up with solutions that work!
Couples often spat…
We had our little disagreements along the way but nothing major thankfully. The things we disagree on are minute because we have the same aesthetic. My problem is with communicating exactly what I want in the right way. I'm not good at drawing and I don't understand building terminology so I would get frustrated until I worked out that compiling pictures on pinterest was a good way of sharing my vision! Julian's problem is he doesn't always understand when I say something like "I want that thing to hang a bit like that thing we saw… You know the one? He's like "Which thing do you want to hang? What the heck are you talking about?" Cue frustration!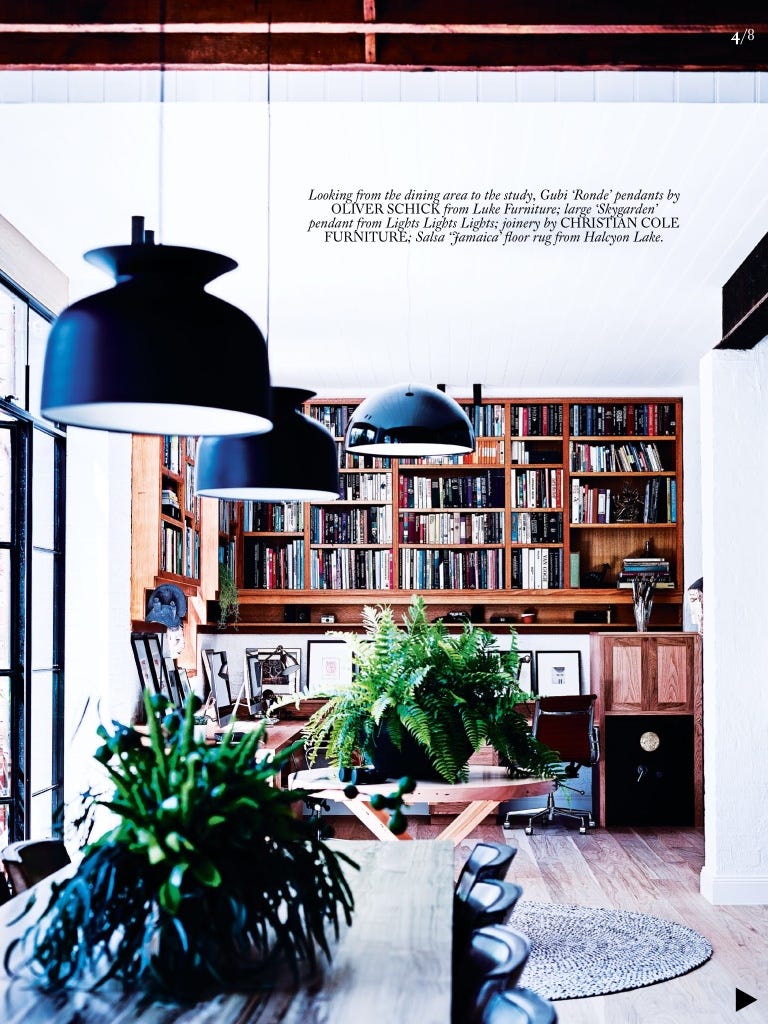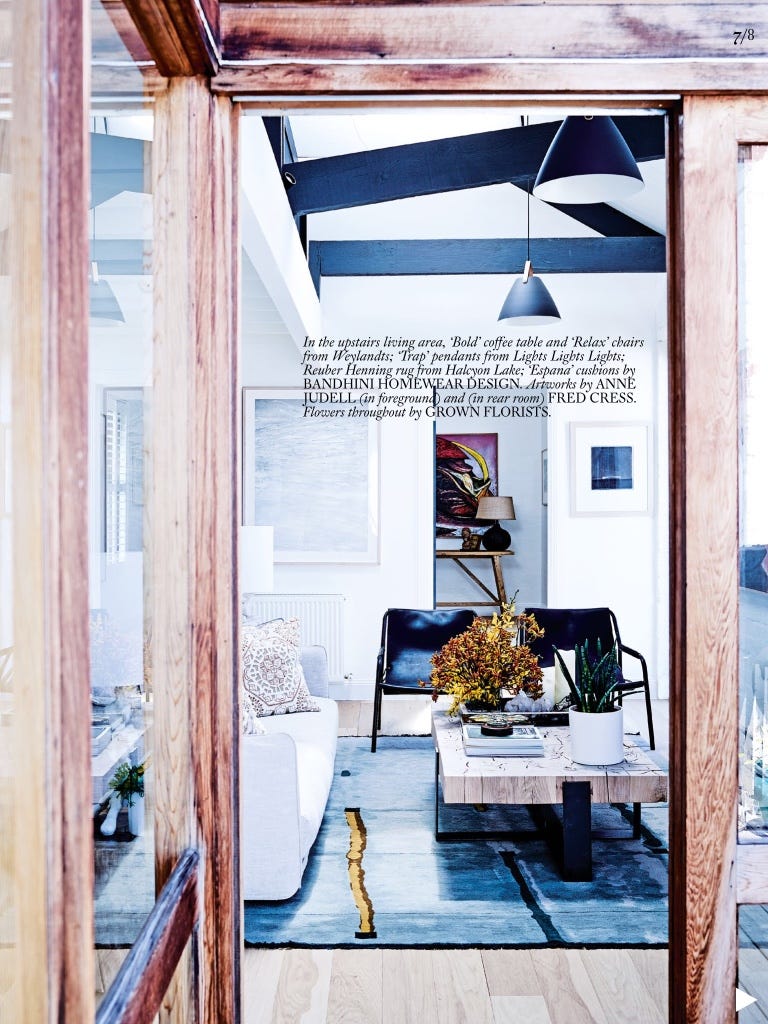 What are your tips for a successful renovation?
Collect samples to create a mood board so you can see how everything works together. Look at your mood board – especially paint colours – at different times of the day.
Do as much research as you can and know what options you have in case something falls through.
Lead times can be incredibly long… Try to plan everything in a timeline so that one piece of the puzzle doesn't hold everything up. Start your renovation when you've got your ducks lined up.
Find a trustworthy builder with lots of good contacts. A good builder like our mate Aidan O'Shannessy is worth his weight in gold.
Draw lots of pictures or find lots of pictures online to explain what you mean to your builders.
Ask questions and communicate a lot, builders aren't mind readers!
Be on site as often as you can. It's easier for tradies to ask you questions if you're around a lot.
Clean the site yourself at the end of each day. You don't want to be paying your trades to clean, you want to pay them to do their craft. Plus you'll save everyone time if the site is organised and there's no time wasted looking for the drill!
A beer at the end the day for everyone! Tradies love a beer and a chat. It's good to have this time to talk to your partner about the day ahead in a nice social environment!
Do as much painting as you can yourselves to save cash. Bring in the painters for the most important features.
What do you think the other judges would say about your house?
10 out of 10s of course!!! They'd have a hard time critiquing given how close they are with Darren. But I think I'm as obsessed with storage as Shaynna is - we've got hidden cupboards in as many places as we possibly can.
To see more pictures of this beautiful house check out the gallery at Vogue Living
Did you like this blog? Subscribe to our newsletter to be the first to receive news from The Block! And subscribe now to receive $20 off your next order.
SaveSave