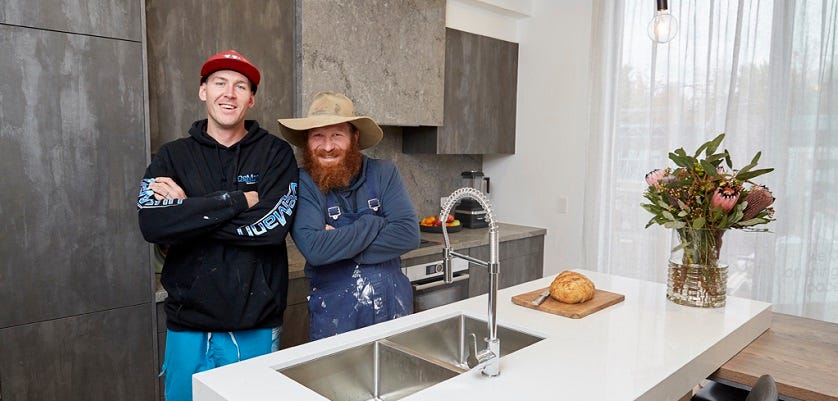 Sticks and Wombat created an edgy kitchen with earthy tones, thanks to their extensive use of concrete and timber - and they had plenty of fans. As well as scoring highly with the judges, host Shelley Craft was also a fan of their choice of cabinetry.
"The cupboards are great. I haven't seen them before," she said of their luxurious concrete-look.
This gorgeous finish was one of the standout features in the room, and was achieved with the use of Freedom's gorgeous new dark, textured concrete finish in 'Valetta'. These combined beautifully with the new Caesarstone benchtop range in 'New White' and 'Turbine Grey', which in turn married with the hand-crafted timber 'return,' a table that was added to the end of the island bench space.
"The whole idea was to give [buyers] a bit more seating; to give them the option of sitting at a bar stool, or a normal-height chair," says Wombat.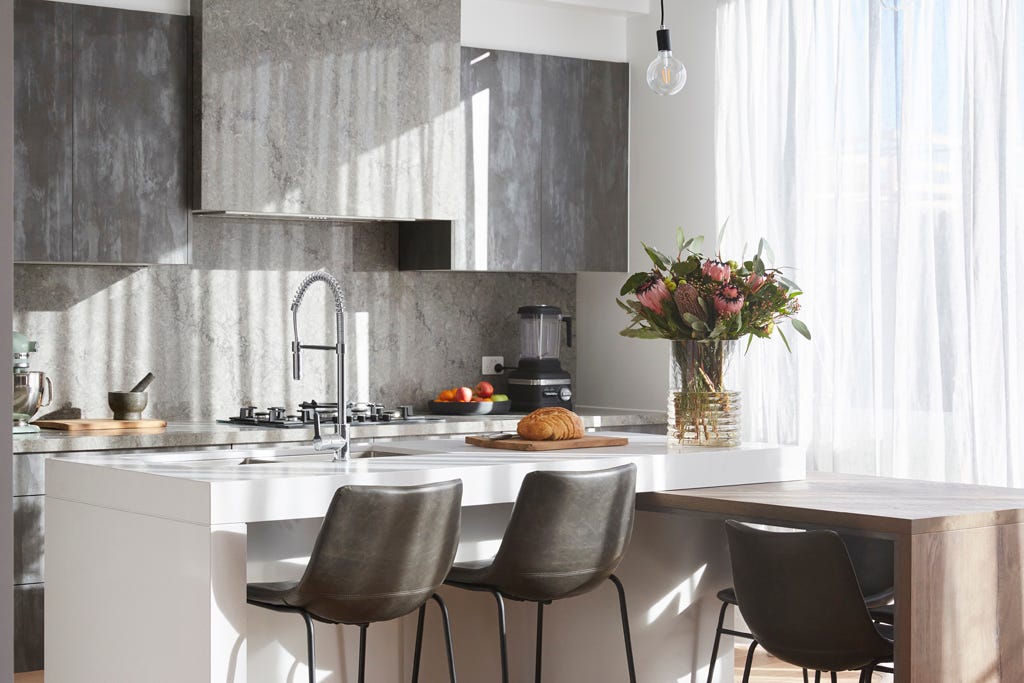 Darren was instantly smitten.
"I love this big chunk of Caesarstone and how it intersects with this other material," he said. "The white, playing against the wood - it's a sharp, sophisticated approach."
Mirrored kickboards give a floating effect in the kitchen and pantry, playing back against the gorgeous dining table, fashioned from 'Tobacco Halifax Oak', a new material that gives the laminate an amazing, wooden feel.
The interplay of different textures continued up to the stone range-hood box, created by Sticks and Wombat as an additional feature in the room.
Bosch appliances, including two fully-integrated bottom-mount fridge/freezers and a fancy 'black glass flame select' gas cooktop, rounded out the luxe feel.
"They have a signature love of timber. But they seem to know how to bring it into a contemporary context," Neale said of their space. "Raw luxury - that is what the boys are doing so well here."
Did you like this blog? Subscribe to our newsletter to be the first to receive news from The Block! Subscribe now to receive $20 off your next order.