After a disappointing week, Ronnie and Georgia have staged the ultimate come-back, receiving high praise from all three judges, and a score of 29.5, for their chic and understated living/dining area. And though they tied for first place, with Josh and Elyse using their bonus point, they were over the moon with the result.
"To be honest, that's all we wanted the judges to say, that it was an elegant, minimalist room," said Georgia, who was thrilled with their overwhelmingly positive feedback.
As soon as the judges entered their space, they were impressed, with Darren immediately drawn to the beautiful eight-seater herringbone wooden table in their dining area.
"This table is absolutely beautiful," he said, pointing out it was ideal for large dinner parties, or family get-togethers.
Shaynna was particularly taken with the expansive white couch, a focal point in their sitting room area. "I just have to go and jump on [it]," she said, before snuggling in.
But it was the large print hanging in the dining area that really tickled her fancy, with the acclaimed interiors expert saying, "it's probably one of the nicest pieces of artwork I've ever seen on The Block."
The piece, by Melbourne street artist, painter and tattooist, Steve Cross, was commissioned especially for the room by the couple, from an existing painting. They worked with the artist to mute the colours, and alter them to match the room's understated palette.
Ronnie and Georgia's attention to detail wasn't lost on Neale.
"This is a pitch-perfect colour palette," he said, admiring the way the cushions, white rug, cream-coloured chairs in the dining area and the room's accessories all tied in together.
"It's so hard to achieve a neutral palette," he went on to say. "The level of sophistication is incredible here. I can't believe this is the same couple that put that mirror in last week."
Going into judging, this is all Ronnie and Georgia wanted to hear.
"I hope that they walk into it and go, 'This is a really nice room. A very sophisticated, comfortable living space, great for a family.'" she said.
Needless to say, they were thrilled.
JOSH AND ELYSE 29.5 / 30
Josh and Elyse's beautiful, contemporary lounge and dining space was a hit with the judges, tying for first place with Ronnie and Georgia's room, after the couple played their bonus point.
"We absolutely love this room," said Elyse before judging. "It's very much 'our style'. It's very high-end, with a classic twist to it, and it has a bit of that 'rustic' feel.
"Hopefully the judges get that 'wow factor' as soon as they walk in."
And they did, with Shaynna instantly falling in love with their industrial-style fireplace.
Neale was also a fan, and liked how it worked well with the custom-made concrete shelf, designed and installed by chippie, Josh.
"I love it - the generosity of it. The way it flows to the end of the room," he said. "It's the 'hero' of the room."
The concrete feature worked perfectly with the couple's choice of large, leather couch. And while the judges thought their dining table could have been bigger, they were happy with the way Elyse styled it.
"This is a drop dead stunning styling of a dining table," said Shaynna, who admitted she isn't usually a fan of a 'dressed' table.'
All up, the judges said they loved the space, all agreeing it had a 'Kinfolk' aesthetic; a "mixture of slightly Scandinavian, slightly industrial."
"It's got soul - and it's very contemporary," Neale said.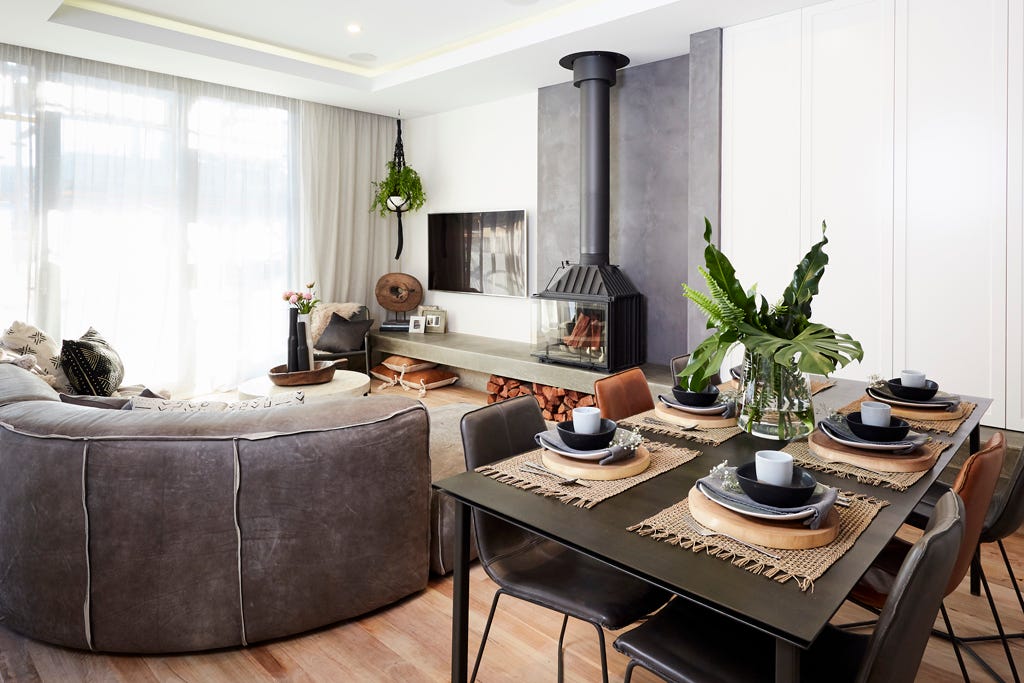 SARAH AND JASON 26.5 / 30
Jason and Sarah proved they are are most definitely "back in the game" this week, with the presentation of their beautiful, family-friendly dining and sitting area.
The judges were unanimous in their praise, drawing particular attention to the focal point of the room - a stunning log fireplace.
"It's the 'wow factor in our room," Sarah admits. Darren agreed, saying "I know where I want to be," when entering the room, instantly inching closer to the open fireplace.
Neale particularly liked the use of the colour palette, drawing attention to the lovely blue couch and ottoman, saying, 'This is stunning, the navy blue with gold.
"It has all been beautifully done. Every single item and everything in this room has been chosen with such care and style."
But it was perhaps the couple's choice of artwork - a framed print of a piece of art, done by their then-five-year old daughter, Greta, which hung in the dining space - that everyone though encapsulated the room.
"It's genius," Neale said.
"This room just say, 'family' to me," Shaynna added.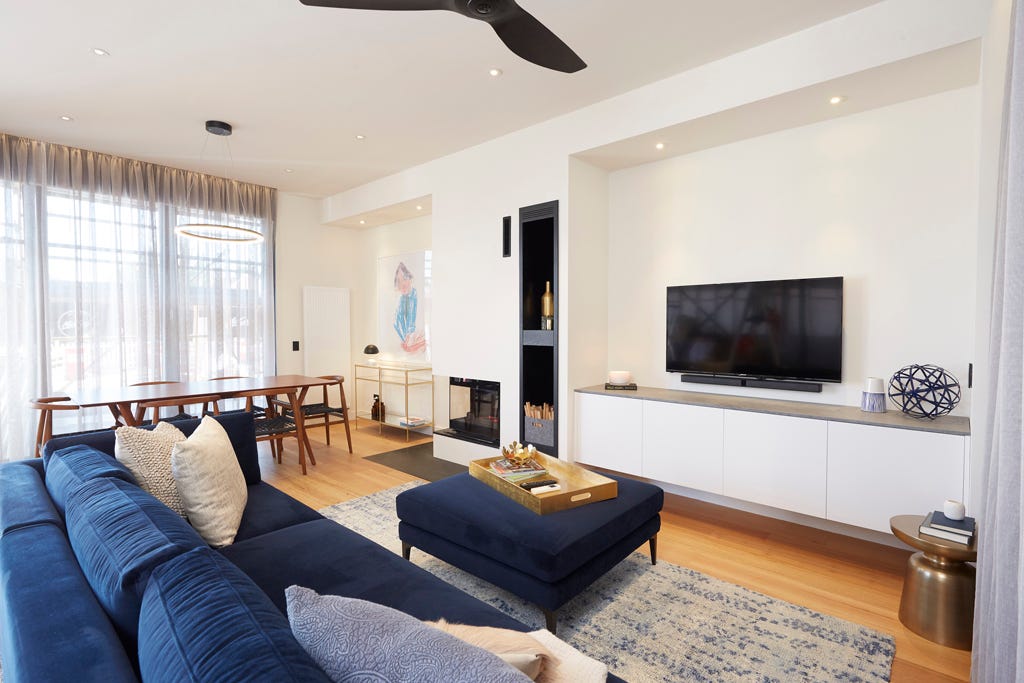 HANNAH AND CLINT 23.5 / 30
Hannah and Clint took a real risk this week, changing the architect's plan to include a nib wall, and feature fire place, separating the dining and living spaces. But while the judges were unanimous in their praise of Hannah's styling, they admitted they weren't big fans of their decision to change the space.
"I feel strangely disconnected in here," said Neale in stepping foot in the dining area. "I feel like I want to be part of the living room - I don't know whether I like being cut off."
Despite this, they all admitted they liked the room's dressing, with Shaynna a particular fan of their choice of dining table, even though she felt it was a tad too small.
Shaynna also loved the choice of blue velvet occasional chairs, glass dining table, and blonde wood shelf - but they all kept coming back to that controversial nib wall. They all thought that "taking the open plan out of open plans" is a mistake for modern, Australian family living.
Hannah disagrees.
"I still stand by our nib wall," she says. "[That] was one of the things we were very passionate about in creating the space this week.
"We value their feedback, but the nib wall is staying."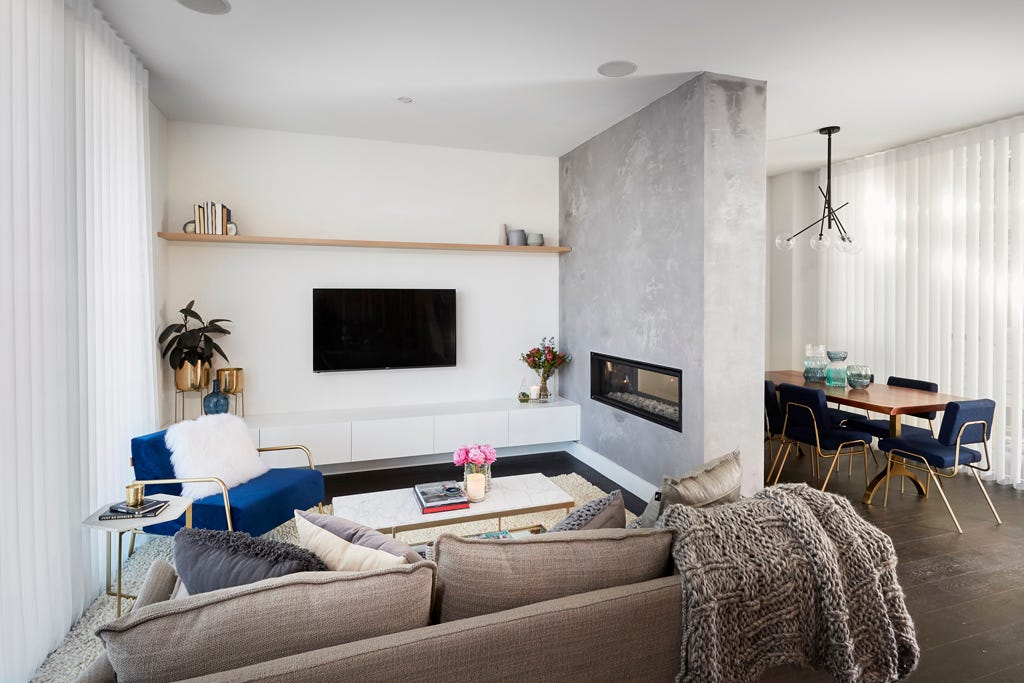 STICKS AND WOMBAT 20 / 30
They did well in this week's auction challenge. But at Sunday's living / dining room reveal, Sticks and Wombat fell flat with the judges, who admitted they felt "confused" by the mixture of styles at work in their space.
"What would you call this?" Darren said, stepping inside their timber-accented room, which featured a gorgeous wooden wall/ceiling feature.
This was offset with a beautiful timber table, leather couch and timber coffee table, which, when paired with their black cabinetry and leather ottoman, the judges considered too much.
"They need to take these couches back and redesign their furniture layout," Shaynna said. "This is their only lounge area. It's important to get it right."
Neale agreed. "I think they are very clever. But this room is disappointing," he said. "Nothing really works together."
One thing they did score points for, was the use of an integrated home automation system, with Darren pointing out that "home automation is the future."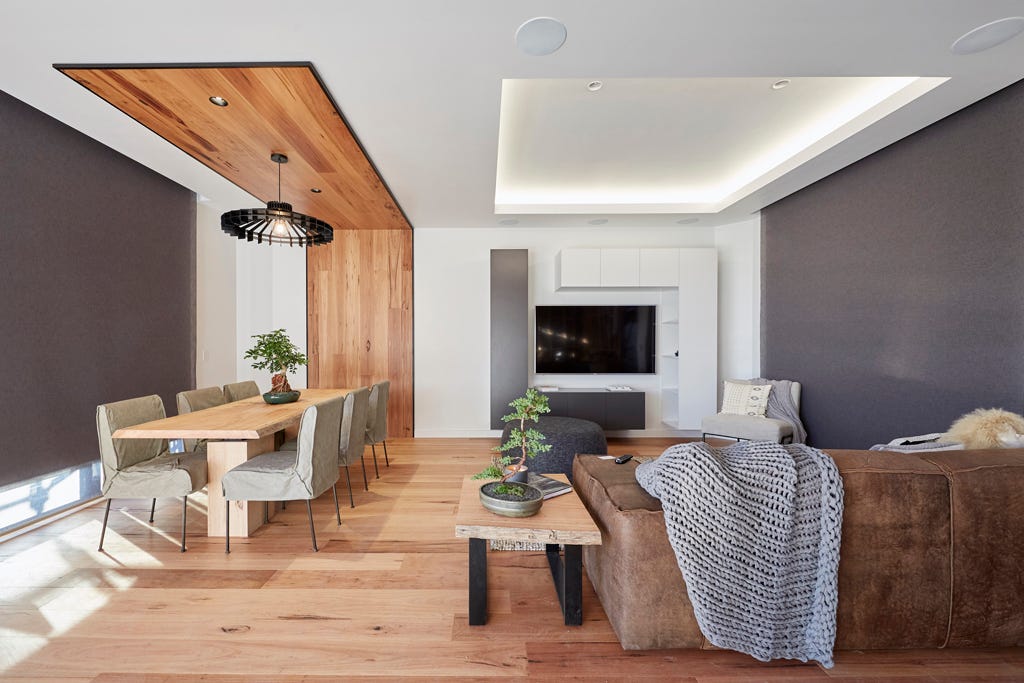 Did you like this blog? Subscribe to our newsletter to be the first to receive news from The Block! Subscribe now to receive $20 off your next order.