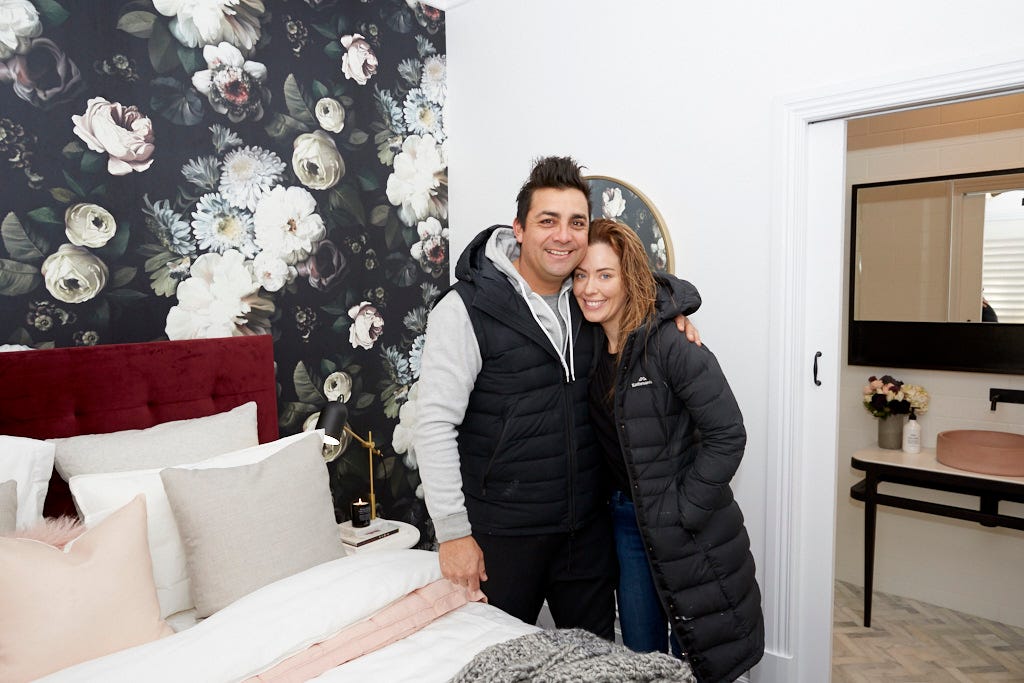 They might have tied for the win with Josh and Elyse, but that didn't bother Ronnie and Georgia this week, who took out the much-coveted "trifecta" winning this week's challenge, the Domain win, and a perfect score for their second guest bedroom.
Their room, which featured a stunning floral print wallpaper - imported from Norway - instantly wowed all three judges, who also fell in love with their red velvet bedhead, repurposed old wardrobe (which they purchased on the cheap for $50) and their stunning ensuite.
"This is absolutely amazing," said Shaynna. "It feels very opulent."
"I think it's beautiful," Neale added, upon stepping inside.
He was a particular fan of the couple's use of the old old wardrobe to tie the room together.
"The fact that it is not quite as dark (as Hannah and Clint's), means they can get away with the busy print above the bed," Neale pointed out.
But the thing all three were most blown away by, was the addition of a "perfect" bathroom. Their ensuite - the only one presented this week - featured beautiful parquetry-style marble floor tiles and a gorgeous Nood Co sink, made by previous contestant Matt Di Costa.
"It's beyond luxury - look at that floor," Shaynna said upon entering via the double doors. "This is probably one of the best basins I have ever seen."
And the praise just kept coming:
"This room has masses of personality," Neale said. "It's going to wow buyers. It's like they wanted to go out with a real flourish. And I applaud them for that.
"People will walk in here and be blown away by the romance of the room."
Take a look at Josh and Elyse's winning guest bedroom
The judges awarded it a perfect score
They might only be in their mid-twenties, but Josh and Elyse are showing skills far beyond their tender age, as witnessed in their pitch-perfect guest bedroom.
"This couple have old, wise heads on their young shoulders, delivering a room they should be proud of," Shaynna said.
"They understand how to take it up several notches for their target market," Neale added.
The thing all three judges liked best, was the fact that the couple took risks with their colour palette, using the soft green velvet bedhead to offset the harsher oranges and blues of their stunning artwork.
"This is my favourite colour palette of the day," Darren said. "How nice is it not to see the trend colours, but something else.
"This egg yolk, the yellow - this is very nice. The room is full of many individual elements that shouldn't work together - but they do."
Elyse agonised for days over whether to include a blue occasional chair and small table, to provide a reading nook under the window. Thankfully the judges liked her little addition.
"I love the simplicity of the room," Shaynna said. "And I love the way the mug was placed next to the chair. It's all so inviting."
The couple provided masses of storage, making the room both functional and stylish.
All three judges thought they'd nailed it, and would have plenty of potential buyers loving the space come auction day.
"This is introducing younger people to an older look, and older people for a younger look," Shaynna pointed out.
"That's what we wanted," Josh says. "The buyer can put their own twist on it. And it's good the judges could see that."
ELSEWHERE ON THE BLOCK
JASON AND SARAH SCORED 28.5/30
Jason and Sarah wowed the judges with their gorgeous blue-themed bedroom, which featured stunning blue seagrass wallpaper, two beautiful heritage leadlight windows, a blue velvet bedhead, and a gorgeous native flower artwork.
"This would have to be one of my favourite colour combinations. I am absolutely in love with that midnight blue," Neale said upon stepping inside.
Shaynna was equally blown away, saying the bedhead was "stunning."
Neale thought everything tied together well to create a truly "luscious" room.
"You know a word I want to use - luscious. It's luscious artwork, it's a luscious palette. It's a luscious room."
The stunning dressings were offset by plenty of storage, and the room had a lovely cozy feel, courtesy of those fabulous hydronic heaters, situated throughout the house.
"They have saved the best for last," Neale said. "It feels like they really wanted to do the right thing by the house. They have done a beautiful job here, because it feels in keeping with the period, but modern.
"They are top of their game."
HANNAH AND CLINT SCORED 25/30
Hannah and Clint couldn't help but be thrilled by their simple, yet sophisticated guest bedroom, which came together beautifully ahead of this Sunday's judging.
"We have come a long way since the beginning of show. I definitely think my style has evolved. The room presents beautifully," Hannah said.
The couple chose to make a stunning grey and black wallpaper, featuring a flower print, the statement in their room, offsetting it with a functional black, flat-pack wardrobe.
"This wardrobe is actually one of my favourite little tricks if you're running out of money," Darren said.
They kept the lovely heritage ceiling rose, and dressed the room with a round mirror, above a custom-made study nook, and chose a grey, blue and white palette.
"This is a beautiful guest bedroom," Neale said.
STICKS AND WOMBAT SCORED 28/30
Sitcks and Wombat continued to embrace their inner "softies" this week, presenting another understated, elegant space.
Wombat chose to dress the room in blush pinks, offsetting it with plain white cupboards and a lovely study nook with wood detail, which worked well with the heritage floorboards.
A wicker chair completed the look, all adding up to a gorgeously understated space.
"The measure of any guest bedroom is whether I would want to stay," Neale said. "I would pack my bags. I would be very comfortable in this room."
Along with the soft, cozy interior, the judges also loved the inclusion of a high-tech drop-down TV, which the boys custom-made to lower from the ceiling.
"Sitcks and Wombat love everything that opens and shuts," Darren said. "Sometimes it's successful, but sometimes less so.
"The TV goes into the very successful category. It's really very clever and cool."
It all added up to a flexible room, the judges thought buyers would love.
"I can't believe how far they have come," Shaynna said.
Did you like this blog? Subscribe to our newsletter to be the first to receive news from The Block! Subscribe now to receive $20 off your next order.