It's hardly surprising there was some opposition from family and friends when Josh and Elyse announced they were planning on buying and renovating a run-down house after only a year dating. But if there's one thing these two go-getters don't like to be told, it's that they can't do something.
"Everyone was like, 'Don't do it! You guys have only been together for not even a year.'" Josh explains. "But we were like, 'No, we have set it up properly, so worst case, everything is half-half.'
Determined to get ahead, they spent several months searching for their ideal property, eventually finding it in the Melbourne suburb of Coburg, close to the city.
"We had been looking for a house for a really long time and trying to find one we could afford, in the right area," Elyse explains. "We are originally from out in the sticks, but we wanted to come closer into town, because we knew there was a bigger return. The only thing we could afford was something that was falling down."
The house they settled on, a California Bungalow with good bones and a lot of potential, took a while to secure.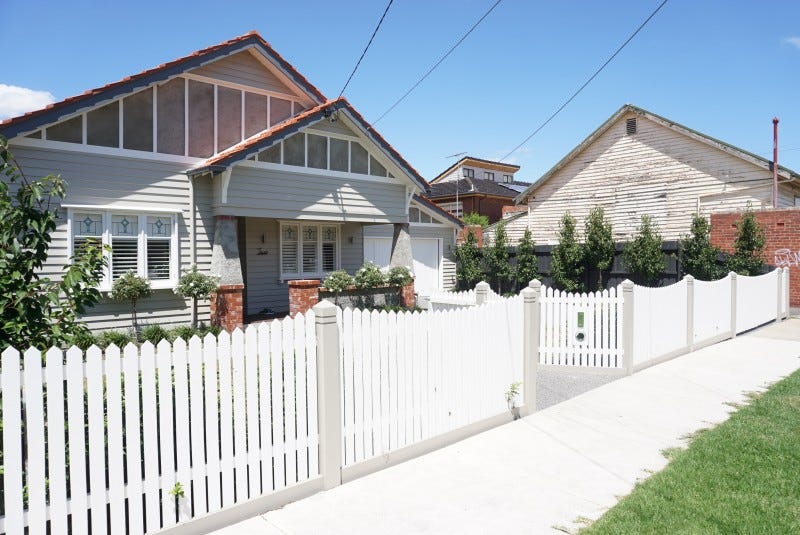 "There was a bit of a legal process we had to go through, because the lady owner, she actually died in between when we bought it and when we settled," Josh explains.
"She was 100 years old, and this was her house forever. She built it in the 1940s," Elyse adds.
But once everything was sorted, they could get underway. And let's just say, conditions were rustic.
"We didn't have an indoor shower - so we were showering outside in a Melbourne winter, with bathers on, waving at Neighbours!' Elyse laughs. "We had hot water, but when it was really cold, you'd be out there shouting, 'Come on water! Work!'
As Josh is a carpenter, he was able to do a lot of work himself, which kept costs down. Elyse took charge of the interiors, and together they managed to get the reno done.
"We work together really well," says Elyse. "We both bounce off each other for ideas. Even with structural things. Josh has amazing ideas, but always wants my opinion, as to whether we can change it or tweak it. "
And not long after they finished, they got the ultimate tick of approval, when relatives of the original owner popped in for a surprise visit - and were knocked for six by how great it all looked.
"We had [the original owners'] kids and grandkids back after we bought it...and they were crying," Josh says.
"One day they just rocked up and said, "We are relatives. Is it alright if we come in?'" Elyse adds. "And their mouths were on the ground."
Did you like this blog? Subscribe to our newsletter to be the first to receive news from The Block! And subscribe now to receive $20 off your next order.