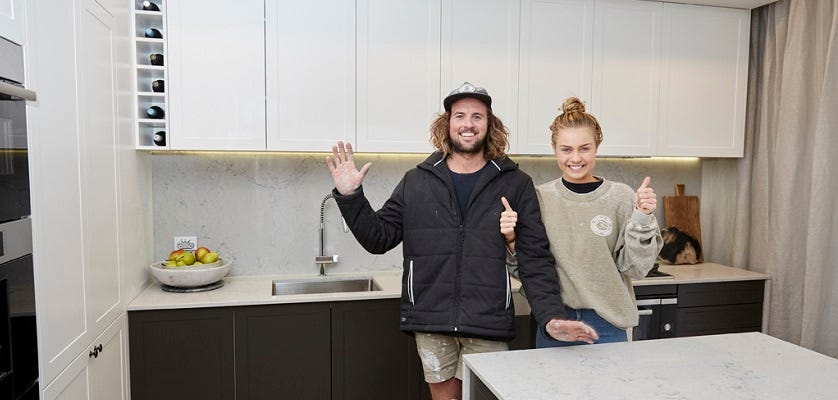 Josh and Elyse took a risk, re-orientating their kitchen so it faced towards the garden. But it was one that paid off, with the judges awarding them a win for their 'faultless' room this week.
Central to the white, 'Hamptons'-style kitchen, was the Caesarstone free-standing island benchtop, in 'Noble Grey'. This complimented beautifully with the cabinetry in shades of 'Sierra Cinder,' coupled with white profiled doors.
These were followed through into the room's show piece - an enormous hidden butler's pantry space.
"We are trying to create a house for entertainers and a family as well," Josh says. "They can hide the mess in the butler's pantry and worry about it tomorrow. "
The judges loved it, with Neale noting the space was large enough "for an army of butlers."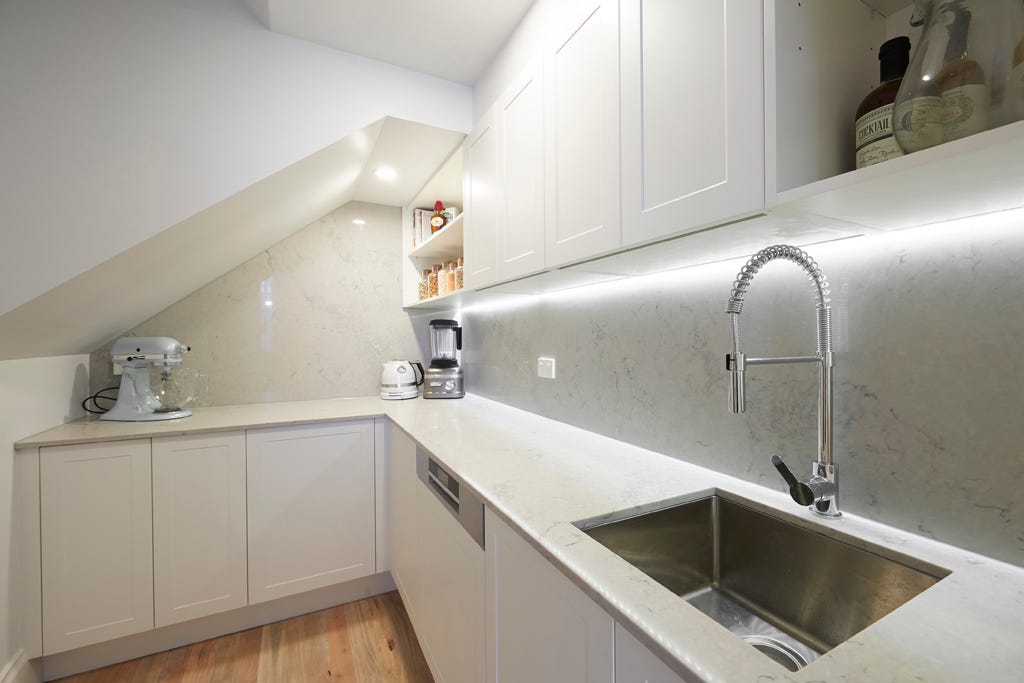 As well as the generous proportions, the couple spent time planning out the 'bells and whistles', opting for high-end Bosch Appliances, including an impressive freestanding stainless steel fridge, 900mm gas cooktop, coffee machine and warming drawer.
The use of LED lighting above the cabinetry, leather woven stools and a marble look, all added to the beautiful luxe vibe.
"It's' so beautiful," Darren said. "The white with the grey - it's such a simple way to do it, but it looks a million dollars.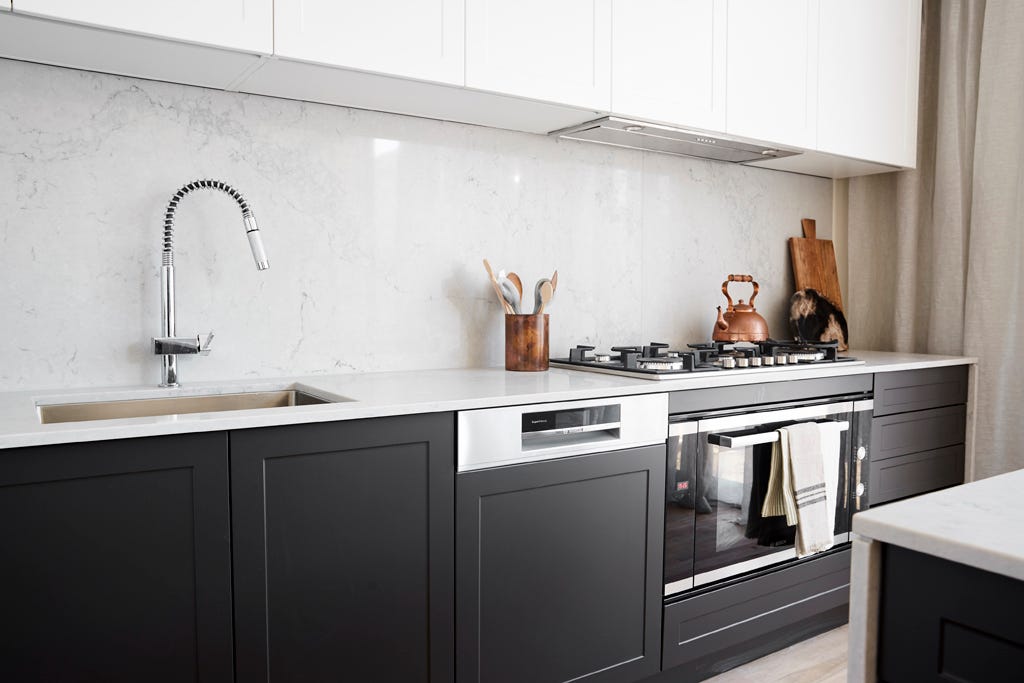 Neale particularly loved how "sociable" the kitchen was, saying it felt very in keeping with the Danish concept of 'Hygge', which means 'Cozy, warm and cohesive' - all adjectives that suit the space.
"This kitchen is 'Hyggelig'," he said, "It's the combination of the kitchen, the orientation, it's the log fire - there's a beautiful warmth and sense of community.
"I think people will find it appealing."
Shaynna was so enthusiastic, that after seeing the stunning space, she declared that Josh and Elyse are the competition's new front-runners.
Now THAT'S high praise.
PLEASE NOTE:
In the episode following room reveal, Jason questioned the position of the gas cook top as it was, in his opinion too close to the Caesarstone splashback and not compliant.
Later, Scott calls all contestants together for a meeting.   He talks about the compliance issue regarding Josh and Elyse's kitchen cook top and splashback that Jason had brought to his attention.  A gas cooktop has to be 200mm away from the Caesarstone splashback and Josh and Elyse's falls 40mm short of that.  Scott spoke to the judges who decided to each deduct half a point of Josh and Elyse which brings them to twenty eight and a half points, equal first with Jason and Sarah.  Scott announces that he is also awarding Sarah & Jason with $10,000.
Did you like this blog? Subscribe to our newsletter to be the first to receive news from The Block! Subscribe now to receive $20 off your next order.