Looking for artwork for an Australian home? Here's the perfect answer.
For most home owners, one of the toughest decisions – and the most personal – is selecting art.
The right artwork can give a house a personality of its own, reflect the taste and lives of those who live there and anchor it to its location.
But what to choose?
For design guru Darren Palmer, there's an easy – and uniquely Australian – solution, take a look at local indigenous art!



Darren Palmer with fellow Block judges in front of an incredible Miimi & Jiinda artwork.


Check out The Block Shop's extensive collection of Indigenous art here

"I love the connection to Australian culture and history that Indigenous art brings to a home," Palmer says.
"I love the messaging behind traditional Aboriginal and Indigenous arts, they're often telling stories of the artist's people, telling stories of the landscape, the animals and plants in Australia and more.
"Most of the artworks have names and if you ask what they are and what they mean you find a story that is really authentic and adds a lot of rich heritage to a spice."


Ronnie and Georgia's 2021 Block gallery entrance hall, dripping with beautiful works from artist Lizzy Stageman.
New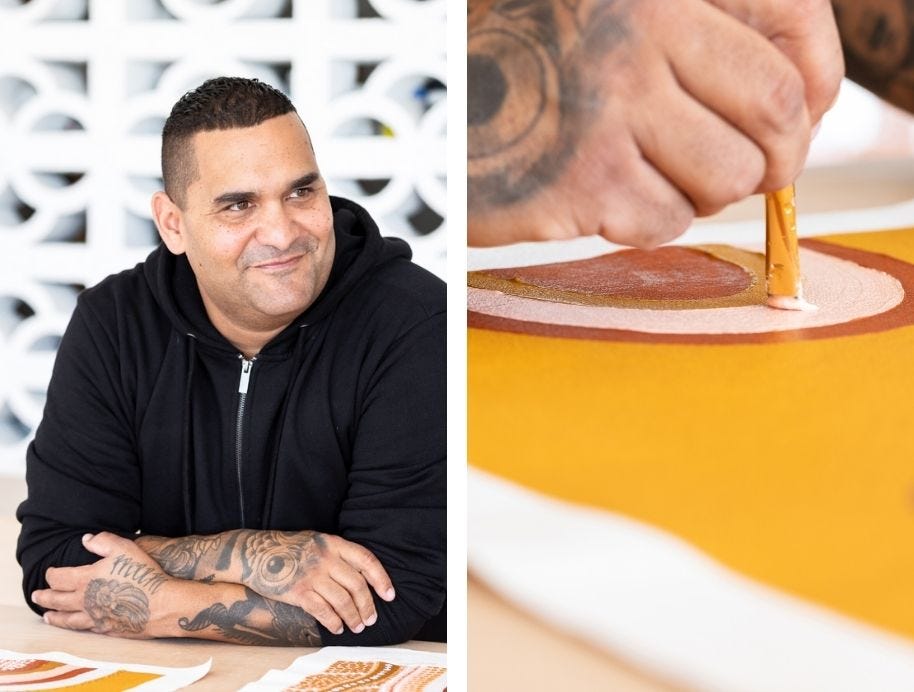 Take a look through artist Brad Turner's collection in The Block Shop here – each piece tells a different story

A keen collector himself, Palmer says he has a number of pieces in his home from Indigenous artists and almost always finds a space for the art in his projects.
"Pretty much any job I do ends up having a piece of indigenous art in it," he says.
In The Block 2019's "Million Dollar Room" challenge for example, he designed a space filled with the best in furniture, fixtures and of course, art.
And key to that was a piece by major Pitjantjatara artist Tommy Yannima Watson.
Like the huge 'Jaanymili' artwork Deb and Andy used the same year, the work highlights one of the style's key appeals, Palmer says, that it has a personality of its own, but can also work well with other pieces.


Check out Deb and Andy's piece and other works from mother and daughter artists Miimi and Jiinda here

By its very nature, he says, a lot of Indigenous Australian art is almost abstract in form compared to traditional portraits or landscape, giving them a flexibility to fill a space without being polarising.
"The best thing about Indigenous art is even the traditional works are very contemporary in feel because they're abstract already," Palmer says.
"And then contemporary Indigenous art is even more so! It's quite often abstracted to the point where it's just really beautiful to look at irrespective of what the actual content is – and that can help in a difficult space."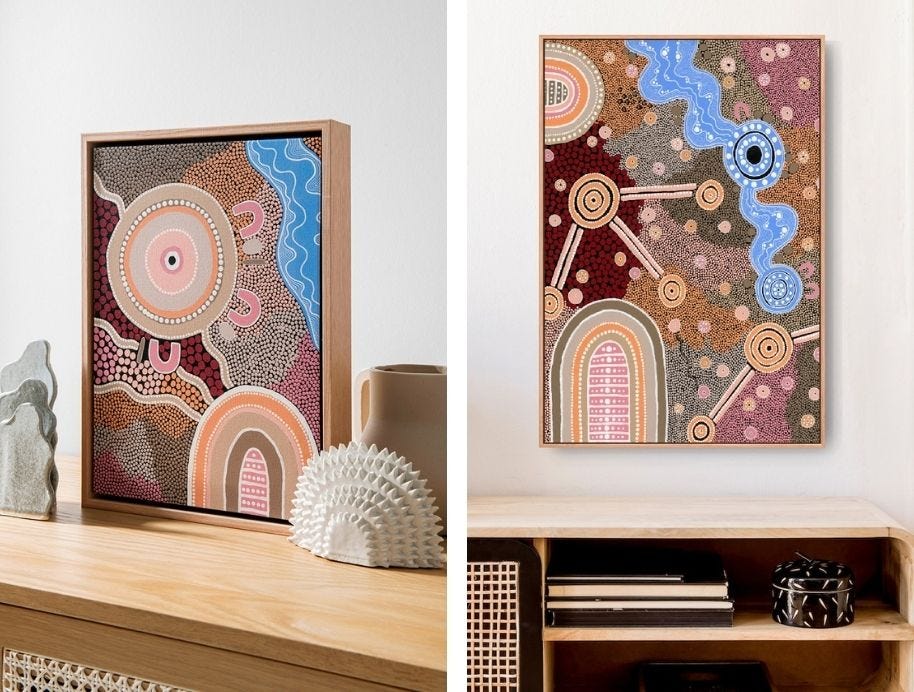 Looking for an abstract piece? Take a look at the contemporary Indigenous works from artist Ryhia Dank in the Block Shop. Shop Narduna HERE

The artworks also tie in beautifully with one of Palmer's design rules: "Look outside for inspiration inside".
What that means, he explains is artworks which reflect the look and feel of the world outside will help tie a home to its location and give it a more "in place" feel.
"A lot of Indigenous art is painted using colours of the land, colours inspired by nature, colours inspired by the rich earthy tones wherever the artists are located.
"And that really plays alongside my ethos of referring to nature as inspiration for the colour palette and materials."
And most importantly, he notes, Indigenous Australian art is immediately recognisable as exactly what it's label suggests...
"It represents Australia!" Palmer sums up.



These incredible artworks "represent the country - a rich abundance of golden soil, bush tucker, water, trees, animals and sunshine." Available online now by the extremely talented Daisy in Dots.


Check out The Block Shop's extensive collection of Indigenous art here