Joh Lyle, creator of Siesta Home, sparked her passion for interiors after renovating her Brunswick home - and designing her own bedding range to go with it!

Here are her five simple styling tips that will guarantee you'll never be bored with your bedding...

Modern research has shown a correlation between colour and mood: when our eyes connect with a certain colour, our brains release different chemicals that impact us on a physical and emotional level. The bedroom should be a space that reflects your mood (hopefully it's a happy mood!) and just like the satisfying feeling of sleeping in fresh sheets, you'll feel re-energised and content whenever you change up your bedding décor!


1. Think in Colour Families

If you're stuck on how to freshen up your bedroom style; start planning with a colour palette. Don't worry if you're not feeling confident matching complimentary colours – it's a trend at the moment to work in "colour families". Simply choose a couple of colours and work with the various hues within each of these colour themes. For example: a blue theme could include cobalt, turquoise, delft and navy. An orange theme could include corals, tangerines, peach and grapefruit tones.


2. Accessories are Key

If you aren't comfortable using strong, bold colours in a big way – start small! Choose some key accessories like textiles, pillows, cushions, throws and rugs that can be switched out as your mood dictates. You can play with texture here – knitted throws with pom poms and velvet pillow slips are an easy way to add depth and interest without going all out with bold, bright colours.


3. A Personal Touch

An easy decorating trick I like to use to add instant colour to the bedroom is: fresh flowers, books and candles. Sometimes it's not about the homewares - it's about the little personal touches that makes your bedroom a welcoming, relaxing space to wind down.

4. Embrace Imperfection

The Japanese term 'wabi sabi' celebrates the aesthetic of embracing imperfection. Strive for imperfection, and don't fall into the trap of trying to match everything! This method of styling creates a relaxed, carefree vibe that is very fitting of a bedroom. Select a few statement pieces that you want to be the hero in the room (such as a bright coloured duvet or a bold cushion) and then pick more neutral pieces to work around them. You can gently toss a throw over the edge of the bed and not worry about straightening it out - after all, it's a real bedroom, not a display home!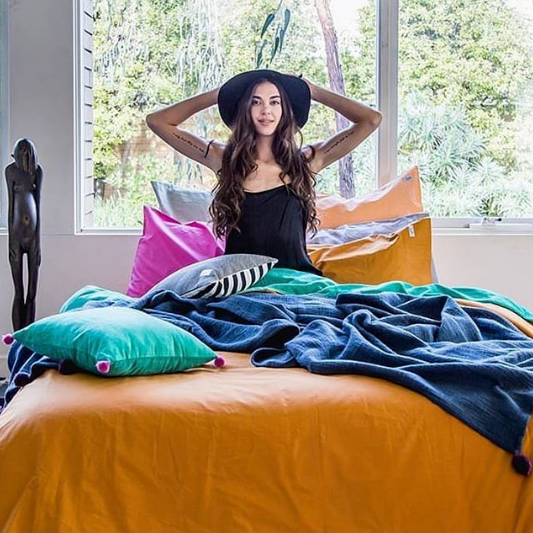 5. Pattern Overload

Don't shy away from clashing patterns in the room. You can create a unique style by pairing patterns together and offsetting the look with solid colours and lush textures to tie it all together. The Siesta Home range is designed to be mixed and matched – the reversible duvets give you 2 looks in 1 so you can match your sheets to your mood and never get bored of your bedroom!

Did you like this blog? Subscribe to our newsletter to be the first to receive news from The Block! Subscribe now to receive $20 off your next order.