Home office design just got a whole lot easier thanks to The Block Shop!

If you've been living in Australia the past twelve months, chances are you've spent the better part of the year working from home. Probably from the kitchen table. Or the couch. Or, if you're lucky, maybe you've been able to escape to the spare room! But it's time to change things up – making-do with subpar home office spaces is soooo 2020! Here's how you can create the perfect home office at your place, regardless of its size.



If space is at a premium, consider making yourself a study nook similar to the one Luke and Jasmin created on The Block in 2020.


Find the best spot
And no, we're not talking about the end of the dining room table. Find a space in your home that suits your work-from-home needs, plant the flag and make THAT your one, dedicated space to work. Need light? Position yourself near a window. Or if you prefer to work in absolute silence and you've got the space, consider repurposing a garden shed or part of your garage as a home office. As long as you're not building a totally new structure, you won't need to get planning permission to make your little outside office – and you'll end up with your very own oasis away from the noise and chaos of family life!


Create a different feel from the rest of your home
Once you've found your pitch, it's time to get planning. Check out Instagram and Pinterest for inspo and think about how you'd like your space to look and feel. Productivity is key here – your work space needs to feel different from the rest of your home. This helps set your head into 'work zone,' allowing you to focus on the task at hand a lot better.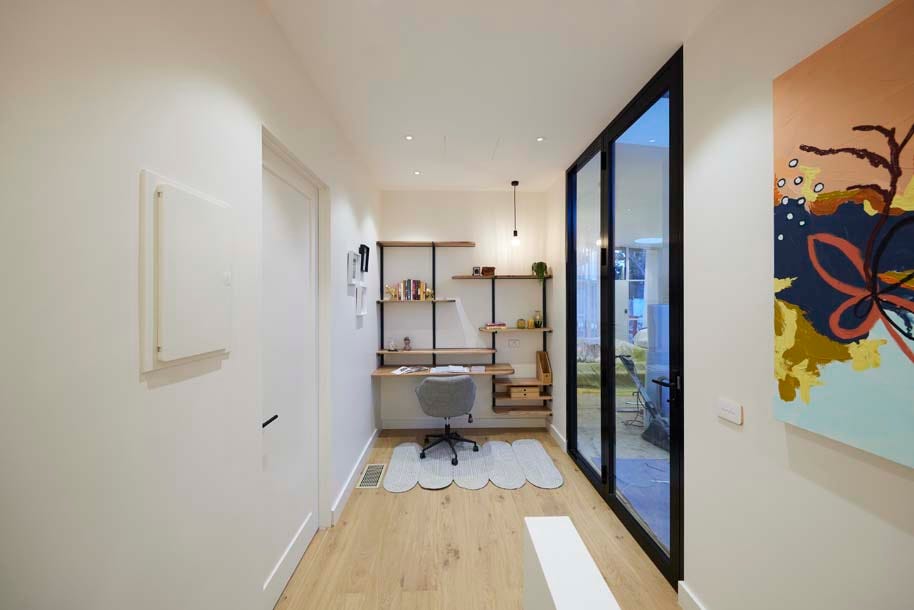 Tanya and Vito created a functional work from home space on The Block.


To nook or not to nook?
If space is at a premium, consider making yourself a study nook. Draw up what you think might work and contact a good chippie to help make your desk nook dreams come true – it's a lot more cost-effective than you might think. Alternatively, places like The Block Shop sell fitted office furniture. Find a suitable corner and away you go!



Pop Up Desks was born via a business pivot during Covid -19. We love the sleek designs, colour range and Australian manufacturing - pictured in Tanya and Vito's kids Block bedroom.

Get yourself a decent office chair
We can't stress this enough: do not even THINK about repurposing one of your old dining room chairs – you're just asking for a trip to the physio! Invest in a good quality, ergonomically-designed chair – the money you spend is money you'll save fixing your myriad lower back issues down the track.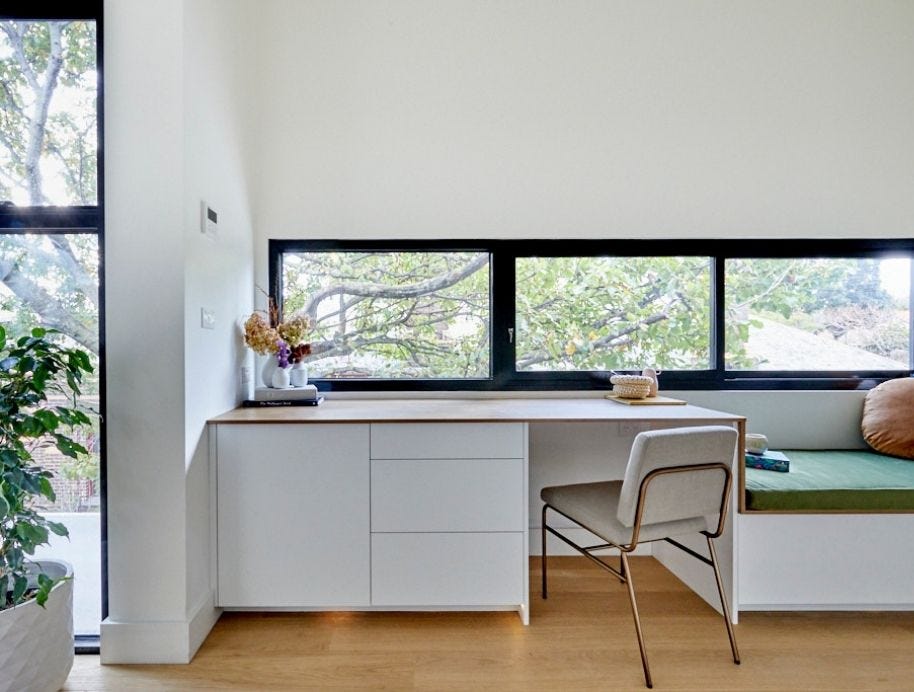 Need light? Position yourself near a window like the space Harry and Tash created on The Block in 2020.


Make your home office surroundings 'Zoom' friendly
Love yourself a bit of a 'shelfie'? Consider this written permission to style up a storm in your new office surroundings. These days, with so many meetings conducted over Zoom, it's actually super important to think about what colleagues and clients can see over your shoulder on a video call. If you can be bothered, style shelves behind you. If budget is a concern, a simple potted plant should suffice. Remember, appearing professional from the waist up is key – it doesn't matter what the rest of your house looks like, or that you're wearing tracky dacks, so long as your work space is looking good!


Use artwork to lift your mood
Forget staring at a plain white wall – invest in a piece of good quality artwork to lift your spirits through the 9-5 grind. The Block Shop has a huge selection of prints and originals to choose from – find one that sparks joy, then place it in your line of sight for an instant mood boost.


Find some art that sparks joy, then place it in your line of sight for an instant mood boost - Ronnie and Georgia's 2021 Block home office.


Get your lighting right
Don't strain your eyes working in a dark corner of your home – use this opportunity to invest in a good quality desk light. These can really contribute to the look and feel of your work area. Match it to other accessories in your room for a cohesive look, or choose an impressive statement light that works back with the rest of your decor.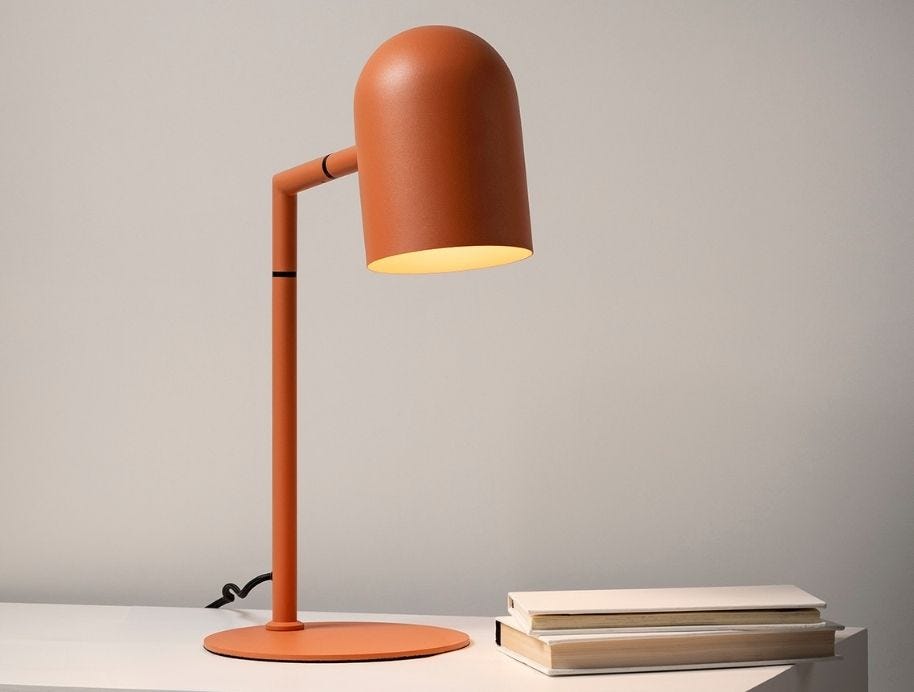 Our range of office desks, office chairs, desk lights and organisational accessories will have you efficiently working from home in no time.


Make tech your focus
It's all well and good to have a pretty workspace, but at the end of the day it's function over form that's most important. This means putting your tech needs front and centre. Think about what kind of computer you need – or whether you need to work across multiple screens – and plan your desk accordingly. Also think about where your cords will go, and how you'll keep them looking neat and tidy. Likely to be using the printer a lot? Don't forget to save room for it on your desk, or make sure you have a drawer or storage box deep enough to tuck it away when it's not in use.


Sit or stand?
Stand-up desks have become increasingly popular in recent years. They're much better for your health, and many of us prefer working from an upright position, rather than slumped down in a chair. If you're using a stand-up desk, make sure you leave plenty of room around it – they are usually pretty bulky, so bear that in mind.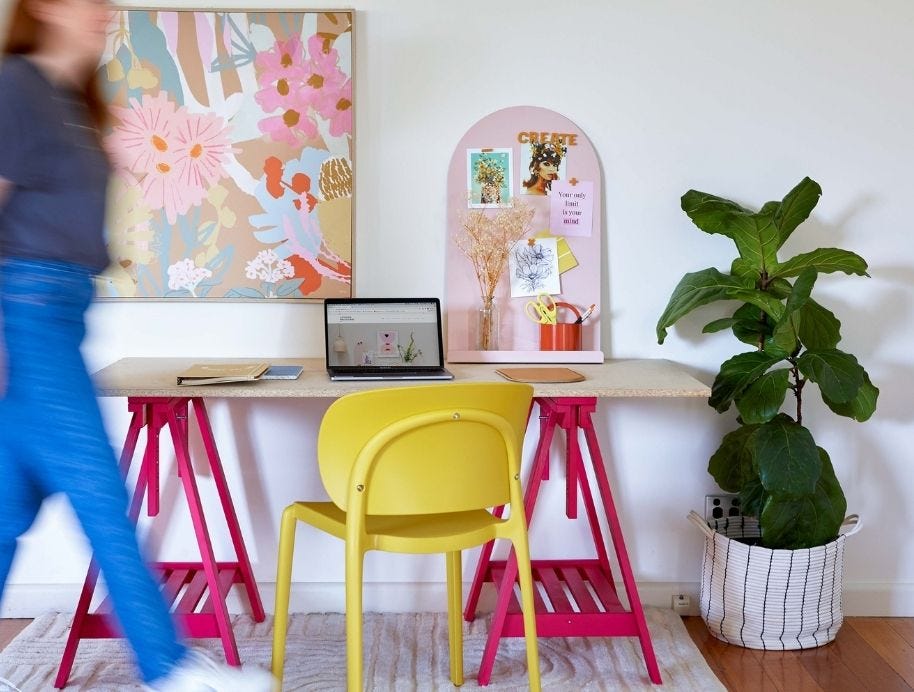 A noticeboard is a nice way to hang photos or inspirational quotes, boosting your mood and reminding you there's more to life than work, work, work!


Green up your surroundings
Not only does the addition of a potted plant look great, our little greens buddies also serve a dual purpose, improving air quality around our desk. According to a study conducted by NASA, certain plants are actually great at removing airborne allergens from our surroundings. Mother In Law's Tongue, for example, filters a chemical called formaldehyde, commonly found in cleaning products.


Get a kickass noticeboard
Notice Boards can be a great way to visualise goals and achievements and keep you on track for specific work projects. They're also a nice way to hang photos or inspirational quotes, boosting your mood and reminding you there's more to life than work, work, work!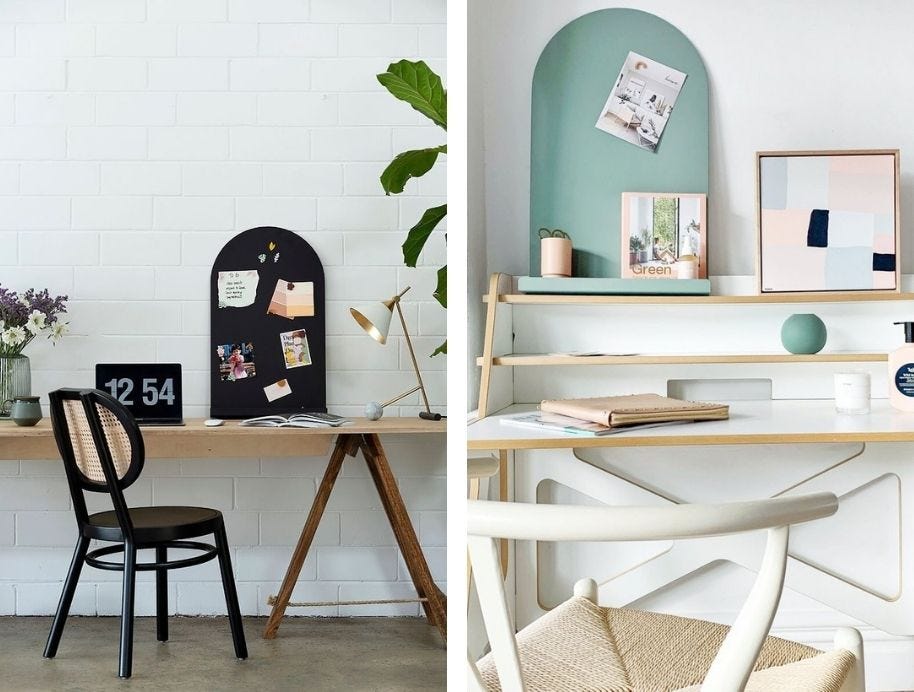 The Moodyboard is a magnetic, writable surface and also has a built-in shelf - the perfect addition to any home office or study nook.


Shop office HERE


For more home office tips read Darren Palmer's blog on turning that spare spot in your house into the perfect workspace HERE