Vanities are a central visual element of the bathroom. Your decision will be largely based on the bathroom's style and, you know, budget!
7 simple steps to follow when buying your bathroom vanity including some inside tips from our very own Block star Deb Saunders:

1. What type of bathroom are you creating?

Will your bathroom be a zen retreat, a family hub or a minimalist designer ensuite? The purpose of your bathroom, available space and budget will determine the overall design and the products you choose.


Mitch and Mark's stunning Vanity is bound to impress your guests, featured on The Block 2021, Issy Blossom by Reece.


2. Bathroom floor plan

Once you have a clear idea of all the things you want to achieve with your reno you need to start working on your floor plan. Ensure you place the vanity with enough walk around space and avoid tight gaps which are tough to clean. Make sure you measure wall-to-wall and that you are choosing a design that fits your space.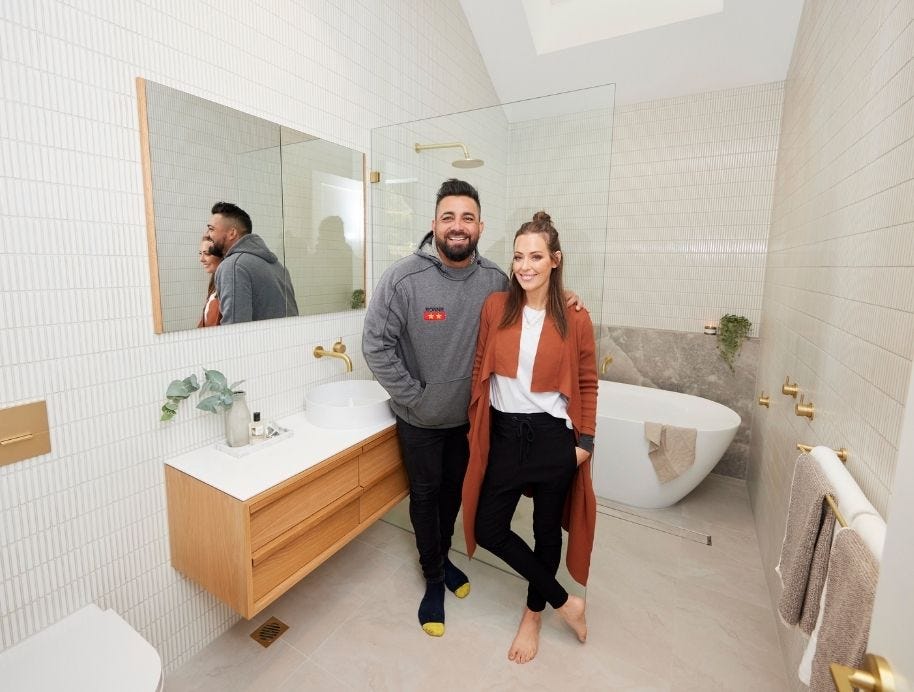 Ronnie and Georgia picking a timeless and classic vanity on The Block 2021. These two do no wrong.

3. Consider getting a plumbers advice

Whether you are building a new bathroom, renovating and moving your fixtures or keeping the layout the same check that supply and waste pipes don't need to be extended. Check the dimensions of the new vanity and ensure it fits with existing plumbing.

Kirsty and Jesse went with a classic white vanity in The Block 2021, and dressed it up with a splash of colour!

4. Ensure the vanity is stylish yet functional

A vanity can tie together the whole look and feel of your bathroom. Refer to your bathroom your wish list! Know your design style and what look you're trying to achieve. A sleek industrial look or a Hamptons style with some shaker cabinets, real beautiful timber vanities or concrete or stone benchtop? Do you want the dream double sinks for the morning peak? The list goes on...



Josh and Luke impressed with there sleek timber vanity and double sinks.
5. Vanity Storage

A key consideration should be storage! "Think about how many different uses the vanity has for the variety of its users and what each person may need from it," says judge Darren Palmer. "Day-to-day items of varying sizes need to be concealed and stored." Nothing ruins the look of a dream bathroom faster than a hairdryer sitting out on the countertop.
Whilst your vanity should provide your maximum storage you can also take advantage of mirror cabinets and some rattan baskets under your wall mounted vanity.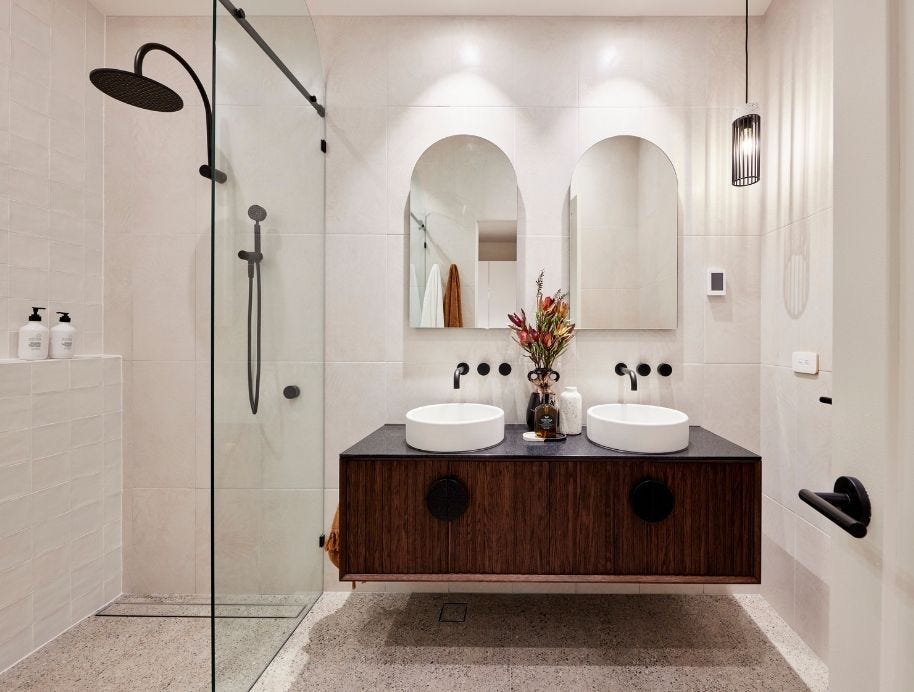 Plenty of storage space in Tanya and Vito's vanity on The Block 2021. More than enough space for all of your beauty products,and no need for messy benchtops.


6. Freestanding or wall-mounted vanity?

Wall hung are the most popular in new bathrooms these days and are definitely the number one choice by Interior Designers for the minimalist look. The space created underneath the vanity can create an illusion of space making your bathroom look bigger than it actually is. A free-standing vanity is a great option if you are looking for ample storage, have some plumbing to hide and are after a quick renovation on a budget without plumbing changes.



This beautiful vanity is available with both flush push to open drawers or soft closed drawers with shadow line finger pulls, as selected by Block Legends Andy & Deb.


7. Makeover your current vanity

If you are renovating to a really tight budget and a new vanity is not an option "Change the top of the vanity," says Alisa (The Block: Sky High winner and Fans vs Faves). "Whether it's to a stone or a timber top."

"Change the top of the vanity," says Alisa, if renovating on a budget and dont forget to style the space with al.ive wash & lotion duo.

Block star Deb Saunders shares her Block vanity experience and tips with Insider Style:

With so many hard tile surfaces bathrooms can feel very clinical. There are a few ways to soften a hard space. One of them is to add timber. It helps to warm everything up and brings a raw natural feel to the room. We loved our vanities in our Block house. They were handcrafted from White Mahogany and Australian hardwood. We chose the White Mahogany because we loved the light cream and brown hues.

The vanities were extra special because they were made by our niece Tori and her partner Brad. They own a business called How's That House. It's easy to see that the artisan joiners take pride in the vanities and furniture they make. This wasn't the first time we had used their vanities as we installed one in the bathroom of a house we renovated right before we did The Block. I knew the workmanship was second to none as was the timber.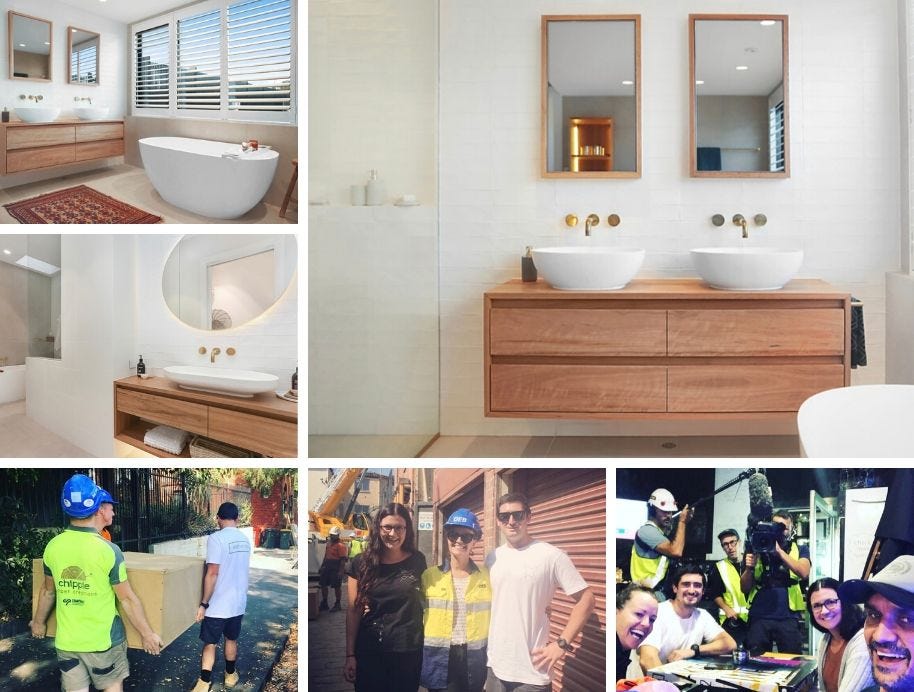 Tori and Brad hand-delivered them to us, driving 1192km each way to do so. They did this twice as we used their vanities in 2 of the 3 bathrooms we built in our Block home. That still amazes me. It was such a mammoth effort and we are so grateful. Having a little piece from them in the house was really special too. We are very proud of them and the business they've created and their bespoke handcrafted vanities added value to our Block house.
Shop How's That House vanities HERE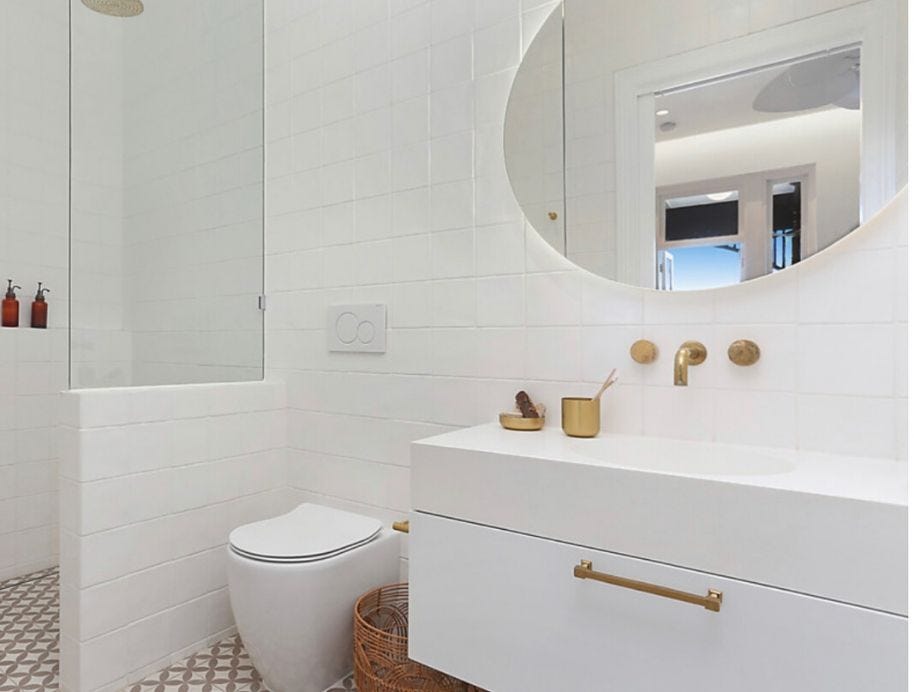 "The white vanity we used in our first winning en-suite bathroom was the Neo Slimline by Reece. We loved the moulded sink as it creates lots of bench space and has a minimalist feel. Very sleek and sophisticated. I chose a gold handle from Schots to customise it a little. You can do this too. Add a new handle, match it back to your taps and or styling items. Have some fun and watch your bathroom come to life! " Deb tells Insider Style.

For more inspiration check out these Bathroom Vanities

Recently renovated your bathroom? Shop bathroom decor HERE

2021 Best Bathroom trends HERE