Here's everything you need to know about purchasing a rug for your home in 2021

Thinking of buying a rug? Of course you are! Rugs are awesome! But honestly, when it comes to choosing the right one, it can be a minefield. But never fear, The Block Shop have your back.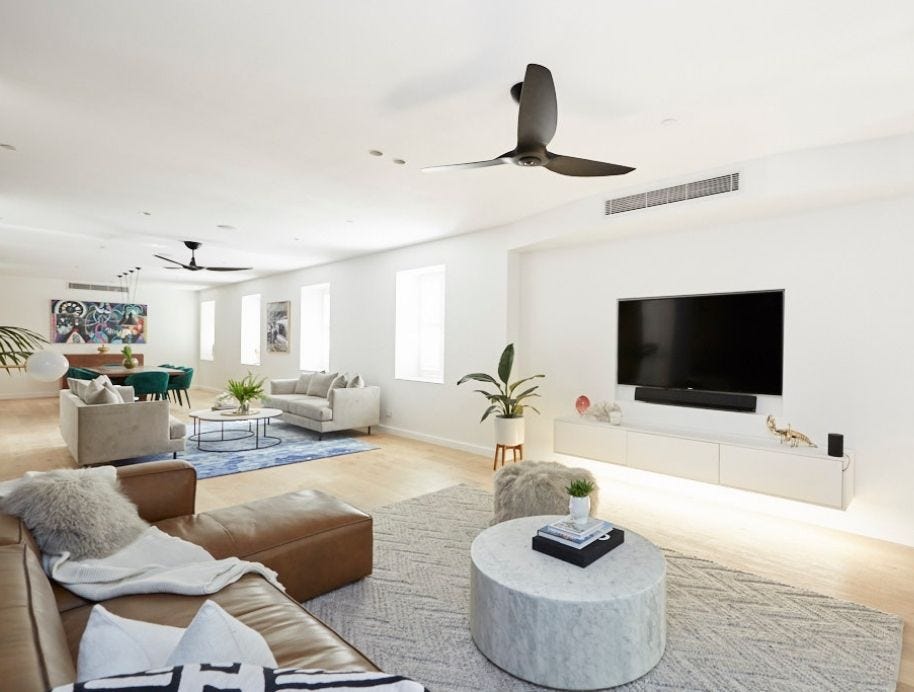 Courtney and Hans used rugs effectively to create separate zones and style their HUGE Block living space.


Here are 7 things to consider when making your rug choice:


1. Think about why you're buying the rug
Are you after a decorative statement? Maybe you're purchasing as an alternative to fitted carpet? Or perhaps you're attempting to add warmth to a space, or insulate it from sound? Knowing what you want to achieve is key to choosing the right rug for your space. Once you know WHY you're purchasing, you'll narrow down the field considerably.

2. Measure up
Choosing the right rug size for your space is absolutely key. Too small and it can actually make your space look tinier. Too big, and you run the risk of having it look token, or just plain out of place. Before you do anything, grab a measuring tape and note down your room's size. Rugs come in a variety of sizes, but as a general rule, here are the dimensions:
Small rugs: 120 x 170cm (4' x 6')

Medium rugs: 60 x 230cm (5' x 7')

Large rugs: 200 x 300cm (7' x 10')

Extra large rugs: 240 x 330cm (9' x 11')

Oversized/statement rugs: over 300 x 400cm

Hall runners: 75 x 300-400cm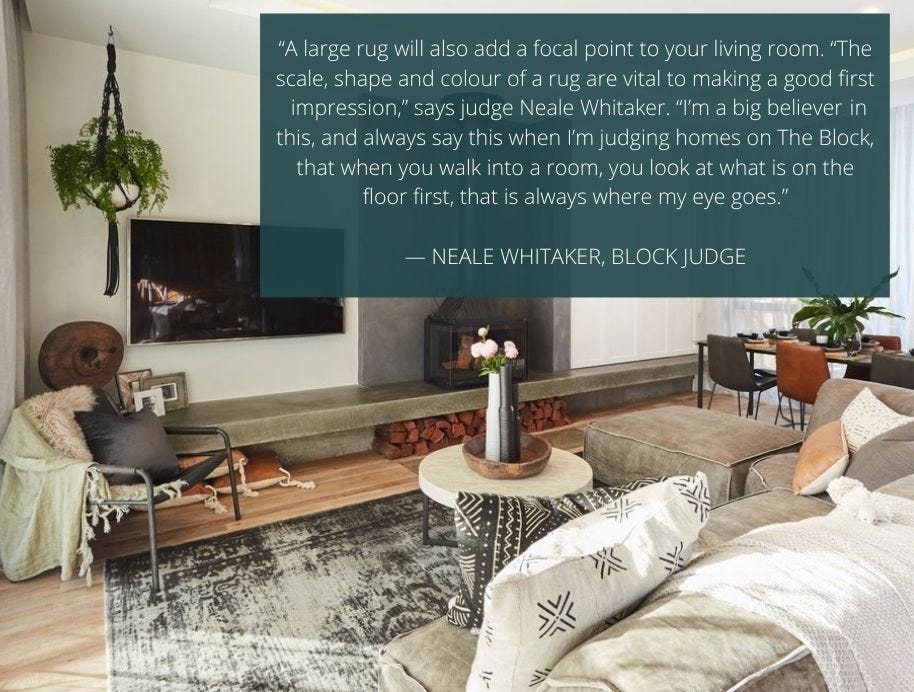 Elyse and Josh made a good first impression with their living area rug choice and placement!


3. Consider rug placement
Where are you putting your rug, and why are you placing it there? This is an important question, as it will affect the type of rug you purchase. Maybe you want your rug to be the first thing you feel when you step out of bed in the morning? In which case, opt for something tactile and soft. Perhaps you're trying to make your living room feel bigger? In that case, opt for a rug large enough to place all your living room furniture within its parameters – trust us, this optical illusion really works. If you're opting to pop one under your dining table, then remember to get one large enough to fit both your table AND all the chairs within its parametres. And go for something in a durable weave – gotta think about those food stains!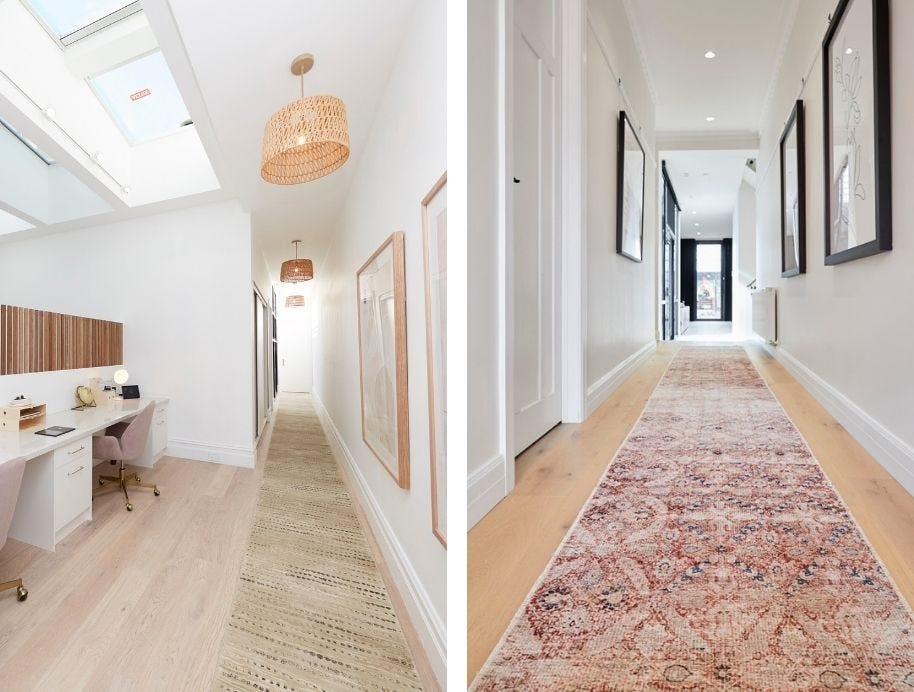 Rugs can sure make a statement in a hallway! These runners as seen on The Block are available customised to a length to suit your hallway HERE.


4. Don't go too small
Budget might be a concern, but if in doubt, always size UP with your rugs. If you get one too small, you run the risk of making your room feel unbalanced – the rug will look 'token' and out of place. That said, if money is tight, then there's nothing wrong with a small rug in your living room or bedroom – just make sure only the front legs of your couch, or the side of your bed is placed on it. It will break up the space and add a point of difference, without looking superfluous.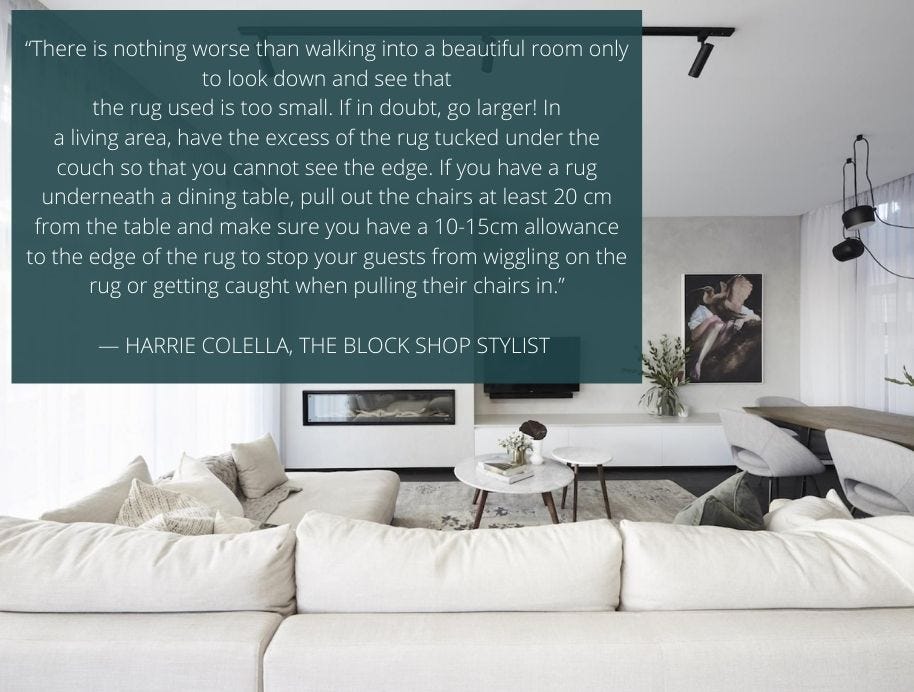 Ronnie and Georgia's perfectly styled living room on The Block in 2017.


5. Consider high traffic areas
There's just no point buying an antique silk rug and placing it in your toddler's playroom – that's just a recipe for disaster! High traffic areas like hallways, play areas and lounge-rooms need a rug that's going to take the wear and tear of being regularly walked on or played on. If you've got small kids at home, expect all sorts of smears, stains and stickiness to make its way onto your rug, so opt for one that's been treated, so it's easy to spot clean. Durable fabrics are also key.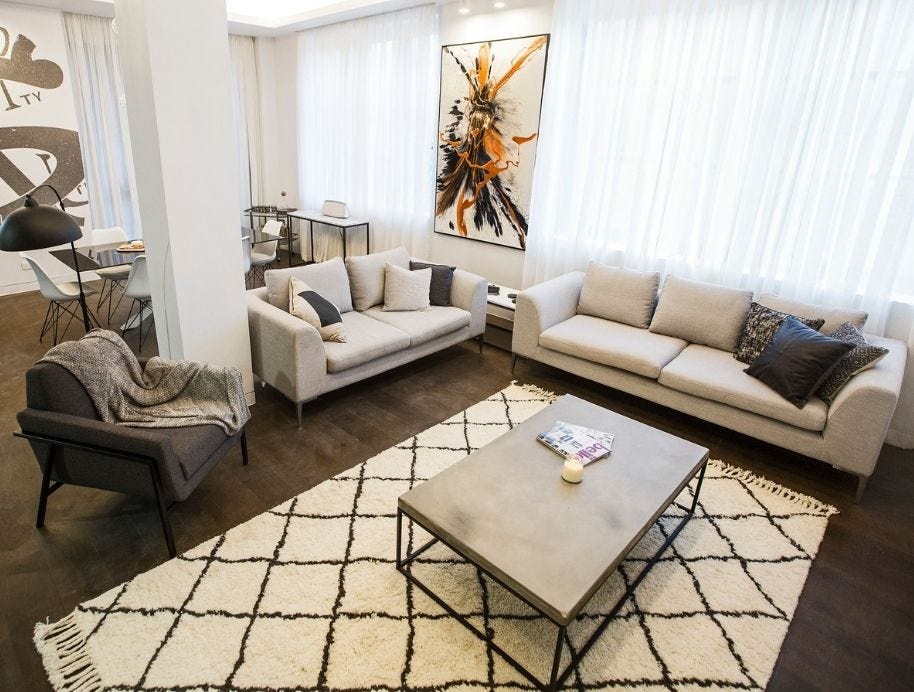 Andy and Ben's Block living and dining space in 2016 with their popular Morrocan inspired rug.


6. Use your rug to update your space
Interior trends change quickly. One good way to keep up with them is to update your rug, rather than totally replacing all your furniture. Go for one in this season's on-trend colours, and boom! You've instantly refreshed your living area – at a fraction of the cost of replacing all your big ticket furniture, like couches and coffee tables.

7. Don't layer
Remember a few years ago when our Blockheads were keen on layering rugs one on top of another? Yeah – maybe DON'T do that. Not only is this design trend seriously dated, it's also totally impractical, and dare we say it, a waste of money. Opt for one spectacular rug instead and save your pennies.

Browse The Block Shop's extensive range of rugs that will be sure to suit all styles and budgets HERE