From innovative ways to bring a television into a room without it taking over to unique framing options to bring any artwork to life, Framing TO A T has you covered!
So, tell us a bit about FRAMING TO A T!
FRAMING TO A T FRAMERS & DESIGNERS has been supplying quality bespoke picture framing since 1989. Established by husband and wife team Tony and Cath Stocks, FRAMING TO A T proudly offer Australian-made custom framing, framed art, TV-Mirrors and interior decoration from our three Melbourne locations, with delivery available Australia-wide.
One of your products that always catches the Block contestants' eye are your TV-Mirrors, how does that work?
Designed and manufactured in-house, our TV-Mirrors are constructed with high-quality materials and expert picture framing techniques for an exquisite finished product. We have an extensive range of frame designs available and every piece is custom made. We build the Samsung Smart TV's into our Mirror TV's so our customers can enjoy all the usual features of a Smart TV, with the benefit of having a beautiful mirror in your space when the TV is switched off.
And of course, you also frame art and photography…
Yes, we do! Selecting custom framing for a new art purchase, photography and family photos is such an exciting process in finishing your art piece. At FRAMING TO A T, our design consultants will work with you to create a custom framing design that complements the art piece, that works with your interiors and suits your personal style.
On The Block in Hallway Week when the Allstars returned to assist this year's contestants, we had a visit in store from a couple of teams who wanted to elevate their challenge paintings with some custom framing and it made such an amazing difference! After having these paintings finished with professional framing they really work in harmony with the fixtures and fittings in The Block teams' spaces.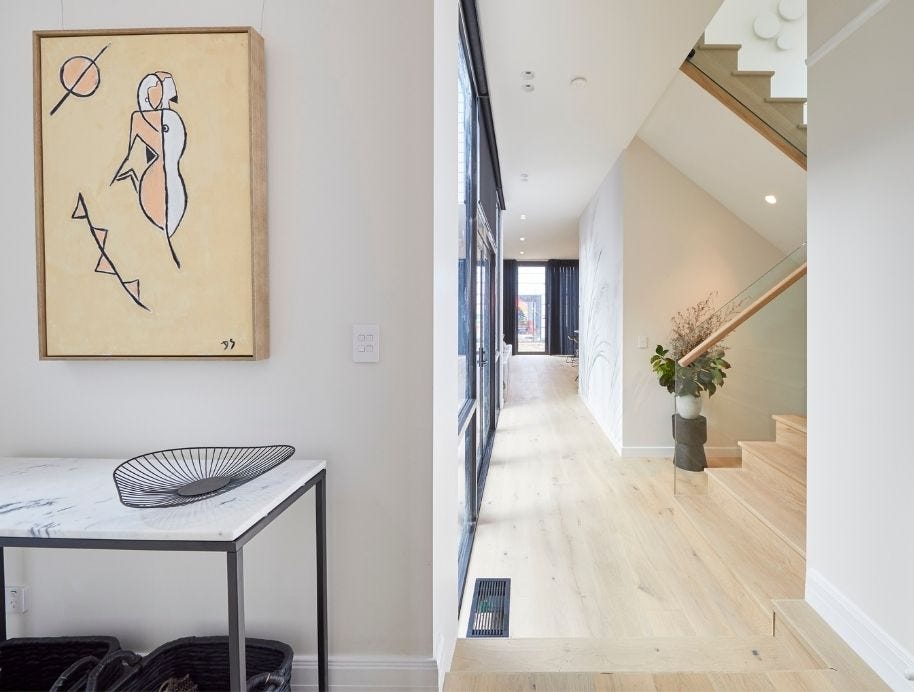 Take a look behind the scenes as Jade and Deb select custom framing for their painting on canvas in store at FRAMING TO A T:




Can you help your customers source art for their homes or spaces?
We love assisting our customers with sourcing the perfect art piece and framing design for their space. In our boutiques in the Melbourne suburbs of Berwick and Brighton, you'll find an exquisite collection of framed art to purchase. We can also source pieces from our range of quality art suppliers and artists, helping you find the perfect new piece for your home and complete your exciting art purchase with custom framing.
What is the benefit of having artworks beautifully framed?
Having an art piece expertly custom framed is so important in ensuring it not only looks well balanced and well designed for the artwork, but also your interiors. Also importantly, as quality conservation picture framers, our focus is to ensure your art investment or precious art piece is protected and preserved to last a lifetime. Quality materials and craftsmanship will make an incredible difference to any piece you wish to have framed. A beautifully framed artwork can absolutely transform the tone, mood and style in a space.
Jimmy and Tam really did that with the Slim Aarons prints didn't they?
Absolutely! When introducing art to their interiors, Jimmy and Tam loved visiting FRAMING TO A T to shop from the Slim Aarons archives. Slim Aarons' works were the perfect addition to their Palm Springs-inspired home to set a beautiful mood and bringing vintage glamour to their spaces. With the iconic photographer's archives spanning decades, we had no trouble curating a selection of 1950s photographic prints to share with Tam for her to select from.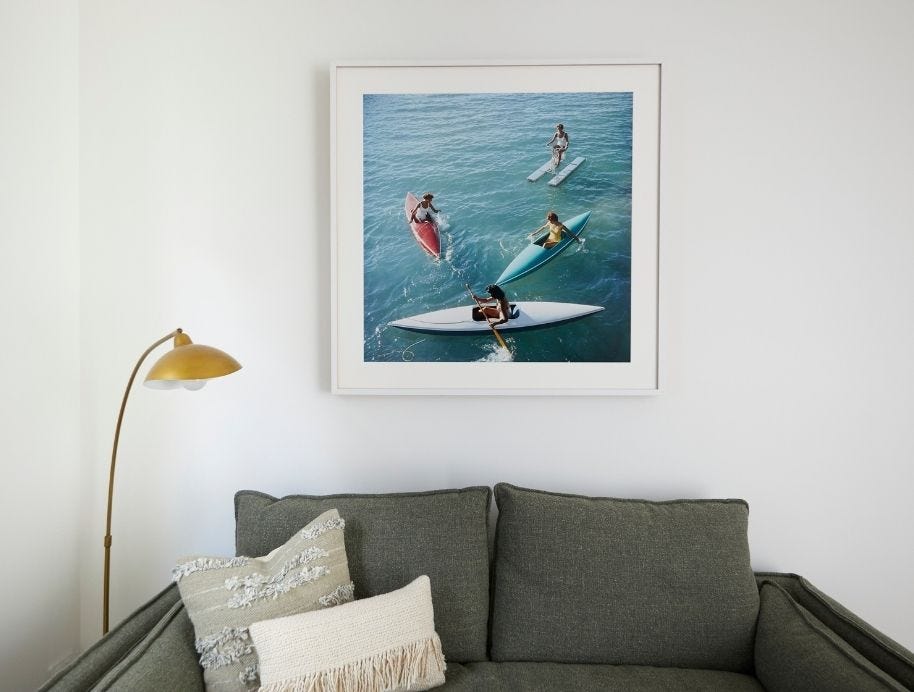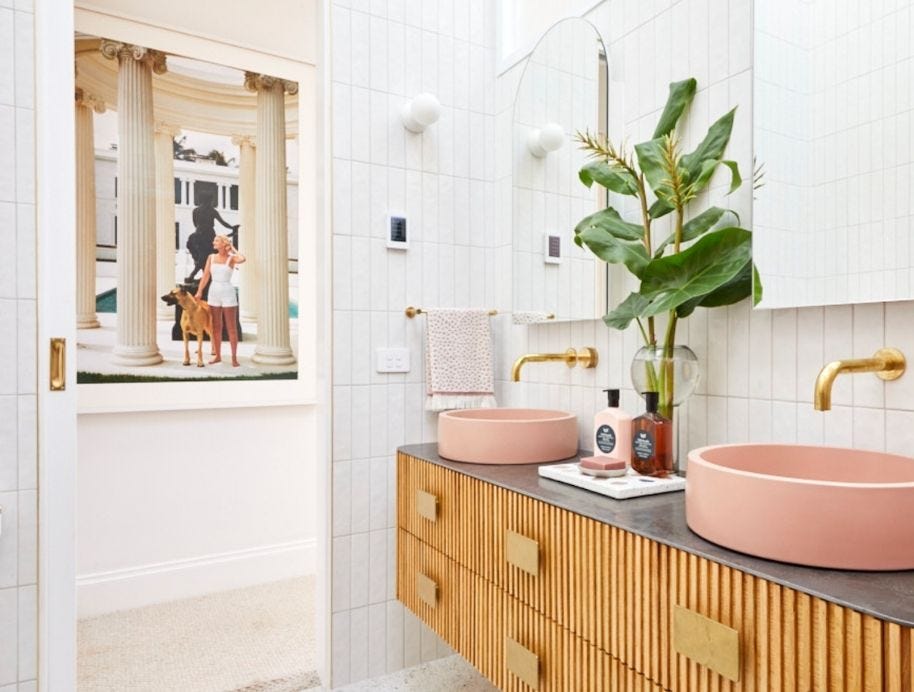 Custom framing can really help turn anything into a feature, can't it?
Over 30 years of custom framing, we have built a fabulous rapport with our community and feel extremely lucky that our customers come to us and trust us to frame incredible pieces of family history and precious memories.
We were thrilled to be involved in a beautiful discovery on The Block, when Jasmin and Luke found an old newspaper from the 1930s in the wreckage of their re-located Federation home. They brought this piece into FRAMING TO A T for some advice and assistance with framing this piece to protect it from further decay and to create a feature in their exquisite renovation.


Watch a little glimpse at choosing a frame design in store with Jasmin and El'ise when the Allstars returned to The Block for Hallway Week:




Framed art not only brightens a room but really adds to a home's story, doesn't it!
We completely agree, choosing art for your home is one of our favourite aspects of interior decorating, bringing personality and style to a space. At FRAMING TO A T we love to introduce a range of art and photography from Australian artists and our favourite art suppliers, offering quality works to our customers to suit any style of home.
And of course, the value of the home as well!
Investing in quality art, photography and superb custom framing creates a focal point in any space. When you introduce a statement art piece, it will not only elevate the style of a room, it adds value to the home, showing potential buyers the calibre of design and quality in every aspect of the home, as you see in Jimmy and Tam's Mid-Century Modern home.
And that advice doesn't end with what hangs on the walls, does it?
Yes! Alongside our custom framing service and framed art selection in stores, we also stock a beautiful selection of occasional furniture and home accessories. As well as art curation, we offer interior decoration and love to assist our customers in finding pieces to complement their style and home. We can't give away too much, but stay tuned for Daniel and Jade's Studio reveals - we loved helping them complete their space with some occasional furniture and styling pieces.
It's all about creating that emotional connection the judges so often mention isn't it?
We believe that art is the piece that gives a space the emotional connection! When you purchase something to decorate your walls, it's because you love it! It could be that it has created a memory of good times, it makes you feel an emotion or that you find the colours uplifting. If a piece of art or photography brings you joy, that emotional connection carries through the whole space, creating a sense of a home that you love.
Do your customers have to have a very solid brief, or can you help them with deciding what style will work best?
Not everyone has a solid idea of what they might be looking to introduce into their home, so a really important aspect in offering our advice is getting to know our customers. We discuss what it is that they like and what they feel they may want or need for their space. This is how we start to develop some ideas for art curation and interior decoration. We want to assist in creating spaces where our customers' own styles, experiences and energy are complemented in the styling of their home
So, what's the first step for someone wanting to bring unique artwork or prints into their home?
When restrictions lift, we look forward to welcoming you in store to any of our three Melbourne locations in Brighton, Berwick and Hallam.
You can also contact us at online@framingtoat.com.au, explore custom framing and TV-Mirrors at framingtoat.com.au, or get inspired over at @framingtoat, or shop online on HERE with delivery Australia-wide.
This is a sponsored post in conjunction with FRAMING TO A T.