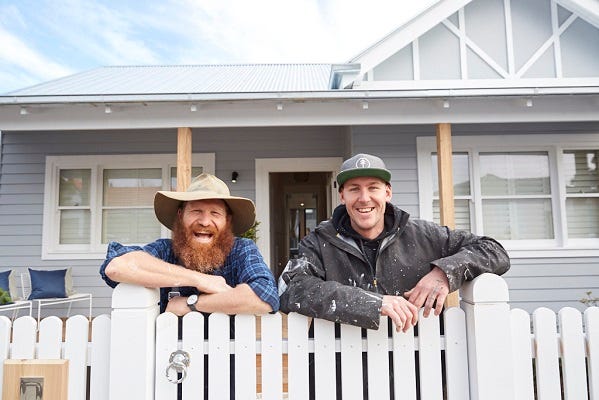 STICKS & WOMBAT SCORED: 28.5/30
Sticks and Wombat took a huge risk this week, presenting a home with no front grassed area. But it was a decision that paid off big time, with the boys taking home their second win of the season - and the last of the show.
"We decided to ditch the lawn and focus on native plants and a big verandah," Wombat says of their choice. "We've also decided to include elements of timber. We have learnt that it's those little elements that work best for us."
The judges agreed, awarding them a score of 28.5/30 for their efforts.
They loved the raw timber front posts supporting the portico, which worked in beautifully with the timber verandah, simple pavers, native plant selection, and the gorgeous grey-toned colour palette.
"We could have painted those front posts, but we wanted to grab that timber element," Wombat explains. "We had been told to keep it so the whole house flows. If it didn't have a piece of timber out the front - it wouldn't be us."
It was a detail that wasn't lost on Neale.
"They have gone through the house with that beautiful Scandinavian brush stroke. And this is perfect," he said. "This is all it needed to be."
The paint colour was one of Darren's favourites of the day. "It feels classy," he said. "And very appropriate. This is [lovely], and it's the perfect heritage colour."
Sticks and Wombat worked with their landscaper to present a simple, yet impacting, front yard, one which would appeal to many buyers - especially those not interested in spending hours tending the garden.
"This is literally a maintenance-free garden," Shaynna noted. "And once the Banksias come out, they'll have this beautiful yellow/orange tone, which will work so well with the timber."
The boys chose to dress their portico with two simple chairs. And though they neglected to name their home, or provide a 'Welcome' mat, all three judges thought it mattered not.
"[The whole front yard] is like one big welcome mat," Neale said.
ELSEWHERE ON THE BLOCK
JASON AND SARAH SCORED: 28/30
Coming in at second place was Jason and Sarah, who finished on a high with the presentation of their gorgeous heritage home.
"Isn't it the sweetest little dream house you could ever see?" Darren said upon stepping through the gate.
Shaynna also loved it, and was a particular fan of the materials they chose.
"You have got bluestone, which Melbourne is known for. And beautiful timber, which is the modern element, with the lights, and then you've got this beautiful original detail of the door and the window," she said.
The couple chose to fully restore their gorgeous front door, which provided a stunning heritage counterpoint to some of the more modern elements - like the sunken tree and modern light - in their yard.
"There's such an amazing sense of harmony out here," Neale noted. "It's just beautiful."
Jason and Sarah also chose to plant large deciduous trees, a grassed area, and to dress the space with gorgeous bluestone pavers.
"This is exactly what I was hoping it would be," Neale said. "If ever there was a house with street appeal, it's this."
And you can't higher praise than that.
JOSH AND ELYSE SCORED: 26/30
Their own home has the same heritage style, and Josh and Elyse wanted to replicate that with their house on Regent Street, choosing to style the front as a 'California Bungalow', Although some of the judges weren't massive fan of the large concrete pillars, they all appreciated the workmanship that went into the space, and the young couple's impeccable attention to detail - something that Josh is particularly thankful for.
"We wanted to get this house looking the best we could from the front," he said.
Josh and Elyse chose to present a grassed area, triangular topiary features, a bench to sit on, and square paver details.
"This feels like Nan's home," Shaynna said, pointing out that she meant it as a compliment.
"That is a compliment," Josh agreed. "It shows we have restored it to its original beauty."
Shaynna loved the flowered entry, and detail hedging, and Darren said he thought that buyers would love it.
"I love the red brick, and the crazy pavers, and the lead up to the portico is cozy, and welcoming," he said. "It feels really authentic."
RONNIE AND GEORGIA SCORED: 25.5/30
Of all the couples, it was Ronnie and Georgia who took the biggest risk, choosing to paint their house a dark black colour, using a geometric black and white tile for contrast. And it paid off - sitting pretty in the middle of the row, their home is a beacon on Regent Street. For all the right reasons.
"Here's the deal with ours - you're going to love it, or you're going to hate it," Georgia said before judging.
Luckily, for the most part, the judges were on their side.
"Vavavoom - this is what you call a statement," Neale said.
"This dark colour makes those leadlight windows just pop," said Shaynna, who thought it was a very unusual colour choice, but one that worked.
"I like that green tinge to it. It feels quite old worldy, but modern because of the door."
Neale loved the way the tile worked as a connector between the bold statement of the house, and the pretty heritage detail of the picket fence.
He also liked the use of grass, topiary, and gravel, to make it feel traditional in all the right ways.
"It feels like a good bridge between the white of the fence and the black of the house. The fact they have merged them together - I really like that connection," he said.
HANNAH AND CLINT SCORED: 23.5/30
It was touch and go for a while there. But Hannah eventually got her way, painting their front door a stunning blush pink colour, a decision that had the judges loving their entrance from the get-go.
"The door! How beautiful. It's so sweet," Shaynna said upon stepping inside their yard.
The couple paid particular attention to the heritage details of their home, using a grey and white colour palette, and adding large, white heritage window frames for contrast.
Shaynna loved the carriage light they added above the door, and all three judges appreciated the effort they had gone to to install a sheeted ceiling under the portico.
Darren also particularly loved how they had dressed the verandah space.
"Can you imagine just sitting here?" he said. "You have got this bit of extra privacy...so you can sit here and have a cup of tea and peer out at the street, but feel like you have a bit of privacy."
The judges were particularly impressed with how Hannah and Clint tied everything together in their house - and how far they had come since week one.
"They know The Block has been a battle," Scotty told them at judging. "But you have always pulled through."
"They have done a fantastic job," Darren said. " They are really to be commended for taking on the challenge."
Did you like this blog? Subscribe to our newsletter to be the first to receive news from The Block! Subscribe now to receive $20 off your next order.