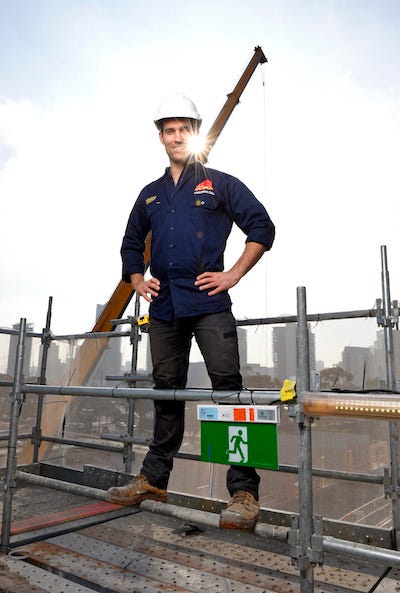 1. We've heard it mentioned so much on The Block - what exactly is a 'puddle flange'? And why is it so important?
Bree, NSW
It's such a random name for such an important piece of the puzzle! The easiest way to explain it is: it's a barrier for water. Its main goal is to stop water getting through a penetration from a pipe. On The Block, you've got units above you, and below you. You've got to put holes in the slab so waste pipes can go down and out through the sewer. So, it's essentially a 'sleeve' that goes over the pipe, that we water-proof, and stops any water getting through to below. It's very important.
2. Every year there is a 'screed' drama - why can't people get it right?
Peter, WA
Yeah, it's funny how it happens every year! But everyone has their different methods of doing it. And I guess in The Block environment, you may rush a little bit because of time constraints. Screed is important - you use them in wet areas. And what it does, because you are on an existing slab, it might not be dead-level. So with a screed, we can get the surface dead-level to tile. Or put a fall on it, like in a shower, so the water goes down the drain. People mixing it on the show might not mix it right and then it just crumbles, instead of setting hard. They might add a bit too much water, or not enough water, or too much sand, or not enough sand, because they're rushing. It's pretty intense. It always causes dramas.
3. How do you spot a 'cowboy builder'?
Clare, VIC
Your best friend is your 'recommendation.' But if you don't have one of those and you end up choosing a builder, maybe ask if you can talk to their current clients - the ones they are building with now - or go on their website. It's also important to check their license. Not every builder is licensed - and that is illegal in Australia. Also, see if they are affiliated with someone in our industry, like Master Builders - that's normally a good sign they are a bit more than just a 'builder'. Lastly - google them or just ring up the Building Commission (in Victoria, it's the Victorian Building Authority). If you have got their license, you can do a check on that, to make sure they've never gone to VCAT (Victorian Civil & Administrative Tribunal) or have a black mark against their name.
4. Renovate or build from scratch - how do you decide?
Sigrid, NSW
This is such a good question. I wish we all knew the answer! But I guess every case is different, so do your 'due diligence' on the area. Find out what sells for more - an extension, a nice renovation or a rebuild? Talk to your local real estate agent - they can help you. Or get a bank valuation, and ask lots of questions. When we first came to the area we recently renovated in, Dani got in contact with a new agency at the time - and now they are the leaders out here, and we're quite close with them. We talk to them and we only use them now. They told us what to build, and how many beds - and it paid dividends for us at the end of the day. (check out Dan and Dani's Seddon house here).
To get the latest Insider Style news delviered stright to your inbox, click here
SaveSave