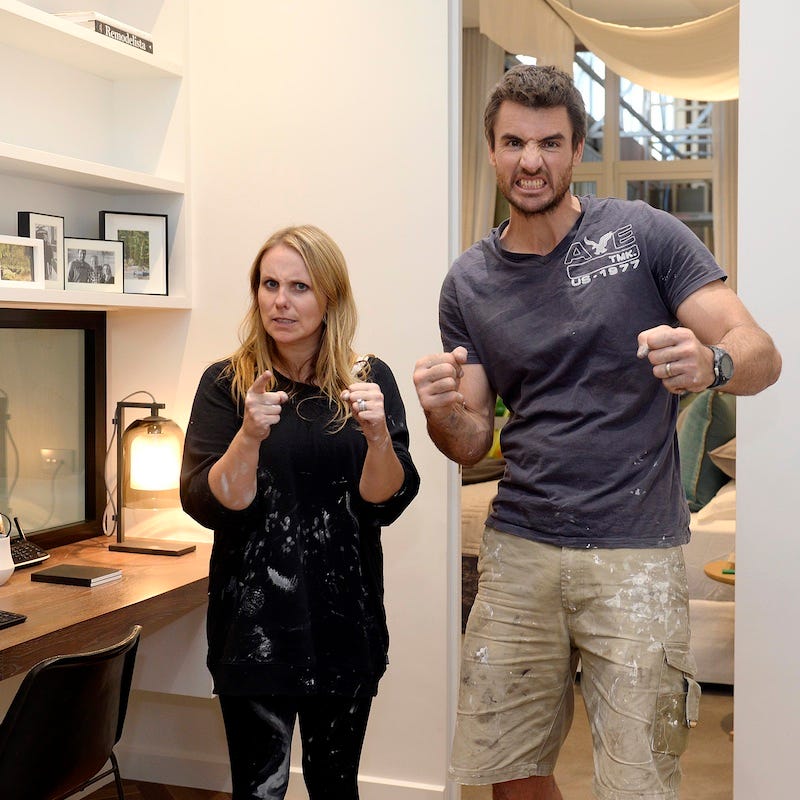 Victorians Darren and Deanne came onto The Block: Glasshouse with a plan, and now, three weeks in, it's all coming together, with the pair scoring their first Room Reveal win.
"We wanted to make sure we had a look for our apartment that flowed throughout our rooms, a continuity," Deanne tells us.
"I think that's really important, otherwise, it can look like a big mishmash. So now, three weeks in, we're starting to see it all come together. There's a continuity between the bedrooms and the bathroom. Our style's starting to show itself, and we think it's starting to look really great as an apartment."
The judges agree, scoring the pair a whopping 28.5 out of 30 for their contemporary and sophisticated guest bedroom and study. Darren and Deanne were rewarded for not shying away from high-impact pieces, and for bringing them together in a subtle way.
Their big 'wow' moment? The choice of artwork. The photograph of a tree, by Will Salter, was the best thing judge Neale Whitaker saw on Reveal Day, and it's available now on The Block Shop.
"And I love Prudence Caroline's print too," Deanne says. "It's really gorgeous."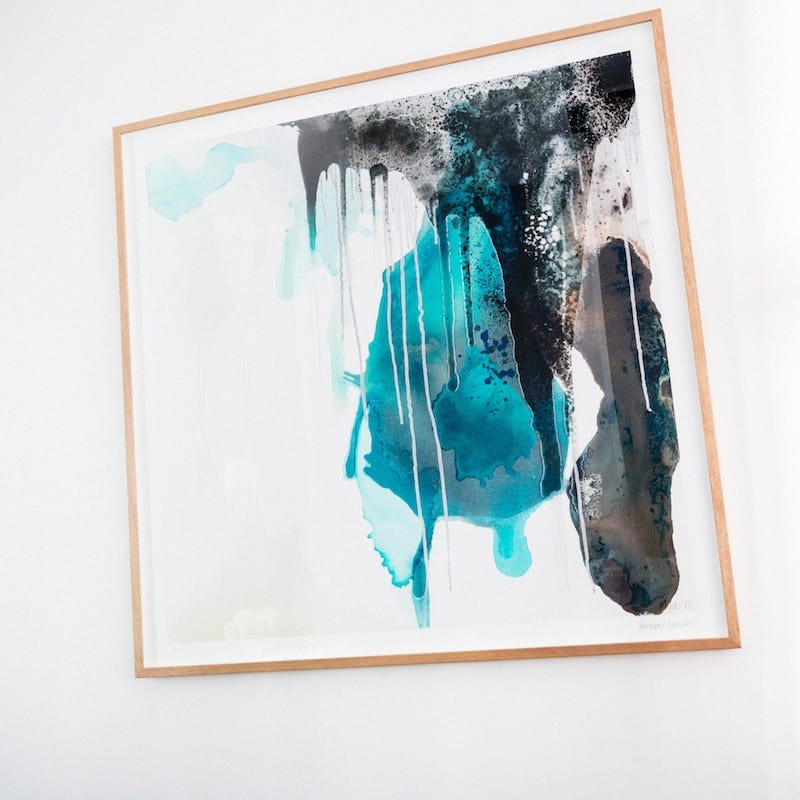 Their flawless styling was just one part of what made their winning room, with Darren and Deanne crediting their win to thinking ahead. In Week Two, they decided to think outside the Block and switch the rooms around.
"What would've been the bedroom was the bathroom, which was a smaller room. It made no sense that they'd have a bigger bathroom than bedroom," Deanne says. "We were happy with the space we ha changed it for, and I had lots of ideas… I knew how I wanted it to look and I couldn't wait to get started."
They had big plans for their second bedroom, but that doesn't mean they didn't have their doubts along the way.
"I loved the canopy, but I was worried about it," Deanne confides.
"I came up with the idea and then I was doubting myself. I have a habit of this. I come up with these plans and then the day before Reveal, I start panicking and wondering, 'Oh my god, what have I done? It's gonna look awful,' and I did that and then it arrived and we hung it up and it was just beautiful and I loved it, and the judges loved it too. So I was really happy."
With such stunning rooms being presented on The Block: Glasshouse so far, it's sometimes easy to forget that these are Block newbies we're watching this season. It can be a tough challenge, even for seasoned renovators, and there's a steep learning curve.
For Darren and Deanne, their biggest hurdles have been their… "flare-ups".
"We're so used to communicating at home where there's not the huge pressure and deadlines of a week to produce rooms," Deanne says with a laugh. "I think some of the communication got lost in the process and we had a couple of flare-ups in Weeks One and Two because of that. So, we sat down and talked about it and worked out how to alleviate those issues."
And there was no stopping a united Daz and Dee.
"We felt we were in a good space at the beginning of the week. We were excited about what we were going to do in the room and we were feeling pretty confident we were going to get it over the line without too much drama," Deanne says with a laugh.
Now, how are they feeling with a Room Reveal win under their belts?
"We're feeling pretty good about where we are now," she says.
And so they should!
Do you think Darren and Deanne's style would suit your home? You can shop by couple and recreate their Block look today!