What have D & D been up to since we last saw them.......
We catch up with Dea Jolly to find out what her and husband Daz have been up to since their epic win in 2015, when they took home almost $1 million in winnings on The Block: Triple Threat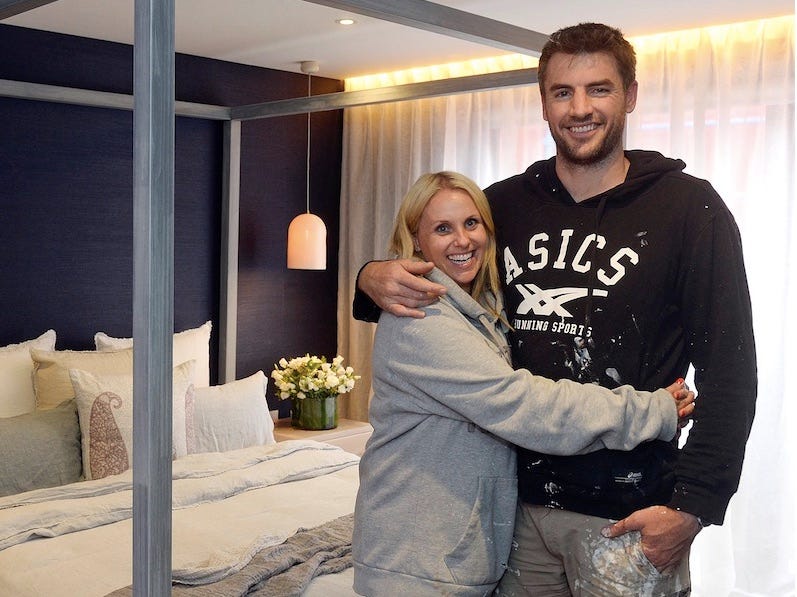 Looks like the last few years have been pretty busy for you guys...
It's been pretty flat-chat. Pretty much straight after the auction we bought a house in Kew [to renovate]. That meant that we hit the ground running, in terms of getting straight into another build.
You weren't tempted to have a little break?
No, we were ready to get back into it. Darren got registered [as a builder] that year, and we started our next project almost straight away.
Were you renting at that point?
Yeah, we were. Because we didn't want to live in another work site. We were really sick of that. We'd sold our house while we were on The Block. We started renting because we didn't have time to find another project. And then, when we finished the show, I thought, 'I don't want to go back to living in a project.'
Your next project was a heritage build in Kew. How hard was it to get that off the ground?
The pre-planning was actually quite quick. We were so lucky, because I think we got the permits within a month. I think partly because we got the heritage advisor on site, and talked about what was going to be doable and what wasn't, really early on.
 Were there many initial objections?
We were trying to do something quite sensitive. We didn't go up - it was single level - so there weren't many things to object to. I think the only thing we did was, we moved one window on the side of the house by one metre. The front of it stayed original, and we took everything out and had it restored.
Was the house in bad nick when you bought it?
It was unlivable. The before photos - there were possums in there, and bushes. An old lady had lived there her whole life. I guess the last ten or so years, she hadn't kept it up at all, so it was in a really sorry state. The land, itself, was completely overrun with bushes - you couldn't see the house from the front of the street.
You guys clearly don't mind a challenge?
No. It was a big project out of The Block. Daz was really confident - I was worried. It turned out really well. We ended up doing it in 11 months. And of course, if was in Domain, and Inside Out magazine. And we had a lot of amazing suppliers and sponsors.



How much profit did you make from that?
I don't really talk about the numbers, but we did do really well out of it.
We hear you have another heritage reno in the works now?
Yes, it's a white Victorian weatherboard, built in the 1890s, in Sorrento [in Melbourne's Mornington Peninsula].
Do you intend to live in it?
We won't move down there - we'll have it as our beach house. We got the keys about three weeks ago, and we have spent two weekends in there already. Even in the state, it's in, it's totally liveable, but it hasn't really been updated since about 1950. So it's original. It's going to be lots of fun.
How hard was it securing a heritage property in that area?
It was up for auction. We were actually on holidays in Noosa at the time, so we sent an advocate down to try and get it for us - and they did. We're so lucky because finding a beautiful white Victorian in Sorrento is as rare as hen's teeth. It's literally 20 steps to the beach and a ten-minute walk into town. So yeah, we are feeling pretty lucky.
As well as this, you have private clients, right?
Daz is a registered builder now, so he works on clients' builds, and we work together a lot, as I've got private interior clients too. Our business is growing all the time, and we are just about to launch our website. That will have 'before and after' shots of our projects we're working on, and lots of inspo. We really like to get in on the ground floor, so we like projects that we can help people come up with their floor plans, work with the architects and get the best results. We love looking at the exteriors of homes and looking at landscapes, and really just having a hand in the whole process and the whole look of the home.
Sounds like you guys are super busy. I guess it would be safe to say The Block has well and truly changed things for you...
It has, absolutely, changed our lives. We will always be grateful to everyone at The Block and Channel Nine. It allowed us the freedom to have our own business, to work for ourselves, and do something we actually love. That really was the whole idea. Daz wanted to do The Block...he pulled me in there kicking and screaming - I didn't want to do it - but all credit to him, it's worked really well for us.
We take a look through Deanne & Darren's stunning home
View Dea and Darren's restored Sorrento seaside home featured in Inside Out Magazine HERE


Did you like this blog? Subscribe to our newsletter to be the first to receive news from The Block! Subscribe now to receive $20 off your next order.