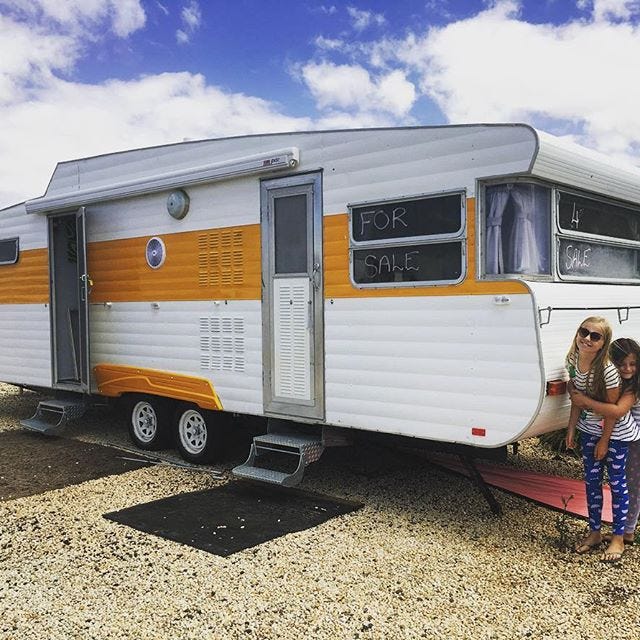 So, tell us about your new home on wheels….
It's a 1978 Viscount - and it's huge. We had to buy the biggest caravan possible, because Darren is so big! It's a 29 footer, and it's got two entry doors - one into the bedroom, and one into the living room.
What made you want to buy it?
We are renovating a place in Sorrento [an hour outside of Melbourne, on the Mornington Peninsula], so we have partly bought it to stay in when we're working on the hose. We'll have it down the back [of the block] so Darren can stay down there a couple of nights a week while he's doing the build. But also - we bought it to go on holidays with!
Was it already refurbished?
No, it's being renovated, rewired, replumbed and relined now, ready for us to stay.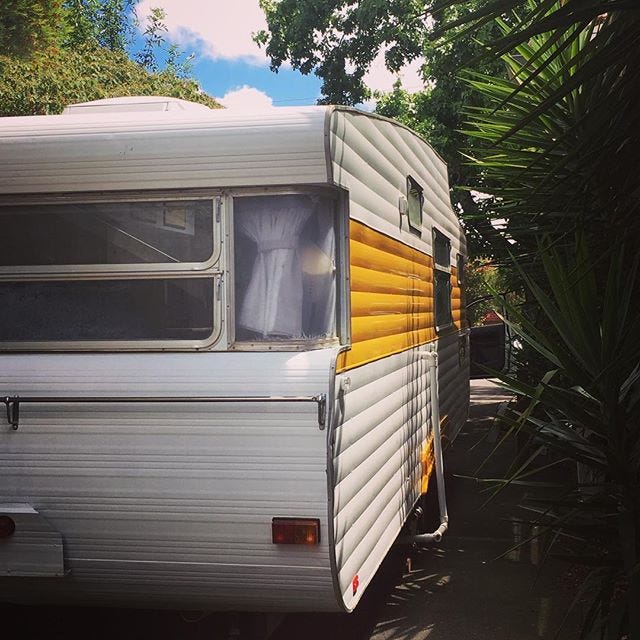 Did you go caravaning as a kid?
We did. My Mum and Dad had a caravan down at Phillip Island, and we really wanted to give the girls the memories that come with really simple holidays like that - no TV, playing board games, and spending really good quality time together. My kids are 8 and 10 now, so they're getting old, and I was just really craving some time with them, just uninterrupted - no screens.
That sounds lovely...
Yeah, just simple and easy, and being outside in nature - we felt it would be a really fun way of doing that. And, obviously, I also get really excited about doing-up a cute house on wheels.!I absolutely love [the TV show] George Clarke's Amazing Spaces and all those little house shows. It's going to be great.
Have you got an idea of how you want it to look?
Daz has completely gutted it, and after it's relined, we'll do it all ourselves. We'll get some nice floorboards in there, and the girls are keen on some nice wallpaper, so we will put some of that up, too.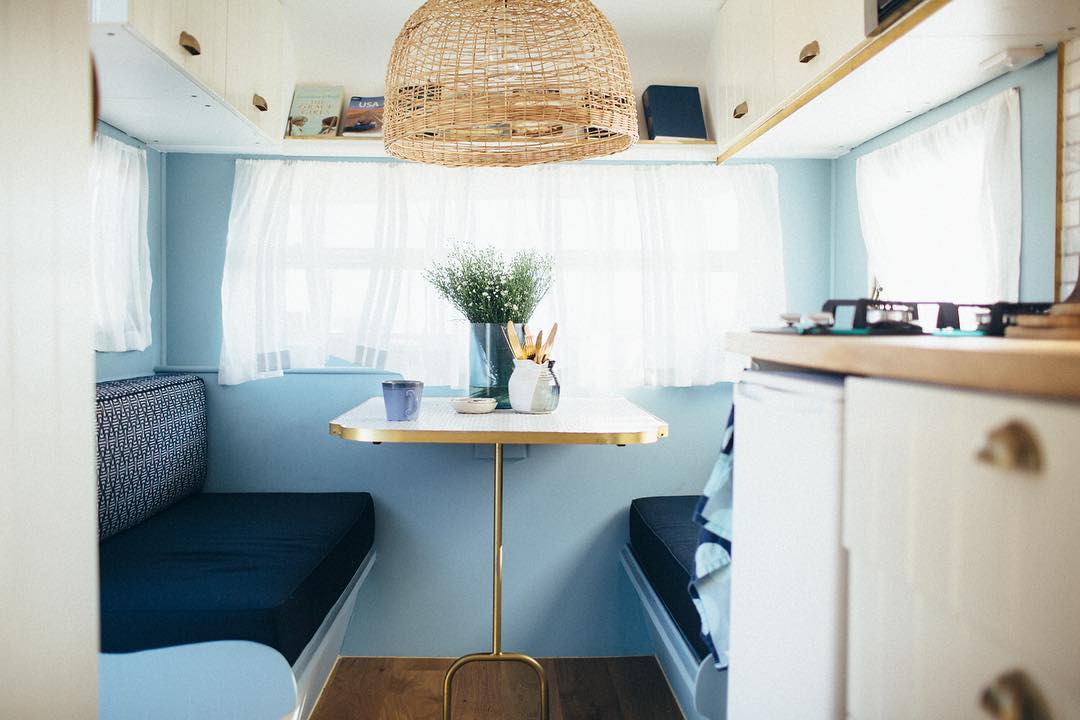 Will they have their own little room?
They have got a bunk room down one end. There are two sets of bunks, and the top one folds down, so they're like couches during the day. You clip the top bunk up if you want to. That is how the design was - we haven't changed the layout at all, actually. It made sense - that's the reason we wanted that caravan.
It sounds great!
We're really excited about it - and the freedom that comes with it. We can't wait.
Did you like this blog? Subscribe to our newsletter to be the first to receive news from The Block! Subscribe now to receive $20 off your next order.