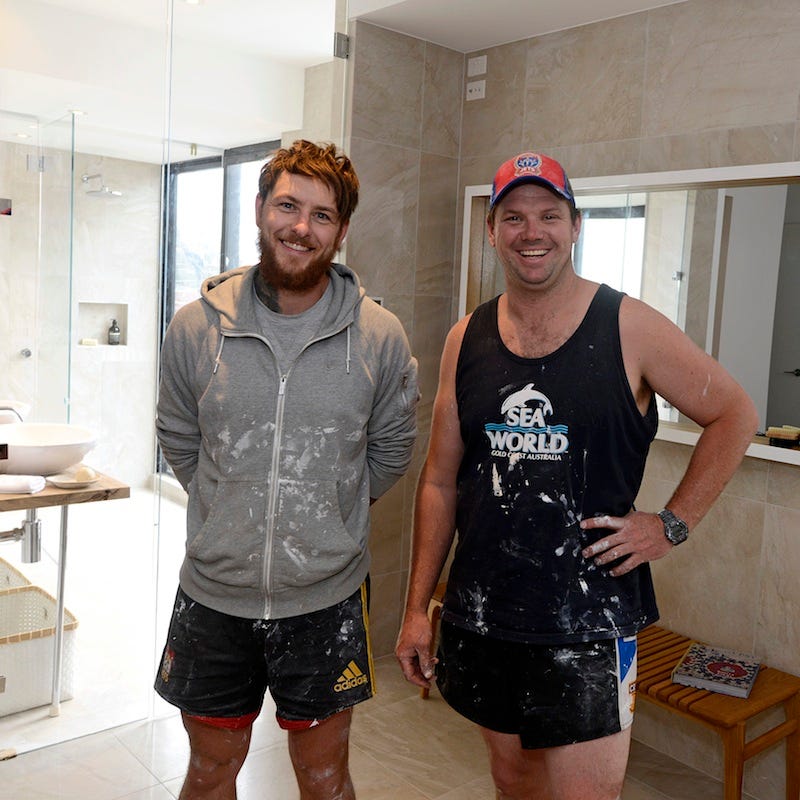 The Bathroom Kings have done it again: Brad and Dale have narrowly bested a reinvigorated Chantelle and Steve to win their second Room Reveal, and Dale reckons they owe it all to strategy.
Oh… and a bathtub.
"The cedar bath is our favourite feature of our room, obviously," Dale says. "It looks really cool, and when you walk in, it's the point of difference when you compare it the others."
This close to Auction Day, it's clear just how big a part strategy plays on The Block, and our boys have been thinking long-term.
"I know the manufacturer of that bath so I thought it'd be a good idea to try and get something in that other people wouldn't have found in shops," he tells us.
"We all shop in a lot of the same stores to get all of our furnishings each week so I knew that would be something no one else had found. It was a good little win to get someone on board whose product could set the room off."
And boy, did it set it off! It rendered Shaynna speechless, and Darren's thoughts? "This is totally awesome."
After hassling the boys to include a bath in their apartment, they got their wish: in the middle of the master bedroom.
If making the brave choice was a scary one, Dale certainly isn't letting on.
"Look, we weren't worried about it. You can't worry about everything you put into a house, wondering whether people will like it or not, you've just gotta go with what you think is the best," he says.
It's an instinct that has served the boys well this year – remember their bold commissioned Kitchen Week piece by Megan Weston? They even managed to out-art Alisa and Lysandra with that one.
"We thought the tub was the best idea, and we think it comes across really well, and our real estate agent has given us some great feedback from potential buyers who've seen it."
After all, it is the master bedroom, and the people who spend top-dollar come Auction Day will be staying there. Luxury is going to be a thing that they want.
"And the tub is very luxurious, we have to say," Dale laughs.
The boys have been incredibly smart with how they use their money and time this season, and Dale admits they put more effort and cash into specific rooms and features. They know fittings and fixtures sell houses, so they've been very careful to choose the right ones: from bathroom items to pendant lights.
"We continued the same trend from the other bathrooms – we used the same recycled slabs from the same timber to tie them all together, and all the fittings, the basins and the taps are nice quality, good, clean shapes that aren't offensive and won't date," he says.
"That's what we're trying to go with in all our bathrooms, the things that aren't gonna date quickly and that are going to look expensive and remain expensive for many years to come."
Here at The Block Shop, we pride ourselves on only stocking the best. We have a range of Reece produced used by the Bathroom Kings in their apartment, including their Pol Bath/Shower Mixer, Scala Floor Mounted Spout, Posh Domain Round Overhead Shower and Ziporah Towels available for purchase now.