Albury-based designer Kat Rattray makes gorgeous children's bed linen, based on books she painstakingly illustrates. Here, the ex-interior designer talks us through how she finds inspiration. And why her 'imperfect space' works just fine for her...
"I wrote a blog post recently called, 'Imperfect interiors make for perfect homes,' which is something I really believe in.

It's funny, because there I was, as an interior designer, designing fabulous interiors for people, with high budgets, in these very specific styles - but my own style was much more eclectic.

There's this really cool Japanese concept - wabi sabi - which is about things being frayed, and worn, and used, which I love, because I love it when something looks like it has a history, or a story. And that's very much what my home looks like.

I read a book, called Dream House, when I was about 24. It's a story based on Alice in Wonderland, and it's stayed with me, even as an interior designer - that you can walk through the front door of someone's creative space, or home, and get the story of that person without words. I love that concept.

As part of setting up my business, Kat & Fox, I have had to lean back in certain areas, so I ended up having to say goodbye to my studio. I decided it wasn't worth it to pay rent on a space - and I decided to embrace my dining room table instead!

I like it. I don't have a problem working from there. When there are no children in my house, and everything is in order, I find it very peaceful.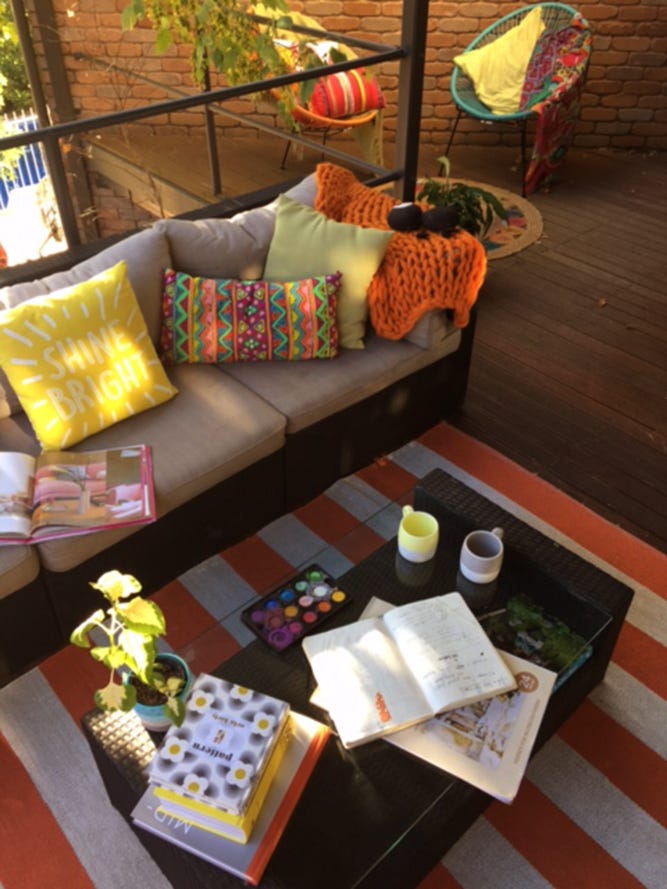 I actually love to work from my house - it's the coolest place. And I have views of the countryside to look at. But the thing is, it's still not been renovated, so the walls are heavily dark brick. But it has a great shell - with massive windows.

We only moved into it two or three years ago, but I ended up starting the business, so we just did a tiny bit around the pool, and then we stopped, because everything went into the business. It needs love, but it feels creative - I like it's rough edge. And it is rough - sometimes I find myself sharing my shower with slugs!

But back to that concept of Wabi Sabi. I love that idea of objects telling stories, and everything having a meaning. You can do wonderful things in new spaces that still tell stories - even if you have a relatively new house, you can still add that sense of age, or sense of story.

And I like to think that that is what my home is like - imperfect, but perfect for me."
All images courtesy of Katt Rattray
Did you like this blog? Subscribe to our newsletter to be the first to receive news from The Block! Subscribe now to receive $20 off your next order.