Ever wondered what Block judge and interior design supremo Darren Palmer's kitchen looks like? Of COURSE you have! Well, now you can find out.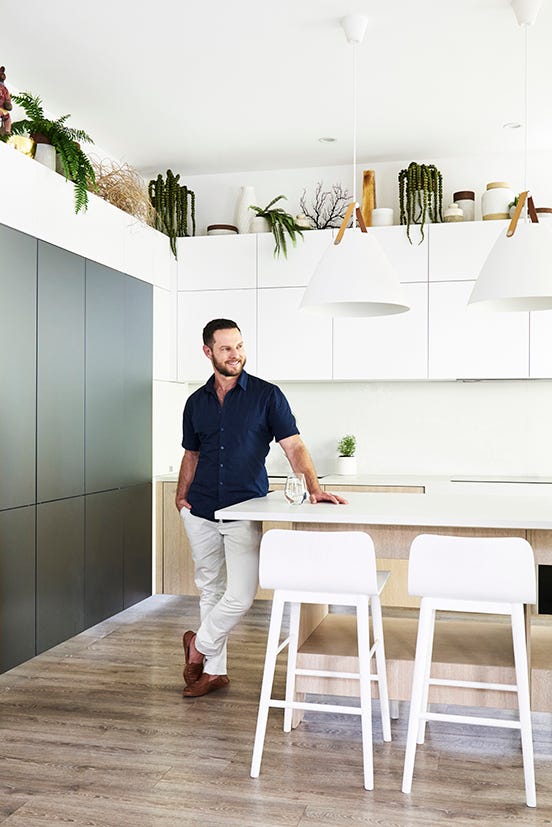 Darren recently collaborated with Freedom Kitchens for an upgrade of his basic eight year-old fit-out, choosing crisp, white finishes with a metallic twist.
"When I was ready to renovate my kitchen in my Bondi home, I went directly to Freedom Kitchens," he explains. "I've seen a lot of their work on my many years on The Block, and I've also had them do a few of my kitchens, so I was very confident that Freedom Kitchens could carry out my vision."
Darren wanted to update the space to better suit him and husband Oliver's evolving tastes. He also wanted to incorporate more kitchen gadgets, making his kitchen a more 'high-tech' area of his home..
He chose Titan anthracite-toned cabinetry, which worked perfectly with his top-of-the-range French-door fridge, built into the surrounding joinery with a seamless flow.
"It's a beautiful anthracite metallic colour, with a subtle but stunning sheen - and I love the results," he says.
The metallic statements were then worked with overhead cabinets in matching Iceland White, making the space look clean, modern and functional, with a nod to the popular 'Scandi' style.
Benchtops were done in Ceasarstone's new Cloudburst Concrete, which, as Darren points out is "right on trend." He also used this material for his splashbacks
The whites works back with the metallics to provide an understated counterpoint to an otherwise bold statement.
"The kitchen trend I am really loving at the moment - and one that inspired my kitchen - is mixed tones and metallics, grounded by the natural elements of timber and concrete," Darren says of his design choices.
"You can make a neutral palette so much more interesting by combining a mixture of textures - and a popping metallic really dials up the interest.
Just make sure it's perfectly balanced."
Darren chose touch-catch cabinetry throughout, only using anthracite-toned handles in the timber-look cabinets between his sink.
We think you'll agree - it looks absolutely stunning.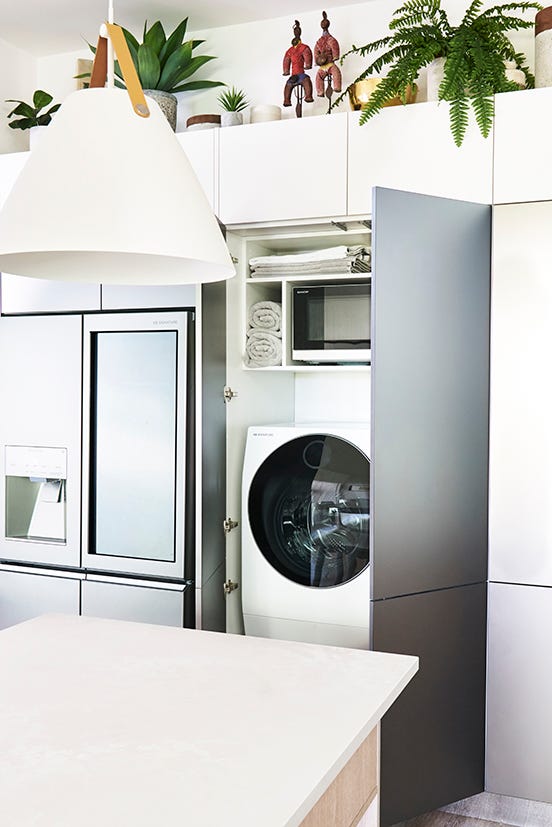 Fabulous use of space with the upright washer & dryer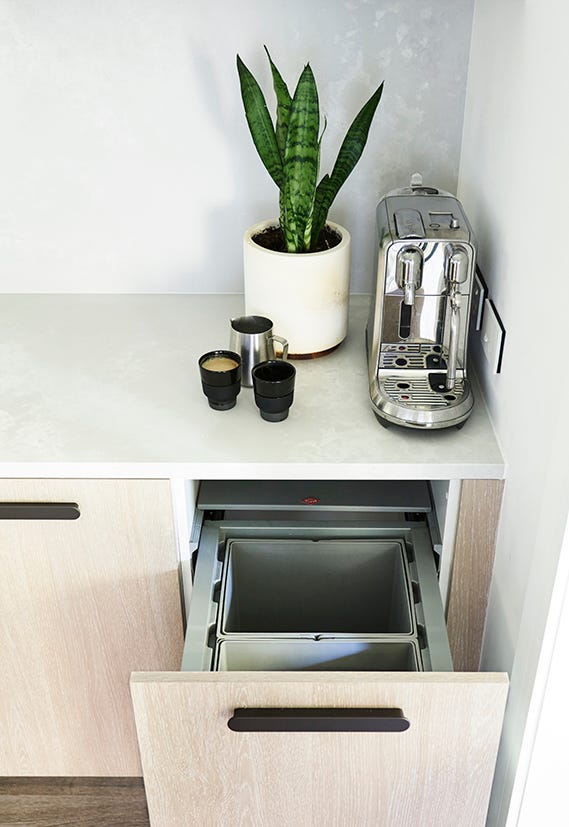 Room for more of Darren & Oliver's gadgets. Who doesn't love a bin draw?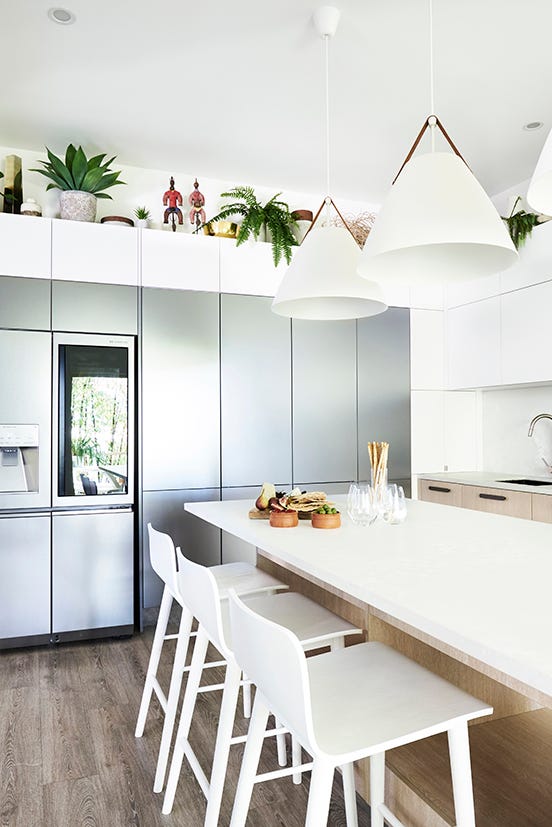 A perfect balance of textures...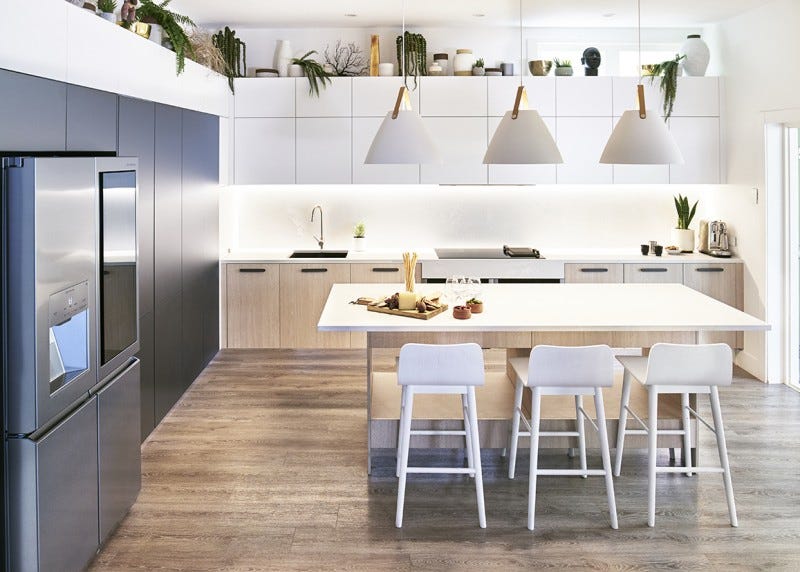 Loving the way Darren has made a feature on top of the high cabinets with touches of fresh greenery and ornaments. What do you think, should we give him a 10?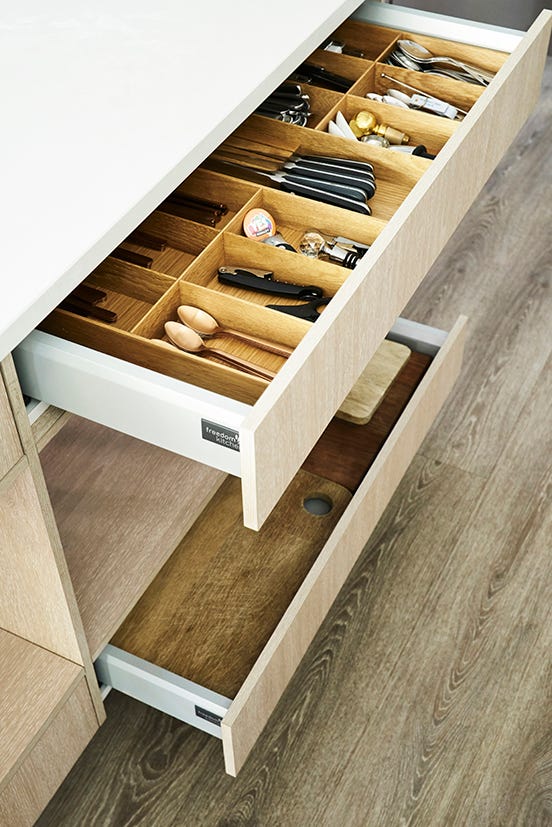 I think Shaynna would be impressed with this storage and cutlery draw!
Did you like this blog? Subscribe to our newsletter to be the first to receive news from The Block! Subscribe now to receive $20 off your next order.