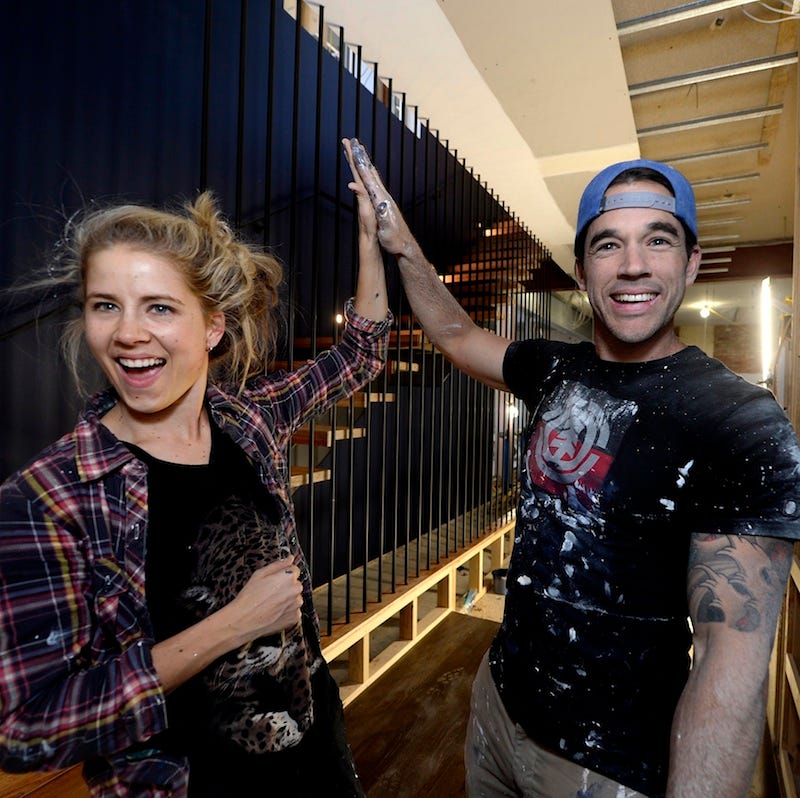 Last week, they were pipped at the post by half a point. This week, Michael and Carlene have come back strong, scoring their first Block: Glasshouse Room Reveal victory.
"It's such a relief to finally get a win," Carlene sighs.
She and Michael were the only Glasshouse couple to not have won a room before Sunday, and last week, after their narrow loss to Max and Karstan, Carlene couldn't help wondering, "Are we ever going to get one?"
Not that she let it get her down.
"Our scores have been high, despite not winning, so we thought it was only a matter of time," Carlene tells us.
"We've been frustrated – up until this point, all of our rooms were upstairs, and our upstairs is significantly smaller than everybody else's. We've found it very hard to compete with some of those bigger spaces."
Well, now The Block has opened up, and it's safe to say Carlene is excited to finally be working downstairs.
"We feel we're on more of an even playing ground," she tells us.
Our Blockheads pulled out all the stops this week, presenting stunning spaces that will set the tone for their lower levels.
They all used lighting to great effect, hoping to impress the judges and prospective buyers, and their choices are now stocked here at the Block Shop. We have Carlene and Michael's Etch Web Pendant, Max and Karstan's LED stair lights and pendant, Simon and Shannon's Saba pendant, and an eye-catching copper lantern similar to Dee and Darren's.
Carlene has made quite a name for herself on The Block this season thanks to her great taste in pendant lights. Each week, we chat to the Room Reveal Winners in our Midweek Minute and ask them what they admire most about the other couples' rooms – time and time again, Carlene's pendants get a mention.
Since we finally have some one-on-one time with the lady herself, we figure we should ask how she does it, week after week.
"I spend a lot of time looking for the right pendant lights, it consumes me," Carlene says with a laugh. "It's always a risk because lights aren't something you can hang up and return, so there's a lot of deliberating beforehand.
"Also, you can't always get the pendant that you love, because you only have a week and a lot of warehouses are interstate. If a supplier doesn't have it in stock, we can't have it."
It helps to know what you want. Early on, Carlene decided she wants to use a lot of metals throughout the house. That's narrowed her search field. And it all boils down to having the right suppliers – knowing which ones have stock and a large range.
And that's something we pride ourselves on here at The Block Shop, so if you're under the pump and renovating a room in under a week, or if you're going a slower pace, we have a great selection of products – so browse now!