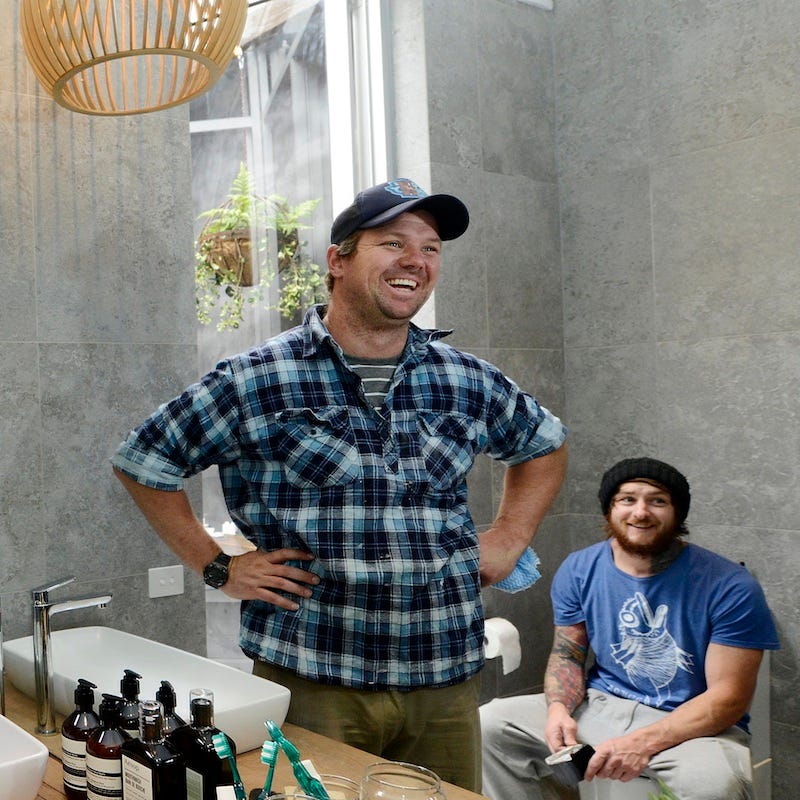 The Bathroom Queens have been dethroned, with Brad and Dale winning the second The Block: Fans V Faves Room Reveal.
After seeing their bathroom, laundry and terrace areas, Shaynna has pegged them as the "guys to beat" in the competition. Neale didn't hold back either: he reckons they presented one of the best Block bathrooms ever.
And the praise was music to Brad and Dale's ears.
"It's so great to get positive comments, but it's more of a release," Brad tells us. "After all the work you've put in, it means the judges have understood what you tried to do."
The duo knew they were going to make a strong team – they both had renovation experience, and were "smart cookies" when it came to layouts – but Brad admits the win was still a big confidence boost.
"It's put the others on notice," Brad says. "We're not just here for comedy value. We're one to watch in this competition."
Coming back to The Block was a daunting prospect, especially since the lads would be losing their more stylish partners, Lara and Sophie.
"Lara and I thought if we ever did it again, we'd do it together. We never thought we'd get split up," Brad reveals.
The twist means the boys have had to flex their styling muscles… and the results so far have been impressive. The judges, and their rivals, loved their artwork in their downstairs bedroom and this week, their styling was flawless.
Everything from their gorgeous hanging planter from Entanglements to their wooden lights from Beacon scored big points with the judges.
"I just love the size and grandeur of the room," Brad says. "Oh, and the outdoor shower."
Yes, we can't forget their huge showerheads, available here at The Block Shop.
The boys may have had to learn to style quickly, but their partnership has had its benefits.
"We got on great in 2012, so we knew it was gonna be fun, we have similar tastes but there were some nerves," Brad admits. "We'd never worked together, so we didn't know if it would work… We didn't wanna ruin the friendship."
To make sure that doesn't happen, the pair are approaching their time on Fans V Faves as a true partnership. Even though Dale is a landscaper, they worked on the outdoor area as a team.
"It was a big plus having a landscaper, but we both talked a lot and we never let one takeover all the work, because if the judges hammer you, then it's all on you," Brad said.
Well, whatever you're doing fellas, keep it up. The judges are loving it.
If you're keen to try your hand at recreating what you've seen on The Block this or any other week, have a go at shopping by room on The Block Shop!