We get to know the talented artist behind Luke and Jasmin's stunning artwork in their Guest Bedroom….


How long have you been producing your art?
Oh man, since I was 5?? I've always loved art and being creative. My favourite show growing up was "Art Attack!!" I did art in Year 12 and then again at uni doing a double degree in Fine Art and Education. So being an Art teacher was kind of the goal. I ended up specialising in special education and have LOVED my career for the past 12 years. I've always painted on the side though. When I was on maternity leave 18 months ago I started painting my heart out properly and haven't stopped.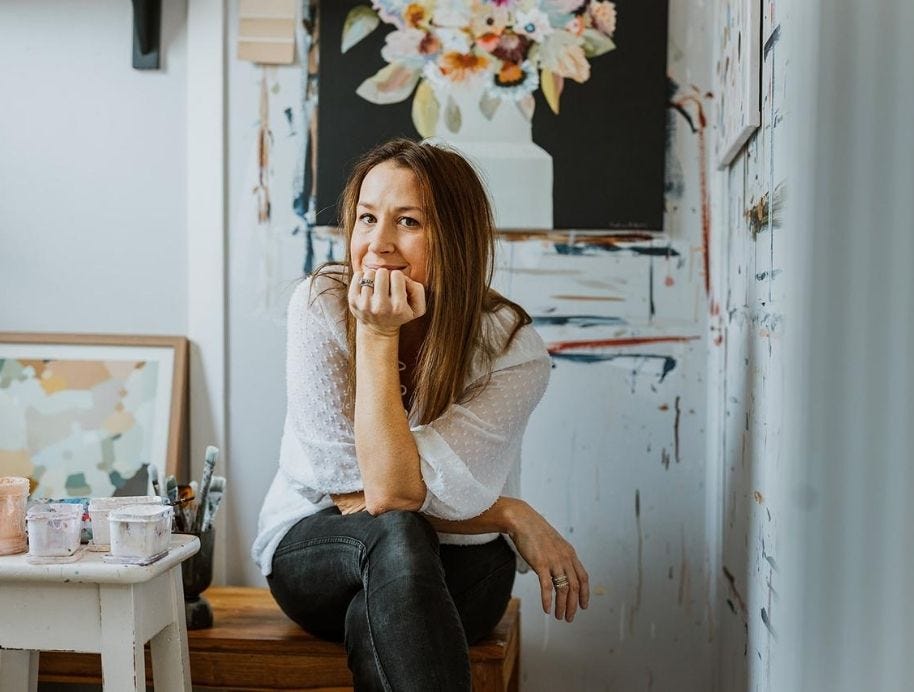 Prudence was born to be an artist "I've always loved art and being creative. My favourite show growing up was "Art Attack!!"
Where do you draw inspiration from?
Absolutely everywhere. My poor phone is full of screenshots of beautiful paintings, photos of random architecture, nature fashion etc. I love colour. I love the way colours change and blend when put side by side. I don't often step back and take a good hard look at a painting, but I like to focus on which colours look good next to each other. I micro-manage that way. Eventually, it all comes together.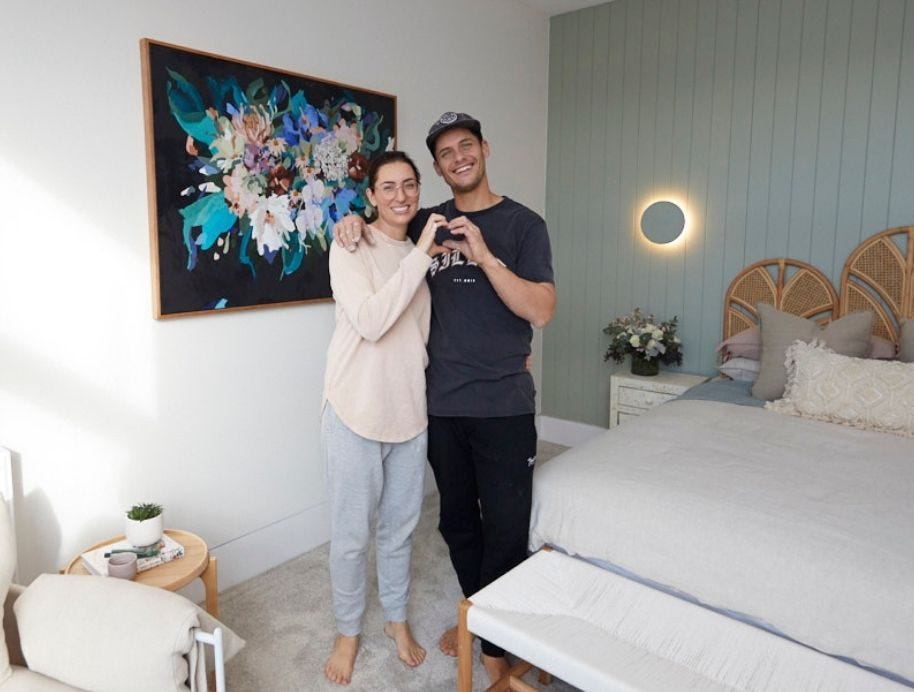 Luke and Jasmin loved Prudence's artwork so much they used it again in the upstairs guest room!

How long does it take you to create a piece?
Anywhere from 3 hours to 15 hours. It depends on the style.


Block 2020 contestant Jasmin selected a stunning Prudence artwork 'The Exception' to feature in their Guest Bedroom available to purchase HERE
How would you describe your art?
I'm not a huge planner when it comes to painting. I can't draw a straight line to save myself and aren't particularly meticulous. I love the freedom of starting a painting and not knowing what it will be or where it will end up. I usually have an idea of the colours I might like to use - whatever I'm digging that week. But it's really a bit of a gamble! That's why my paintings are pretty varied. They will be whatever I fancy that day depending on my mood, what music I'm listening to or how much energy I have! If I've done a few controlled works it won't be long till I have to bust out and do a messy fun really expressive painting. I think I find it easy. It's my happy place. And there is no pressure. I just keep painting until I feel like it's done.


'The Exception' by Prudence De Marchi as seen in Luke and Jasmin's Guest Bedroom. Block judge Neale Whitaker said: "it's a very accomplished, glamorous, contemporary room."
How would you describe your personal aesthetic?
Varied! I definitely like to mix it up. I'm often drawn to natural and neutral colours but I always end up adding a little pop of colour. I can't help it!
How do you come up with a name for your artwork?
t's actually my least favourite part. Sometimes they just pop right into my head, other times I leave the painting in the living room for a day or so. I walk past it about 43 times before something comes to me. I often refer to them as females. I'm not sure why, but there is certain femininity to my paintings so they all have their own personalities and stories to tell.
Your art features on The Block this year?
I still don't really know how it happened! I think I must have rescued a unicorn in a past life. I was getting ready for a 'women in art' exhibition and I put up a photo of a large floral painting I was going to show. The lovely Harrie from the Block Shop messaged me about it and the rest is history!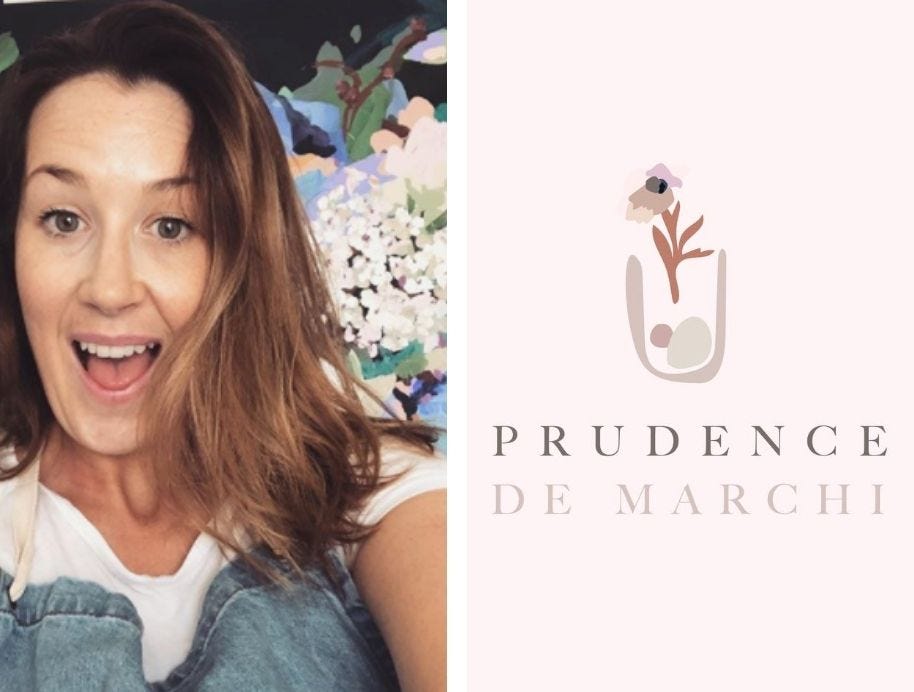 "I still don't really know how it happened! I think I must have rescued a unicorn in a past life," Prudence tells Insider Style. "The Block Shop is a wonderful opportunity for myself and other emerging artists. We're all lucky ducks!"
That does sound like it would have been an exciting message to read?
I was ridiculously shocked and excited. I don't even know how I got on the Block's radar. I love creating pieces that feel comfortable and seem to slip right into place in your home, so the fact that it's helped style a bedroom is perfect.
What does it mean for you to have your art featured on The Block and be a Block Shop artist?
I'm just a small emerging artist and to be featured on something as huge as The Block is bananas. It's a game-changer and the coolest thing I'll have on my CV for sure! In the past, I've struggled to take myself seriously as an artist and I still pinch myself that people actually want to buy my paintings. I have been taking this art journey month by month and I think this really helps make it seem 'real'. The Block Shop is a wonderful opportunity for myself and other emerging artists. We're all lucky ducks!
Where do you like to create your art?
I paint in my laundry! It's a 2m x 2m space that I share with my washing machine and a soaking bucket with whatever clothes my babies decided to mess up that day. It's not a huge fancy studio, but it's convenient, has running water and some lovely natural light. Oh and a speaker. No 1 essential item. I really struggle to paint without music. I need to be accessible to the kids at all times, that's why I paint using acrylics. I love oils but I can't risk having turps around. I need to be able to wash my hands and go. Also, my laundry doesn't have a door. A few times my toddler has come in and "helped". Goodness, lucky I'm an abstract artist. I just go with it.
Do you have a soundtrack you like to create to?
I change it up all the time. To be honest I'm not sure which comes first. Sometimes the music influences my colour palette and style, other times I match the music to what I feel like painting. Some of my most rotated playlists include; Amy Winehouse, 70's road trip, Frank Sinatra and Alabama Shakes.
What does a typical day look like for you?
We have a beautiful eight-month-old boy and two and a half-year-old girl so our days are filled with mess, yoghurt, giggles, baby nudie runs and lots of love. Before Hudson, I was working part-time as an Assistant Principal so on those days it was all hands on deck to get us all out of the house and off to work and daycare.
Now it's a bit slower. Breakfast together, park and coffee and general errands. Both bubs have a good 2-hour nap in the middle of the day so that is my main painting time. Being the mother of two adorable but busy kids I try and not to paint too much after 8 pm. Mostly it's Netflix and chill with my hubby. Usually, I'm drooling on the lounge by 8:30! haha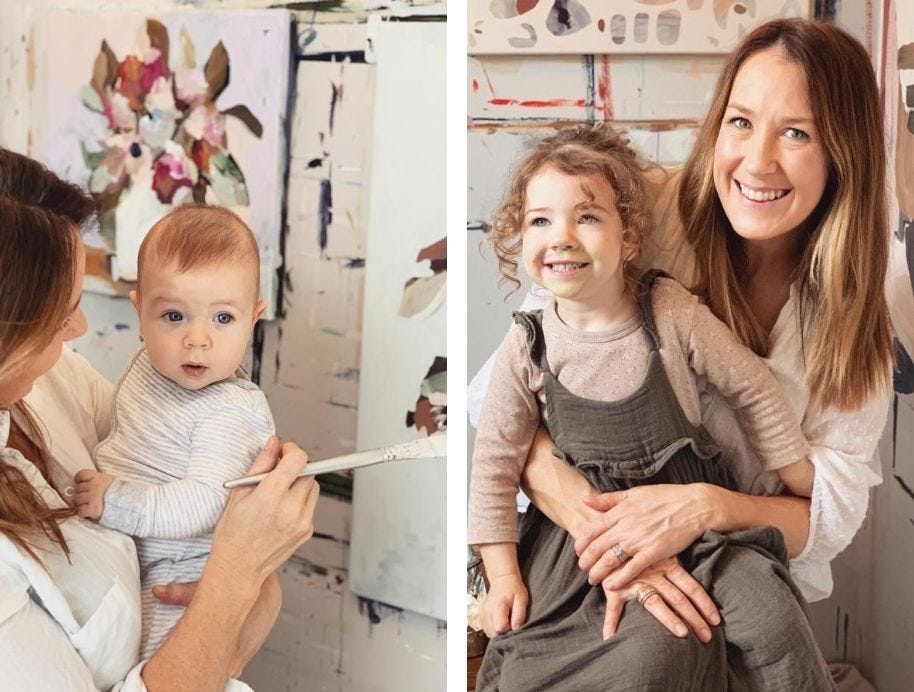 Prudence with he gorgeous son Hudson and daughter Annabelle "our days are filled with mess, yoghurt, giggles, baby nudie runs and lots of love," Prudence tells Insider Style.
How do you fit your art around your busy life?
I've refined my multitasking skills in a big way. I paint when the kids are asleep during the day, which means I don't get much downtime. I clean up the kid's mess as I go, eat when they eat, etc. My husband is amazing and does his share of housework so we all just pitch in and get it done!
I don't like painting at night, I find artificial light just messes up the colours, plus I turn into a pumpkin after 9 pm. When I'm busy with commissions or a deadline I prefer to get up super early, make a cuppa and paint in the quiet of the morning. In saying that though, my toddler Annabelle often wakes up at 5:30 am. She's an early bird like her Mum!
Favourite Block couple?
Max and Karstan!! They live 5 minutes from me and I did a special commission for them last year. They are the most insanely nice, genuine people. Full of sunshine.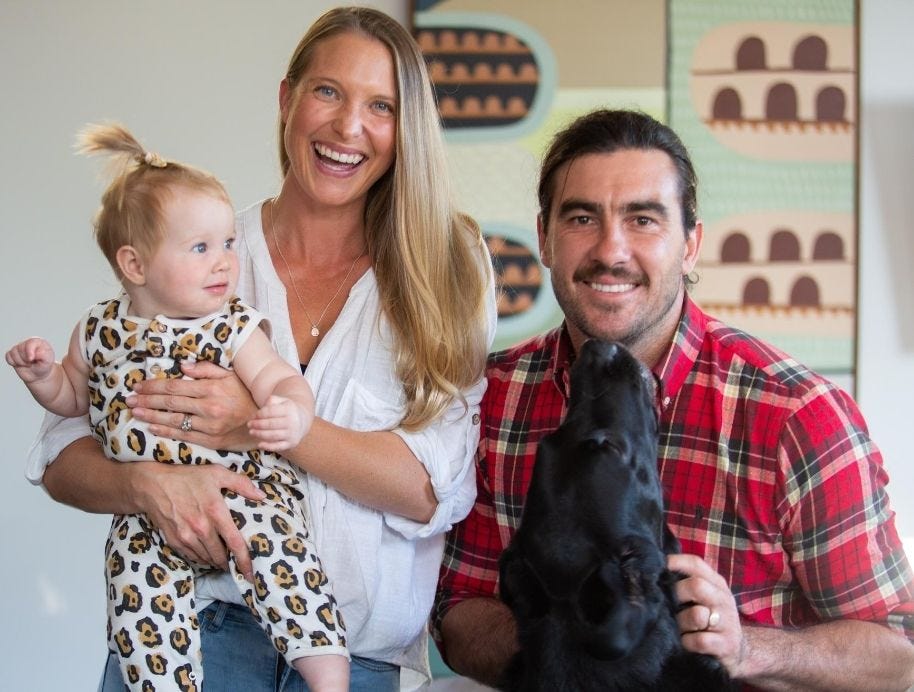 Ex-Blockheads Karstan and Maxine pictured with their daughter Zuri and dog Duke in front of their treasured original artwork by Prudence. Image with thanks to Lake Macquarie City Council.

Favourite holiday destination?
Ohhhh either Italy or Spain. My husband and I did a lovely trip a few years ago and visited the family in Northern Italy. It was really special. And San Sabastian is just one of the coolest places. So many good memories!
Hardest person to buy a gift for?
Hmmm, my sister. She's an Architect and much more into design and fashion than I am so I feel a lot of pressure to try to find her a cool gift. The past two years I've given her paintings for her new house… soo… that's handy.
What would you buy yourself from The Block Shop?
Cushions. I don't see a problem with it, but my husband thinks I have an unhealthy obsession.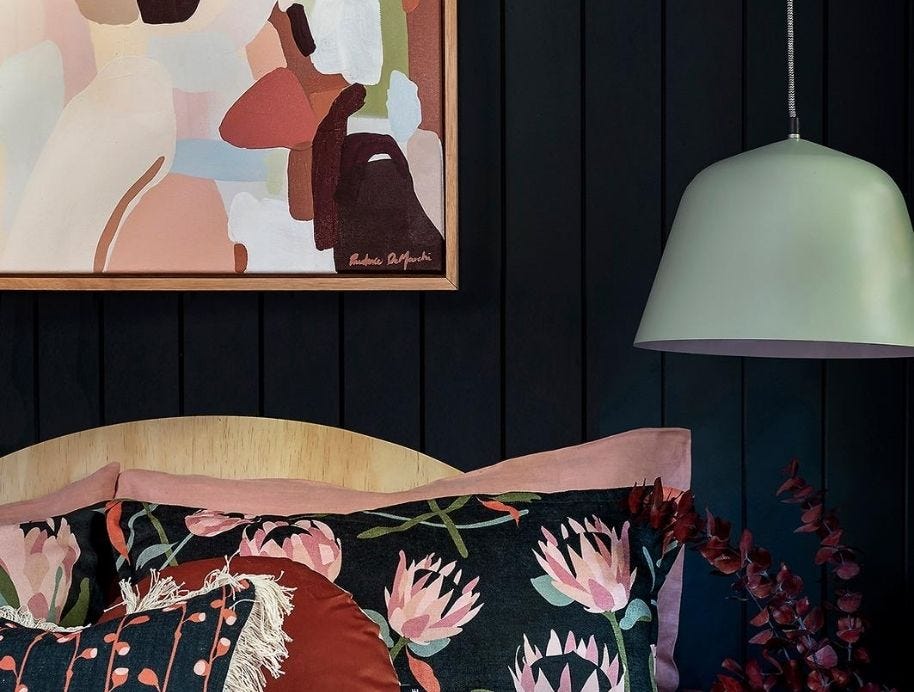 Prudence's gorgeous artwork in good company with Tim Neve cushions.

Fashion style icon?
Sharron from Kath & Kim. Honestly, I live every day in my 'Mum uniform'. Jeans, funky jumper and comfy white sneakers, hair in a mum bun.
Favourite house decorating trend?
I'm loving the natural tones that are trending. All those shades of white, beige and warm dusty colours. Ah, lovely. Also quite obsessed with a beautify shades of sage green with soft timber.

Oldest and/or daggiest thing you have in your house that should be thrown out but you just can't bring yourself to?
I have a few sentimental little things that I can't get rid of actually. I don't know how I ended up with it, but an old grey jumper of my sister's that she was wearing when her husband proposed to her. I'm a Disney style romantic and I just can't part with it. Also, (I don't know if this is gross or not) but I still have both positive pregnancy tests from my two babies. Haha!
Favourite room in the house?
Generally speaking, I'm a kitchen/dining room kinda gal. Especially with the open plan design of modern homes. I have a renovated Californian Bungalow built-in 1940 so It's not as open plan as I would like (yet) but I love cooking and baking and back in the day my husband and I would host huge dinner parties. I think the biggest I've done was 6 courses for 21 people. Nuts. I love that the dining room can create wonderful memories. Our little family of four and silly toddler jokes over Weet-Bix, having your closest friends over for pasta, wine and cards, or weekly family dinner with my parents and sisters family. I have an annoying habit which everyone rolls their eyes at, but I think it's important. Whenever we have a family dinner, I make everyone go around the table and say the best and worst thing about their day. It opens up the conversation and gives an insight into what's on people's minds.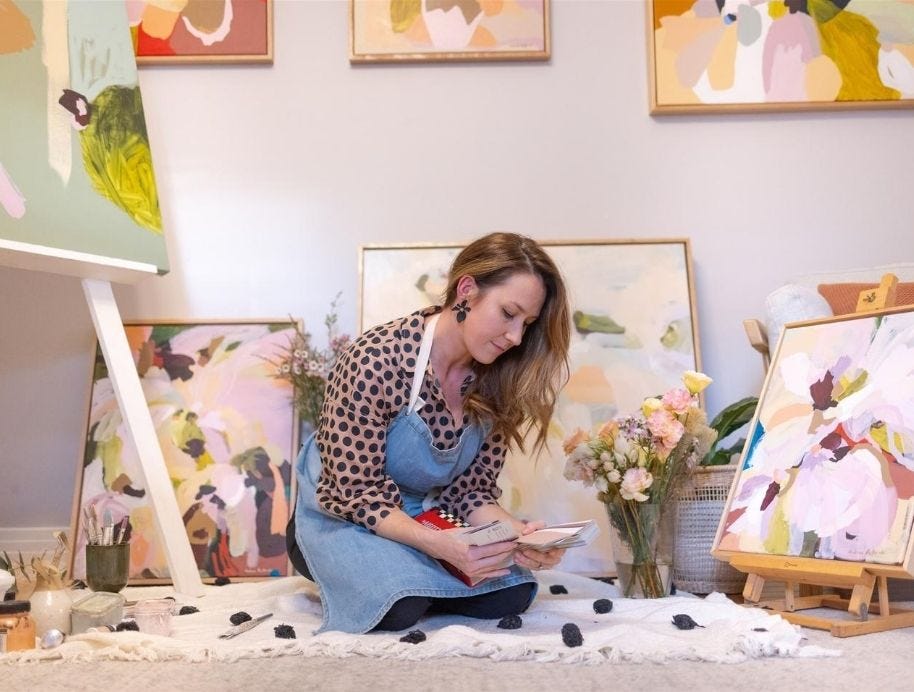 Shop these gorgeous originals and limited edition prints HERE
If you could renovate one room in your house which would it be?
My kitchen/ dining room. I want to be able to have more people over for dinner. Although since I paint in my minuscule laundry, I wouldn't mind a nice studio attached to the house!
Favourite artwork you own?
I have an amazing black and white artwork 'My Country' by indigenous artist: Rayleen Pula Price.
A perfect Sunday afternoon would be...
We often like to take the kids for a drive to the beach and get ice cream. We sit and watch the waves and just be silly. I'm also fond of a Sunday afternoon spritz catch up with my closest girlfriends, but they are far and few between these days.
For more stunning artworks including originals - be quick! Click HERE