She was "discovered" in 2018 by Bianca - and last year her art popped up in Mitch and Mark's guest bedroom AND now in 2020 Sarah and George's house is like a DG Gallery!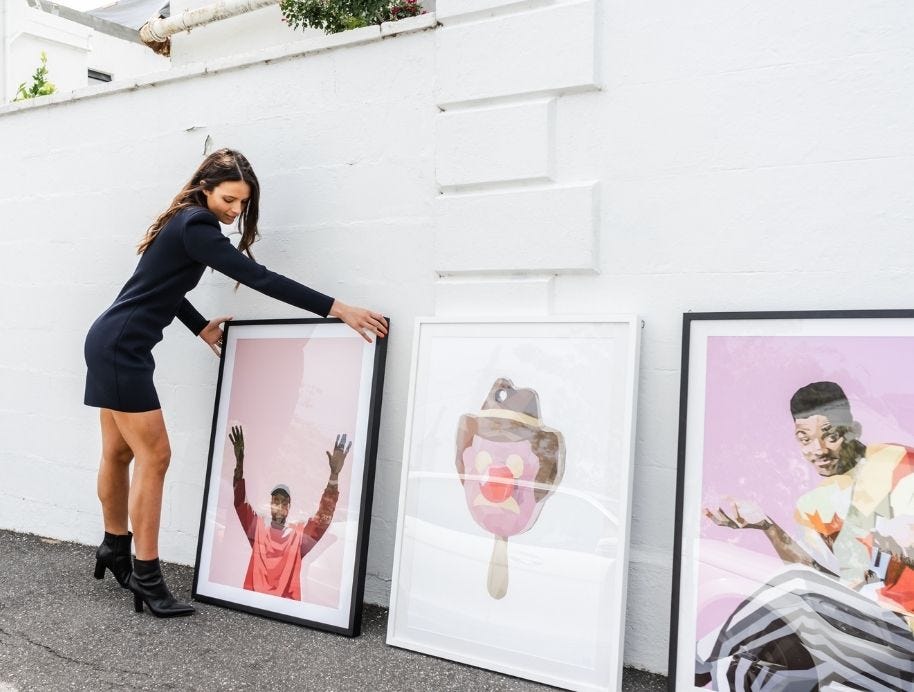 Dominique Gauci the artist behind DG Designs.

How long have you been producing your art?
My business has been operating for 4 years - but my first drawing was about 5 - 6 years ago when I was studying in NYC. The whole idea for the business was born in my little dorm room when I challenged myself to 'a drawing a day.'

Where do you draw inspiration from?
Pop culture is my #1 inspiration. I like to celebrate champions, boss women, celebrity culture etc.



DG Designs Nine-Oh gallery launch.

How would you describe your art?
I call it geometric pop culture prints!

How would you describe your personal aesthetic?
My personal aesthetic is quite different from the business. I love black, white and grey and have a taste for classic and traditional design.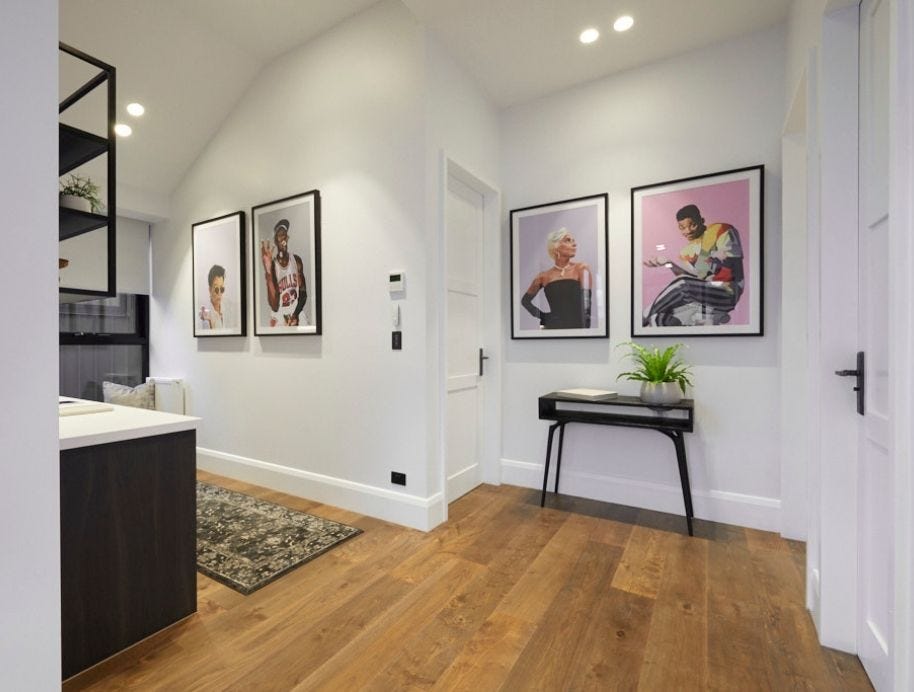 One of the first things the Block judges noticed in Sarah and George's room was the artwork "talk about Zoom-worthy backgrounds, how about these artworks, awesome!" Darren Palmer said.

How do you come up with a name for your artwork?
Oh God, this is the hardest part. Sometimes I can be super lazy, eg. 'Tupac'… but it makes it so much easier for the customer to find what they want!

After featuring in Mitch and Mark's guestroom last year your art features on The Block again this year?
I thought I'd had my big moment! Now, I know that will be nothing compared to this year! Sarah and George's house are officially a DG Gallery and decked out head to toe in my work. It's unbelievable.
What does it mean for you to have your art featured on the show?
This year, I was able to offer advice and assist in the process of choice and styling. To me, this is super important as my business is a personal brand, and reflection of me - so I want to make sure it is displayed in the best light possible. I'm excited to share with the world my work, and inspire them to deck their walls with their own heroes!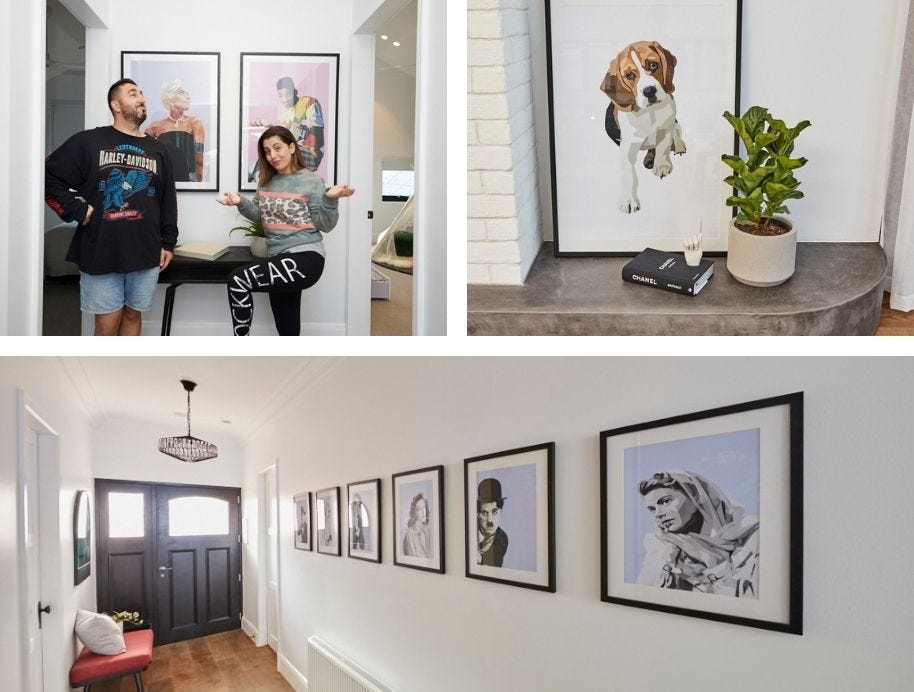 George said the artwork, and the choice of portraits, reflected their personality. "It's a little piece of Sarah and George upstairs for the buyer," he told The Block Shop.


Mitch and Mark's winning guest bedroom staring DG Designs Kate Moss print "what a room," Shaynna said upon stepping inside.

Are there any particular artists that inspire you?
Dina Broadhurst! Obviously, our styles are so different, but I'm obsessed with everything she does!

Where do you like to create your art?
During COVID - I've been working from home a lot. Which means I tend to move from couch to the desk, to the floor next to the heater :)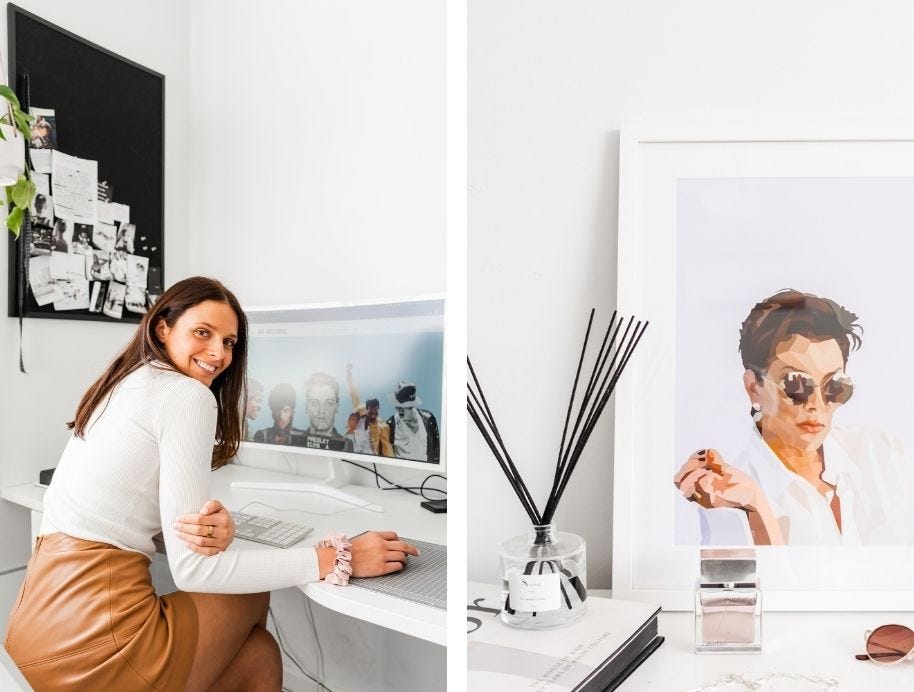 "My business is my life! It's my baby," Dom tells The Block Shop.

Do you have any particular music you like to create to?
This year I've been getting into the classics. Michael Jackson, Queen, old school Madonna!
How do you fit your art around life?
My business is my life! It's my baby. But after 6 pm, I can switch off pretty easy. I don't have kids yet so it's probably easier for me. I do think that I need rest/balance to give me energy for creativity.
Favourite holiday destination?
New York, always!
Favourite house decorating trend?
Framing old magazine covers!
What is the most decadent thing in your house?
Hmm.. maybe our Hermes throw for the end of the bed!
If you could renovate one room in your house which would it be?
Omg the bathroom - it's dark and scary haha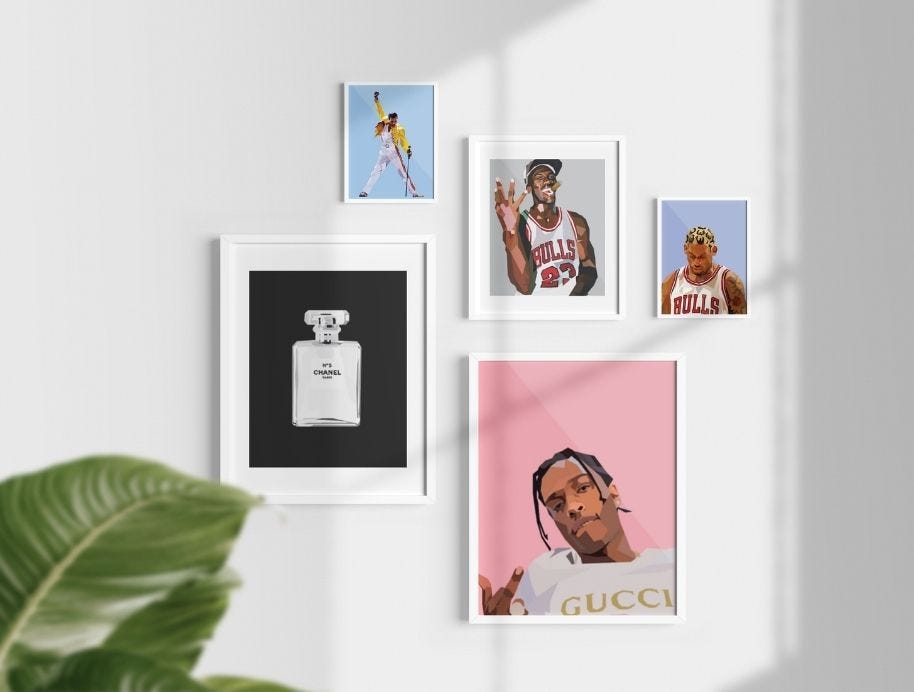 Shop DG Designs range of digital prints HERE