We take a look at the contestant's master ensuites...

Luke and Jasmin Master Ensuite reveal

Score 29 / 30
Spent: $24,487
Equal First Place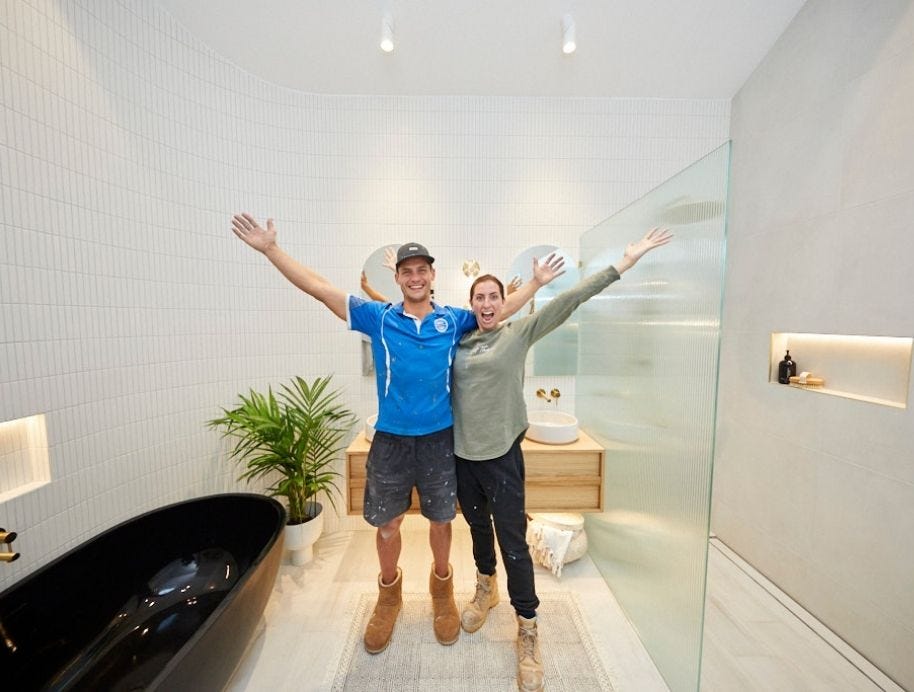 There were three incredible features that stood out to judges Darren, Shaynna and Neale today that saw Luke and Jasmin take out the win on The Block.
The incredible curved walls with white tiles, the amazing circular skylight, and the avocado-shaped black bath.
Both Darren and Shaynna literally said "WHAT?" when they walked into the Master Ensuite.
"I'm in love," Darren said.
Shaynna didn't expect to see a black bath but it worked, in contrast to the more subtle colour palette in the rest of the bathroom.
Darren agreed.
"It is the one contrast point in here that is absolutely necessary," he said.
All three judges thought it was so impressive just how high the standard was of Luke and Jasmin's room, just four weeks into The Block.
The only issue Neale could find was the vanity was to close the shower screen.
He thought it could have been moved 50mls to the left.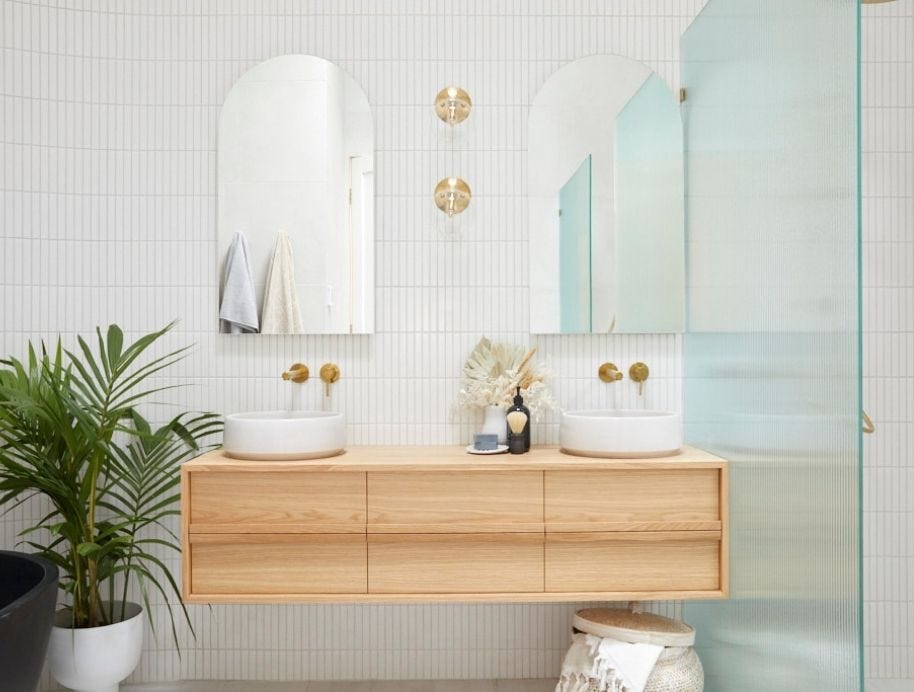 Luke believes he and Jasmin put their 'heart and soul' into the bathroom and it paid off.
"There is so much to look at in this bathroom, the intersecting angles, the skylight, the curved walls, the bath," he said.
"That bathroom is an architectural delight."
The judges believe the Master Ensuite will appeal to the buyer, something Luke and Jasmin have had in their minds since day one on The Block.
"They have taken a big risk, but that big risk has paid off," Darren said.
"But it is also going to pay off when the buyer walks through this home and walks through the beautiful, glorious Master Suite to this."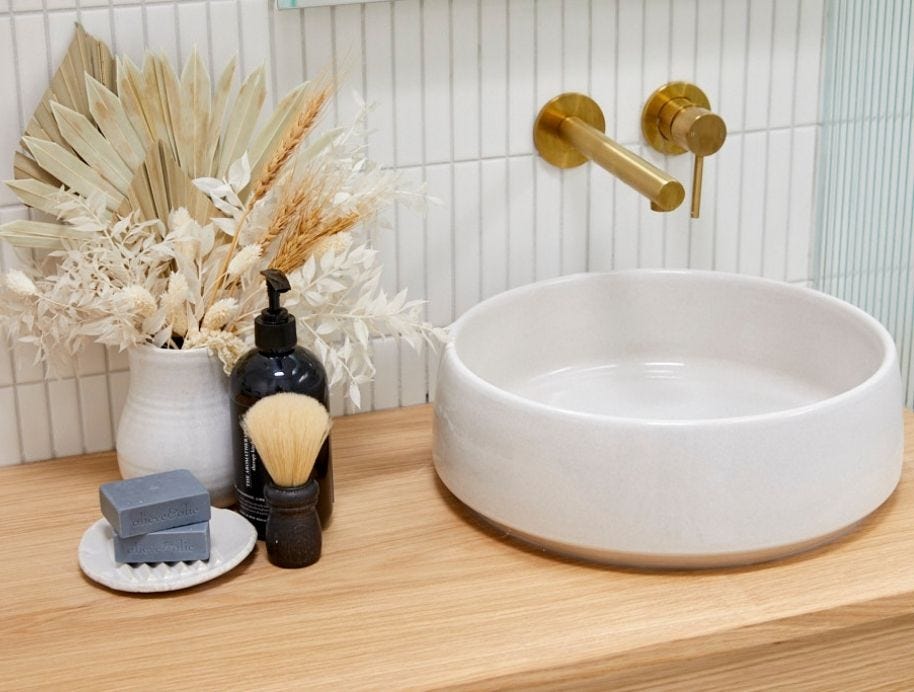 So Luke and Jasmin scored a very impressive 29/30 for their efforts but had to share the win with their friends Jimmy and Tam.
The Brisbane couple used their gnome and the extra point they won in the previous challenge meaning Luke and Jasmin had to share the $10,000 from Ford.
Take a close look and shop Luke and Jasmin's master ensuite HERE
Jimmy and Tam Master Ensuite reveal

Score 28 +1 with Gnome – 29 / 30
Spent: $18,945
Equal First Place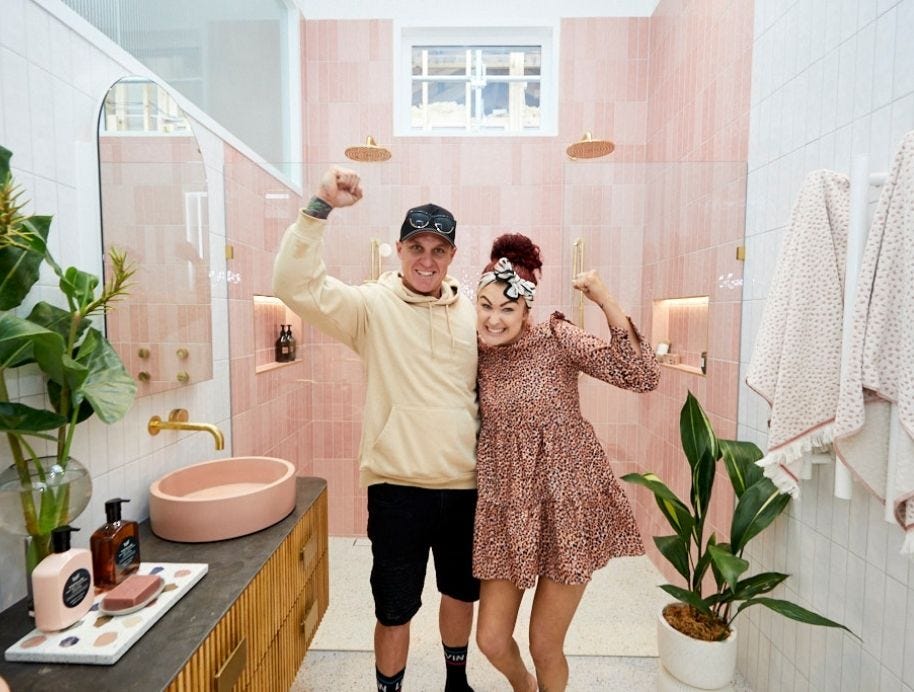 Jimmy and Tam were slammed by the judges last regarding their layout of their walk-in robe, but all was fixed this week.
They made a separate door for the robe that means it is now separated from the master ensuite which received a huge, big tick of approval from Darren, Shaynna and Neale. Almost immediately the judges noticed the pink and terrazzo colours of the tiles, something Tam was very proud of.
"It's delightfully pink," she said.
"I think Australia is going to fall in love with this bathroom."
Jimmy and Tam have strong ideas when it comes to colours they use in House 5, and their master ensuite is no different.
"My favourite thing is the colour scheme," Tam said.
"We want to show people you can use colour and make it look inviting."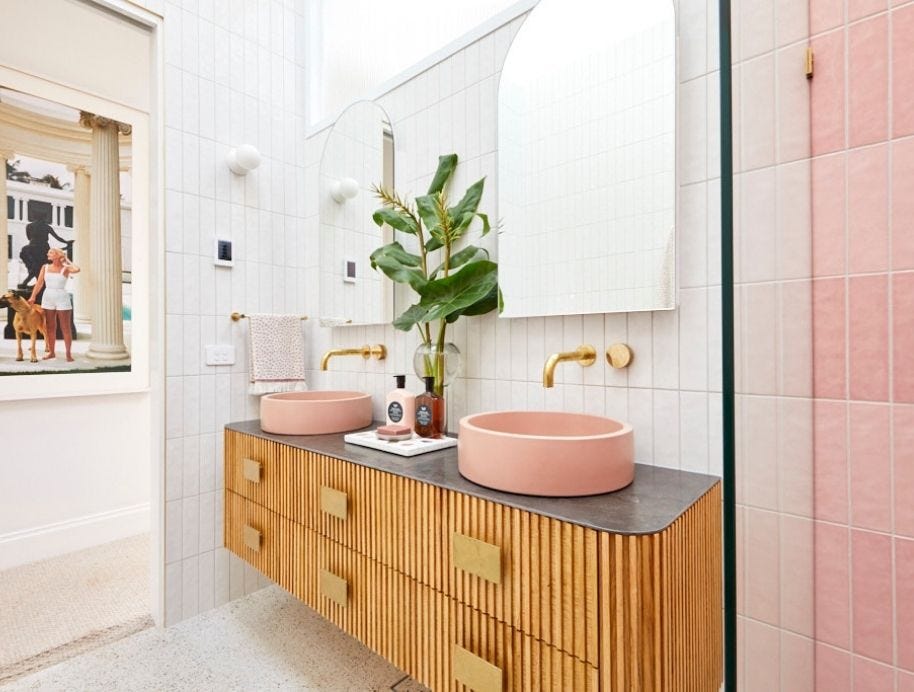 The judges, in particular Shaynna, loved it.
"The colour palette they are using all the way through is divine," Shaynna said.
'The terrazzo, the vanity is so streamlined, it's stunning."
Jimmy and Tam's vanity from, coloured basin and brass were a huge hit.
The styling was on point again, including the beautiful soaps and vase.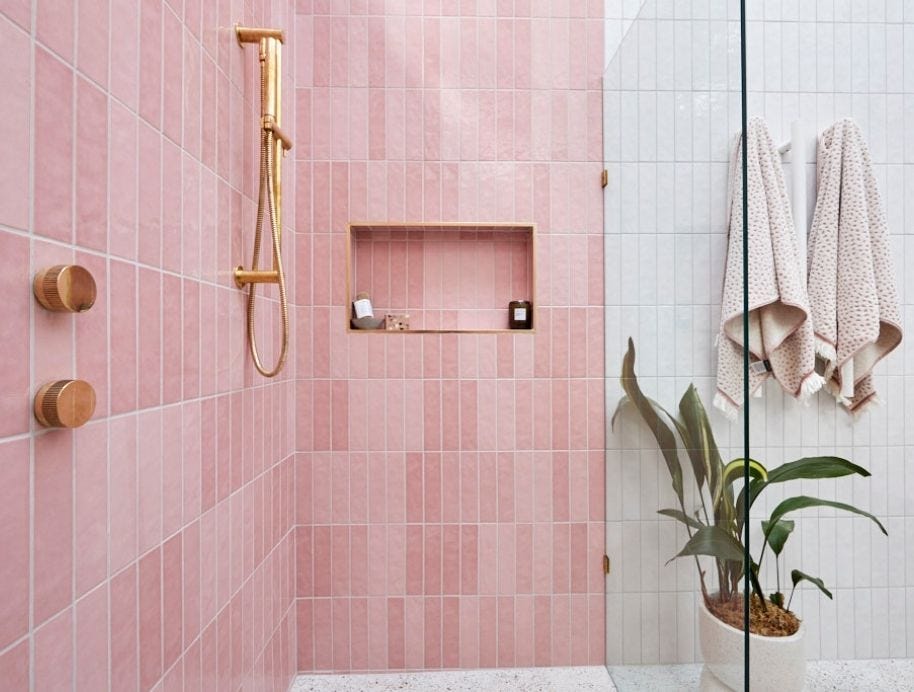 The vanity was from the same collection as the bedhead and bedsides in the Master bedroom delivered last week and Darren thought this was a clever move.
"That's very clever in terms of creating a consistent feel with the palette."
So Jimmy and Tam found themselves with 28 points, alongside Daniel and Jade in equal third place.
But they used their gnome and extra point to share first place with Luke and Jasmin.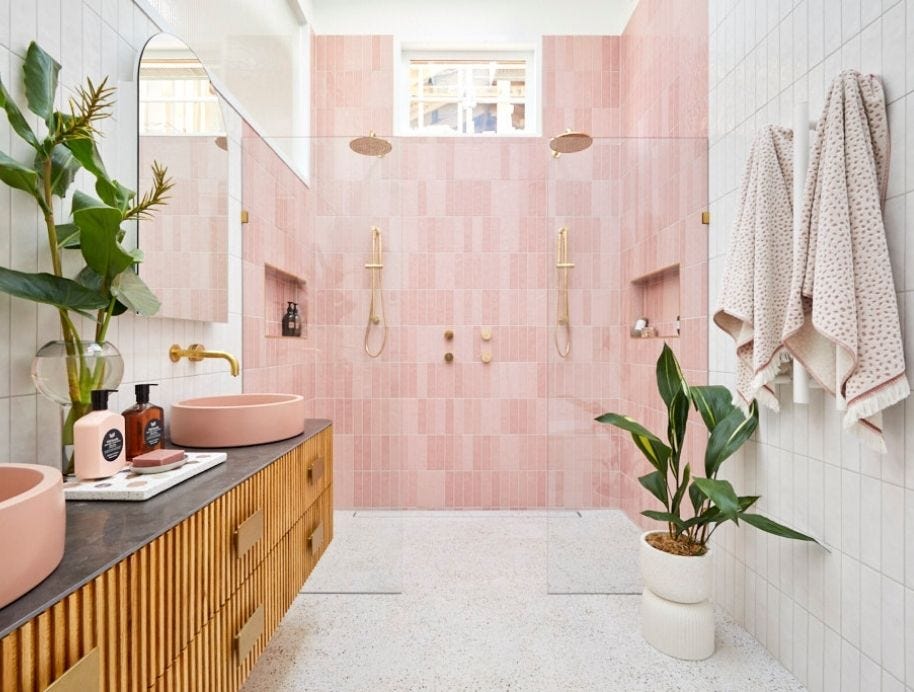 Another incredible room by Jimmy and Tam in their 1950's inspired house.
They are at The Block to win it and are producing some amazing rooms week after week.
Take a close look and shop Jimmy and Tam's master ensuite HERE
Harry and Tash Master Ensuite reveal

Score 28 ½ / 30
Spent: $28,435
Equal Second Place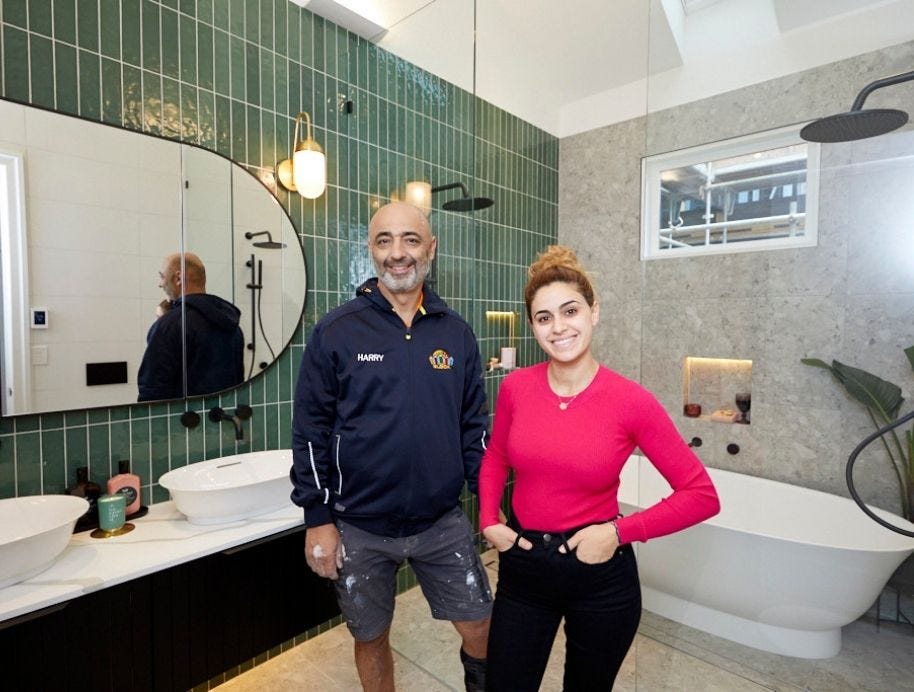 Melbourne's father and daughter team Harry and Tash were slammed in week two for their guest ensuite, but it was a totally different story after they delivered an amazing master ensuite.
In week two they were hammered for their clashing choice of tiles but this week the judges loved the combination of dark green and terrazzo and white.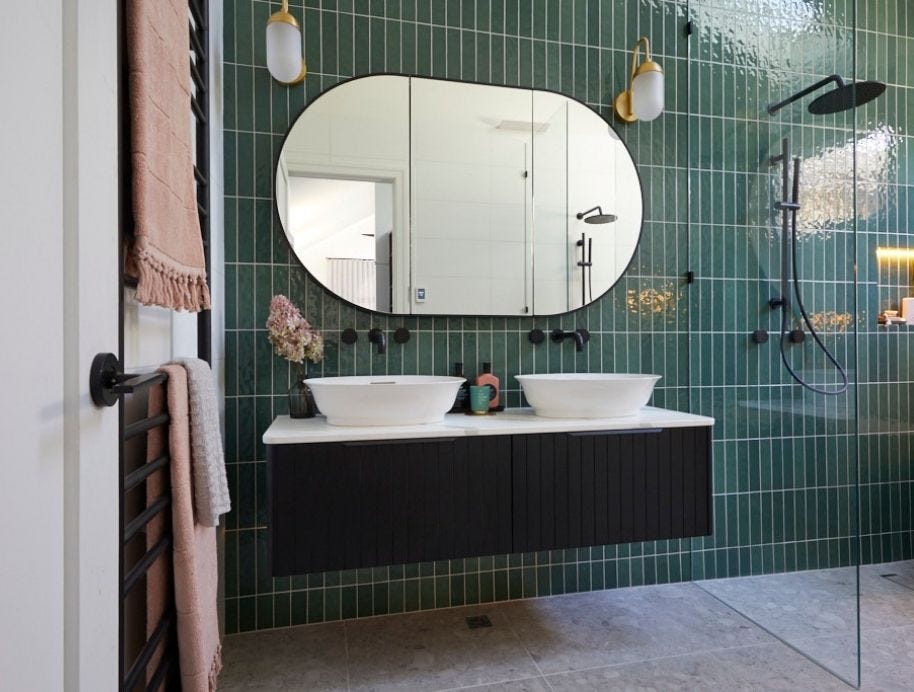 "This is exactly what they needed, almost a modern terrazzo type tile," Shaynna said.
Neale thought the colour palette complimented their winning master bedroom perfectly.
"Look at the colour of those tiles, isn't it a beautiful green?" he said.
"It's a perfect accompaniment to the bedroom."
Darren also praised Harry and Tash for coming so far in just two weeks with their room deliveries, referring to the bathroom disaster from week two.
"This is literally the opposite of every point, the colours are beautiful, the space is glorious and the luxury is amazing," he said.
They named their bath Deliah, and Deliah was a hit with all of the judges.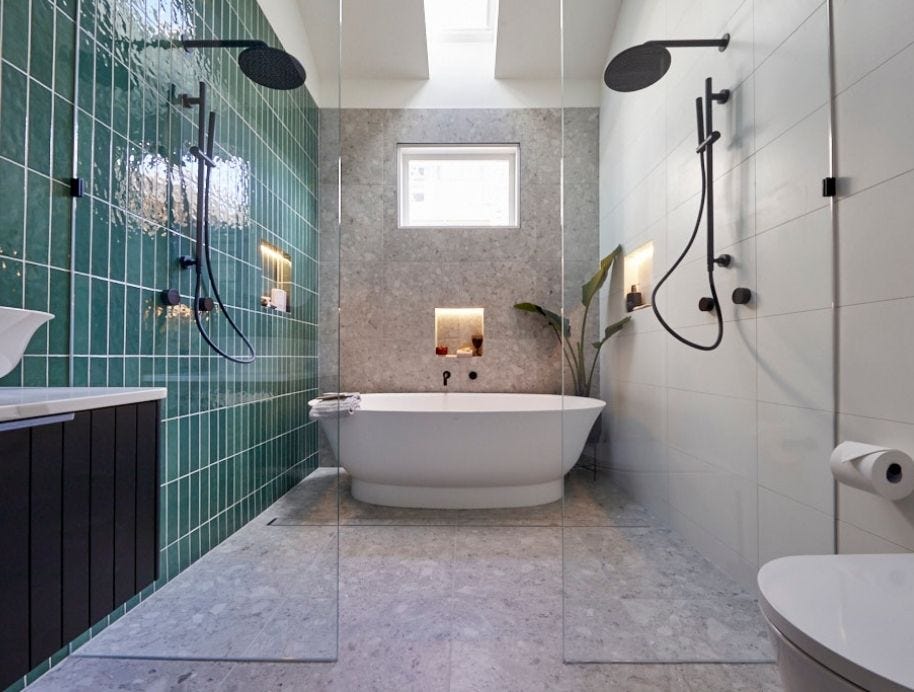 Shaynna complimented Tash or her styling choices that included a beautiful rose pink towel, flowers, a candle and a copy of the 1920s classic F. Scott Fitzgerald book The Great Gatsby.
Darren believes this week Harry and Tash had got the mix of luxury, contemporary and the 1920s brief exactly right.
"I think a buyer looking for a five-bedroom home in a luxury market like Brighton, who is particularly interested in this 1920s style, is going to find so many things in here that they love," he said.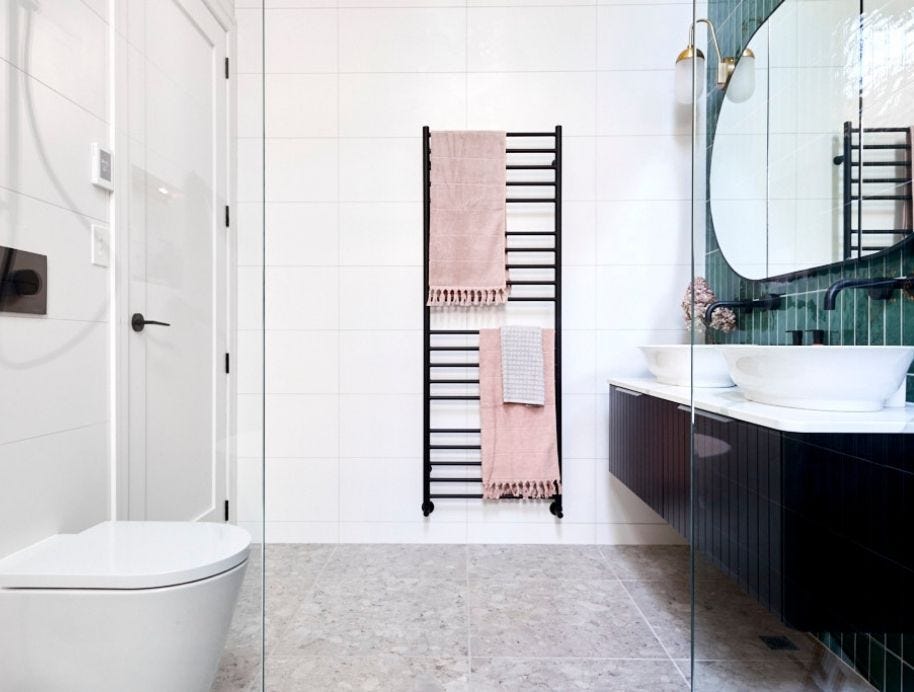 It was a tough week for Harry as he hopped around in a moon boot after breaking his foot the previous week, but they ended the week on a high.
In particular, they were impressed that the judges felt this ensuite had that all-important emotional connection.
"That is exactly what we're after, we are after an emotional buyer," Harry said.
Take a close look and shop Harry and Tash's master ensuite HERE
Sarah and George Master Ensuite reveal

Score 28 ½ / 30
Spent: $21,715
Equal Second Place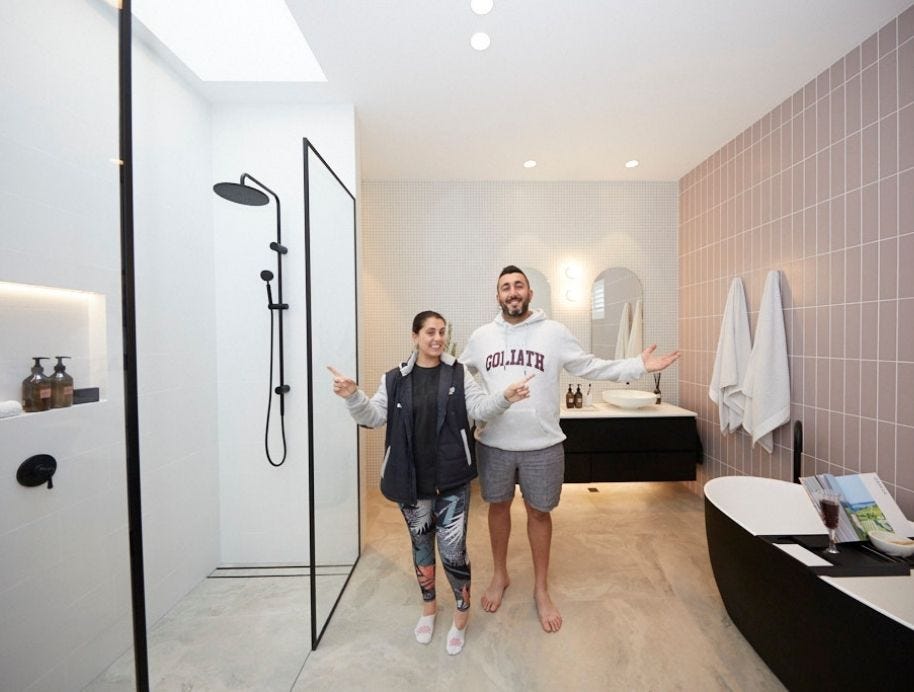 Sarah and George had a really tough week on The Block after Sarah's beloved grandmother passed away.
The Western Sydney couple spent some time away on The Block to mourn, as their building team rallied together to deliver a stunning master ensuite.
So many times the judges struggle with tile choices made by contestants on The Block. Generally, the rule is not too many options.
Sarah and George had four tiles, but thankfully Shaynna said the choices worked.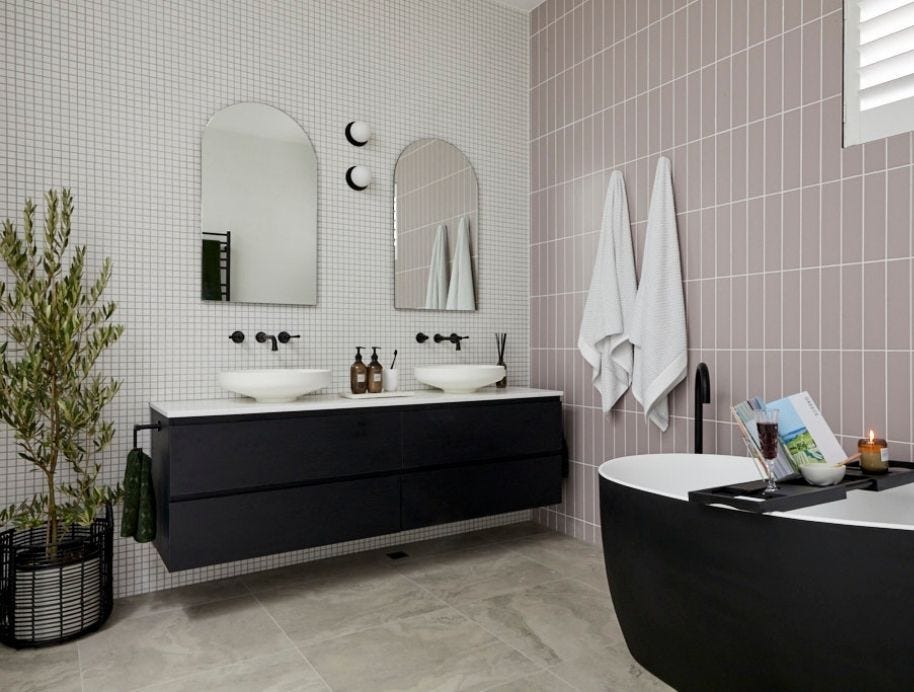 "It blended perfectly," she said.
Sarah and George chose a large and small square tile, and a small and longer subway tile this week.
Darren thought the bathroom, and the tile choices were as good as in House No.1.
"These tiles are just beautiful," he said.
"They are so much more subtle in here, the grey and the pink, and the beautiful stone look of the tile on the floor.
"It's really impactful as well as calming."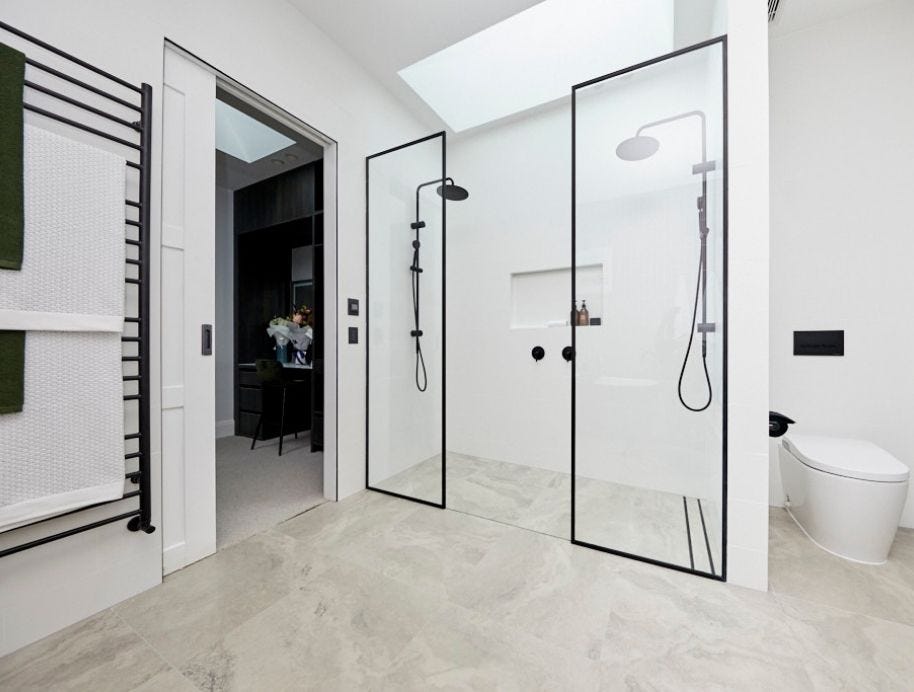 Neale thought they nailed the 1940s brief and in particular, was a fan of the black bath.
The use of a smart toilet was also a huge hit.
The only issue Shayanna had was that she was worried the splash from the shower might be an issue, and they should have considered using a door.
But it was a small criticism, in what was an incredible room delivery for Sarah and George considering the week they had on The Block.
"I wasn't expecting that today," Sarah said.
"That was a really good highlight for the week."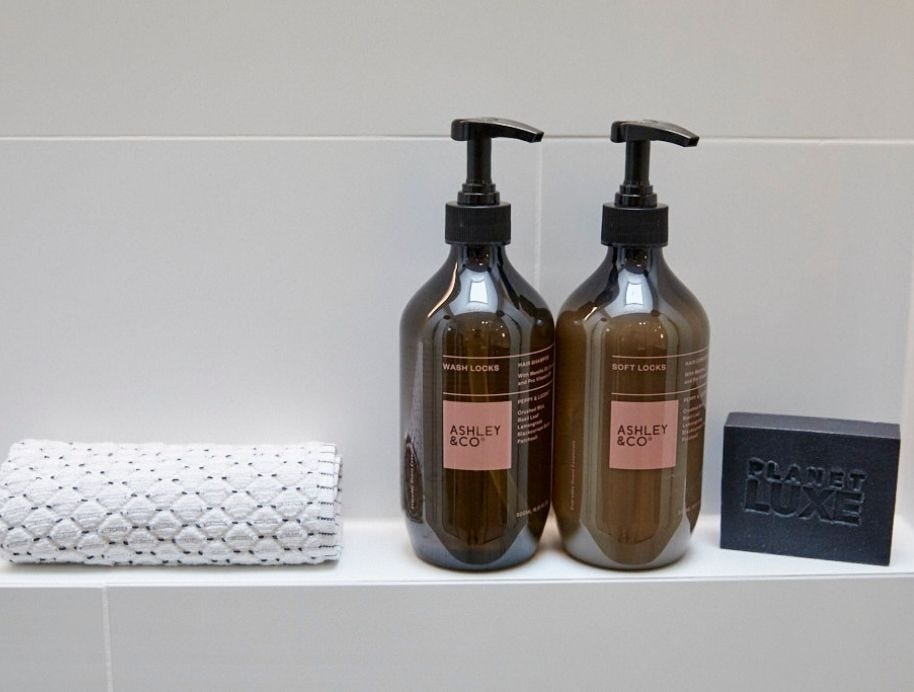 Sometimes Sarah doubts herself with her choices, but as George rightly pointed out, she definitely belongs on The Block.
Hopefully, the couple's confidence will build leading into the upstairs build of their 1940s house.
Take a close look and shop Sarah and George's master ensuite HERE
Daniel and Jade Master Ensuite reveal

Score 28 /30
Spent: $27,229
Third place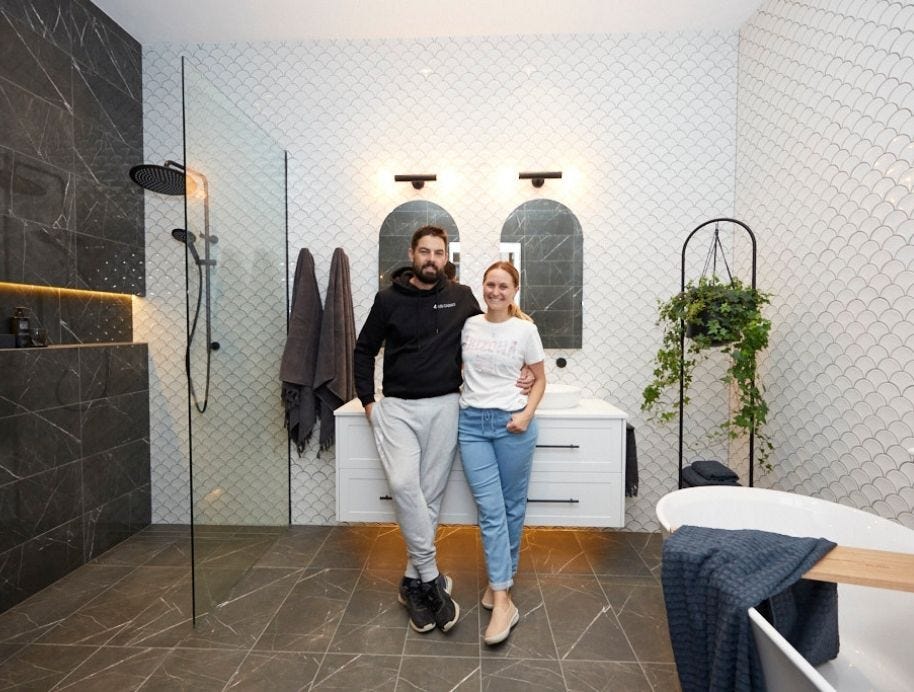 There was a bit of debate between Daniel and Jade this week about the choice of fish scales for two walls on their Master Ensuite.
Jade loved the while Daniel wasn't a huge fan – knowing how much time each tile would take to lay.
In the end, the judges went with Jade and thought the hero piece of their ensuite was the fish scale tiles.
The judges thought they fitted the 1930s brief perfectly.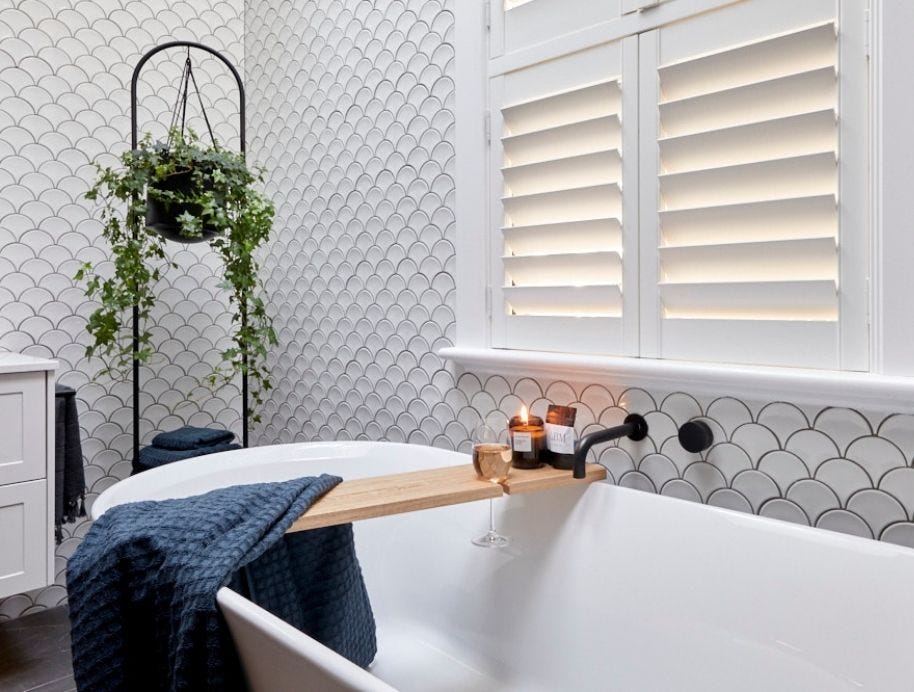 "Those fish scale tiles, aren't they beautiful?" Neale said.
"I never thought I would see as much of it as I'm seeing here, and I'm loving it."
The tiling overall got a huge tick from all the judges.
Shaynna was also a fan of the glamorous bath that Jade purchased from which gelled perfectly with the tiles.
"We've got lots of hard lines with the tiles and the marble and that softness of the bath really makes a difference," Shaynna said.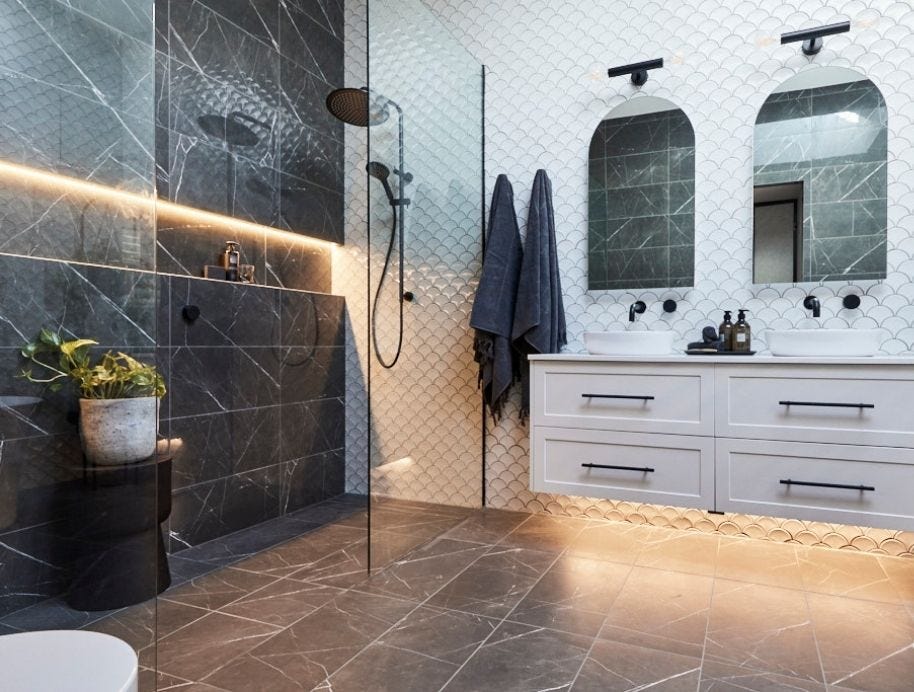 While they were lovely, Darren wasn't a huge fan of the slippers Jade had used for styling.
"They look like Nanna has shuffled in here and popped them on," he said.
He also felt that the vanity could have been bigger, considering it as Master Ensuite.
"I'm looking in the corner here and there is a big volume of space, you could have literally added another metre to that vanity," Darren said.
"When you are in your own Master Ensuite, you want to have the opportunity to spread your stuff around."
The judges were also a fan of the impressive skylights and the sheer size of Daniel and Jade's bathroom.
Jade believes they got through what has been a tough week because of the looming Covid-19 threat because of the support of her neighbours.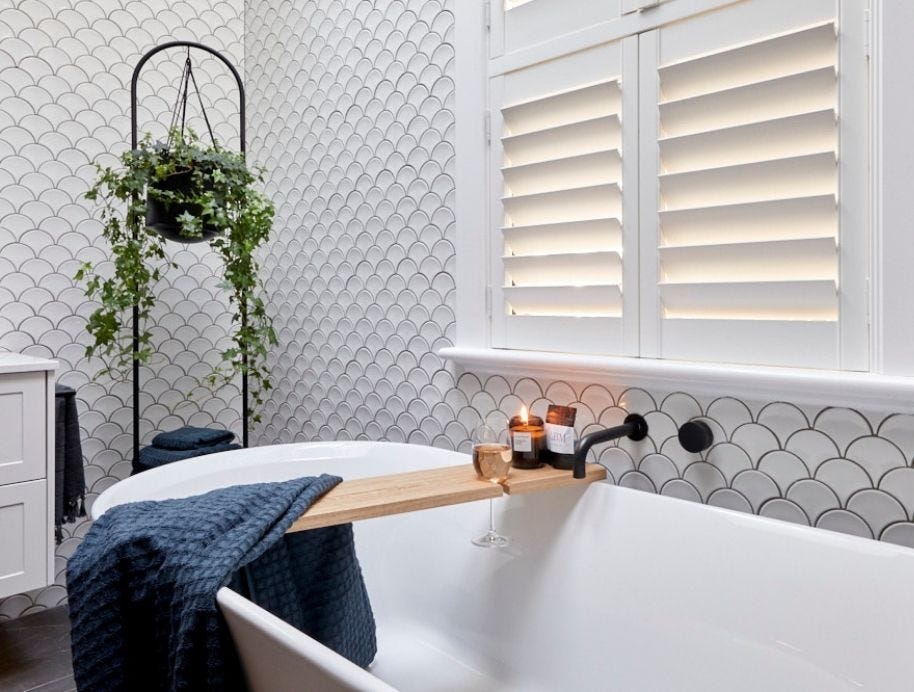 "All I can say is if not for the camaraderie and the support and the friendships we are making between the contestants, we wouldn't have got through this week," she said.
"That's what is super important."
Take a close look and shop Daniel and Jade's master ensuite HERE


Your bathroom is your sanctuary and we can help you freshen up your space with our range of bathroom furniture and accessories. You'll love our range of bath towels, basins, tapware, vanities and soaps.

Renovating a smaller bathroom? 12 of the best small bathroom and ensuite idea's HERE

2020 best bathroom trends HERE