We take a look in the contestant's level 3 master bedrooms and walk-in robes

MITCH & MARK UPSTAIRS RETREAT REVEAL
Score: 27/30 WINNERS!

Mitch and Mark took one heck of a gamble deciding to change their Master Bedroom on the third floor into a dedicated entertaining space, complete with cathedral ceiling, kitchen prep area and ensuite. But it was a risk that paid off, the couple taking home a win by one point for their bold design choice.
"What is the thing we have always said on The Block - change the architect's plans at your own peril. Three bedrooms instead of four...but this works," Darren said.
Shaynna agreed: "It's the most exciting twist I have ever seen on judging The Block," she said.
The judges admit they were stunned when they walked in the room. But once the shock wore off, each could see that Mitch and Mark had created an exceptionally executed second living area, complete with hardwood floors, large oversized couch, gorgeous blue rug, fireplace, study nook, and that kitchen and ensuite area.
They loved the room's sumptuous Palm Springs vibe, which Neale said was the "epitome of luxury."
This feeling was created by the clever use of heritage wallpaper with bamboo print, a large, oversized plant, rattan chairs and yellow striped details in the cushions. A large mosaic table rounded out the look, and the oversized mirror above the fireplace pulled it together beautifully.
"I look around the edges and it's elegance and class," Shaynna said.
And Neale agreed: "This is Palm Springs, the epitome of glamour as far as Mitch and Mark are concerned. I think we are meant to be sitting around the pool here," he said, gesturing at the oversized blue rug.
There's no denying Mitch and Mark have taken a bold leap of faith, but it's one all three judges thought could pay off come Auction Day.
We can't wait to see what happens - well done, guys!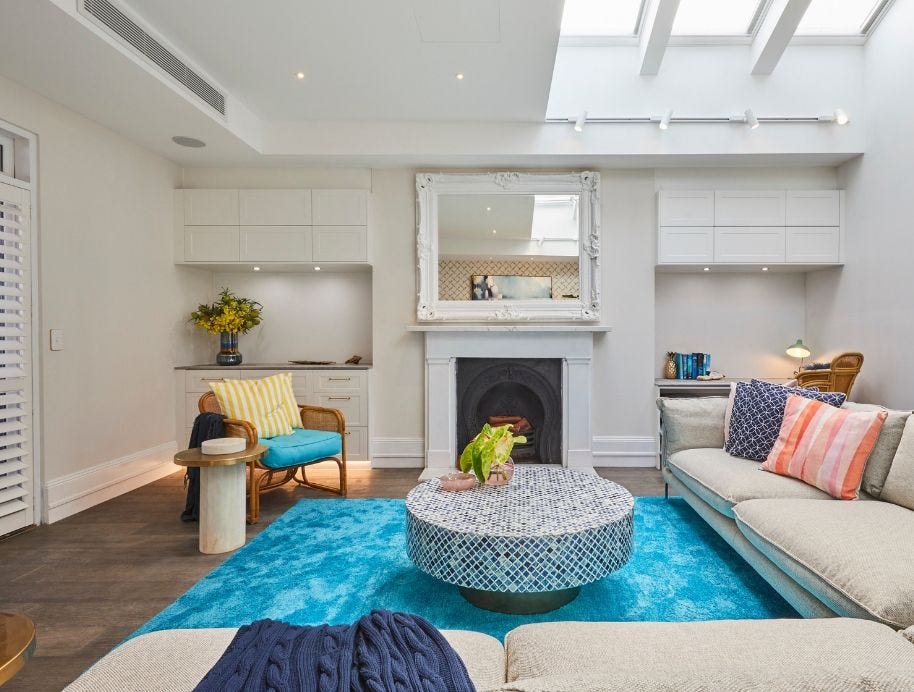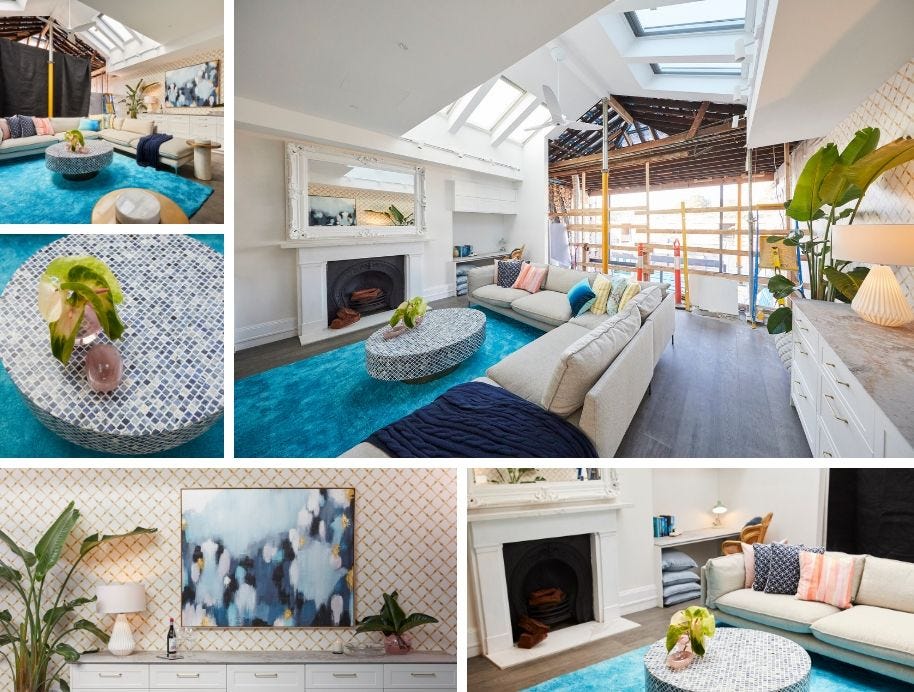 JESSE & MEL MASTER MASTER BEDROOM REVEAL
Score: 22/30

When you're on to a good thing - replicate it! That was Jesse and Mel's mantra going into this week's Master Bedroom reveal, and they made good on their promise, delivering yet another stunning, sophisticated bedroom.
The couple chose to reproduce what they did in their winning guest bedroom, opting to once again clad the wall behind their bed with gorgeous velvet panels. This time they chose a darker hue, which complimented perfectly their lilac and burgundy accented bedlinen.
The couple, who also included a study-nook-come-dressing-table and gas fireplace, again opted for a sitting area in the room, choosing to place two light-coloured occasional chairs next to a marble table. The mood was further accented by the hanging of two large abstract artworks on the main entry wall - a stunning addition to the room.
Opposite the bed was a state-of-the-art smart TV, installed within a beautiful free standing mirror, something Shaynna particularly loved, even if she wasn't so convinced as to its placement.
All three judges also liked the fact the couple decided to use stunning bronze accents in the room, including in the bedside lights and gorgeous pendant light, both of which give the room a lovely sophisticated elegance.
Darren liked the use of heritage detail in the room as well, especially the ceiling rose and cornacing. Completing the look was that lovely herringbone floor laid painstakingly by Jack of All Trades, Jesse. "There's a lot to love in this room," Darren said. And we agree - well-done guys!




EL'ISE & MATT MASTER BEDROOM REVEAL
Score: 26/30

El'ise and Matt created a beautifully elegant Master, which had, as its hero, a stunning Grafico printed wall piece placed behind their pea-green bedhead. The judges all loved it, especially Darren who thought the dark hues went perfectly with the blush pinks and slate-greys of the bed linen and the muted greens of the bed.
"To sit this beautiful tone of green amongst all these blues and purples, it's a really elegant colour palette," he said.
Along with the wall, the couple also made statements with their blush pink sofa, the large dressing area - complete with built-in coffee station - the large drop pendants and accompanying central light and for window dressings, they opted for a lighter tone drape to compliment the wood tones of the dressing area.
Arguably, though, the real stand-out of their room was that oversized ceiling rose, which played perfectly with the couple's use of heritage detail through the rest of the house.
"That is divine, isn't it?" Shaynna said, upon entering the room.
All three judges also loved the use of artwork, especially Shaynna, who described their choices as "breathtaking" and Neale thought the room felt very welcoming and very real, a "modern update of a traditional terrace."
"I think Elise and Matt really understand the meaning of home and the emotion of what that means," he said.
And we agree - well done, guys!




ANDY & DEB MASTER BEDROOM REVEAL
Score: 24.5/30

Andy and Deb created a beautiful, fresh, contemporary and "very liveable" Master Bedroom, winning praise from all three judges.
"What a lovely, calm room," Neale said upon stepping inside the space, which also featured green accented walls (as suggested by the Mitre Ten colour consultant), a large wooden bed, arch mirror, oversized woven jute rug, blush pink occasional chair and a large banquet-style dresser.
The feeling was coastal luxe, and the choice of diaphanous drapes lent the room a gorgeous sophisticated colonial feel. The large feature plant, nestled inside a woven basket, worked well with the oversized artwork, which in turn worked perfectly with Deb's choice to dress the room with a gorgeous pampas grass arrangement.
While Shaynna wasn't a massive fan of the couple's choice of bed - which was dressed in a gorgeous cherry pink - she thought as a whole, that the room worked exceptionally well.
All three judges loved the feature artwork in the walk-in robe, which was printed directly onto a wall covering to be a statement in the space. And while they all agreed the functionality of the wardrobe needed work, they were blown away by the look and feel.
"They took on board that message that their style needed to be more sophisticated and more grown up and they have run with it," said Neale.
Darren agreed: "I am so happy to see more life, more interest, more texture, more colour. It was just what we asked for, and it's just what we got."
We agree - we adore this room. Well done, guys.




TESS & LUKE MASTER BEDROOM REVEAL
Score: 24.5/30

They haven't had the easiest time so far, but this week our youngest contestants hit their stride, producing a beautiful Master, complete with his-and-hers walk-in robes.
The judges loved the room, but were absolutely blown away by what they achieved in the walk-ins, describing their design choice as the "masterstroke to the master bedroom."
Tess and Luke chose to dress their room in royal blue and burnt orange, which Darren pointed out was "bang on trend." The colour palette was actually dictated by the stunning artwork, which Tess admits she sourced first, the hues offset by the colours chosen for their beautifully dressed bed.
The statement print set the tone for the room, which also included a custom-made parquetry inlaid bedhead, hanging pendant lighting, abstract art prints above a side table, custom-made shelving and a large statement mirror.
Giving the space a sense of lightness and brightness was the fabulous skylight, which the couple ingeniously chose to position above the bed.
Darren was a fan.
"It's edgy and cool and art-driven. I am actually really proud of Tess and Luke's evolution from last week to this week," he said. "They have really thought about how all these elements come together, and they have done it in a really well-resolved way. I don't see anything I don't like."
Us neither! Well done, guys!




View and shop the couples master bedrooms HERE
For more The Block 2019 stories, check out these links below:

Top tips to create your dream master bedroom

Did you like this blog? Subscribe to our newsletter to be the first to receive news from The Block! Subscribe now to receive $20 off your next order