The Block Shop's Emma Garland gave her bathroom a MAJOR makeover, taking it from tired colonial to chic modern space in no time!
We love a good 'before and after' here at the Block Shop - and they don't get too much more impressive than this bathroom! Um, hello - those burgundy tiles? Um - yeah. The Block Shop founder Emma Garland recently completely overhauled her bathroom, and here she talks us through all the brands and products she used.

But first - another look at what it looked like before: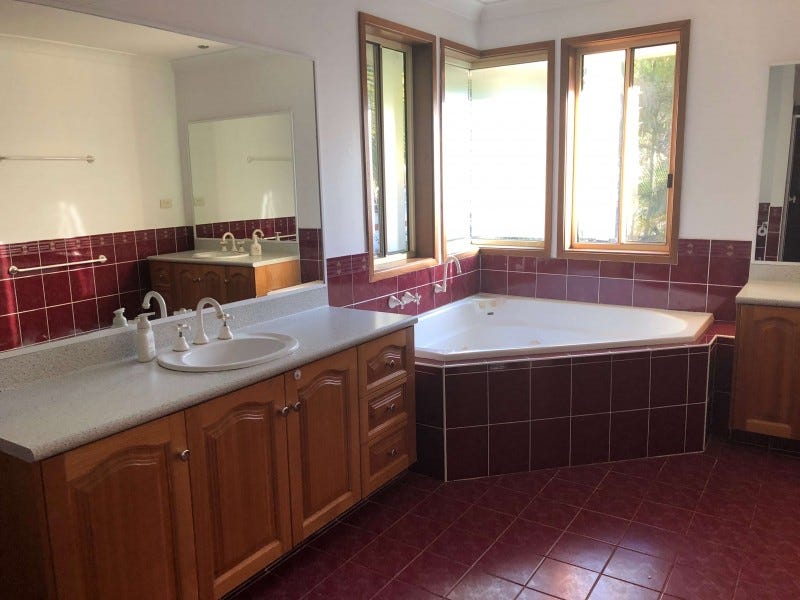 We're pretty sure it must have been hard to say goodbye to those maroon tiles - and that stunning corner bath! But somehow Emma managed. "It was the first thing I wanted to change," Emma admits. "The 'fancy' bathroom was the epitome of 90's 'faux heritage', with maroon tiles, white tapware with a touch of gold. As for that corner spa bath - enter at your own risk!"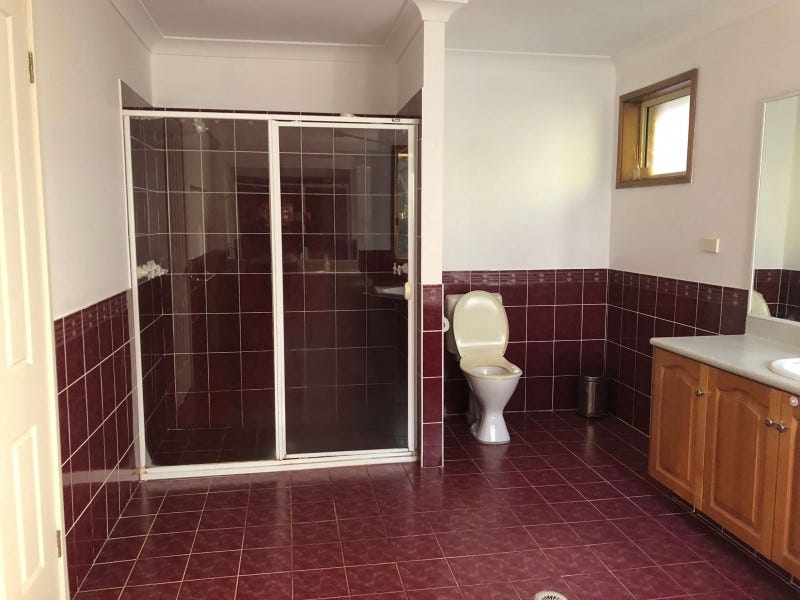 This ensuite bathroom has epic proportions - its HUGE! Just look at all that floor space!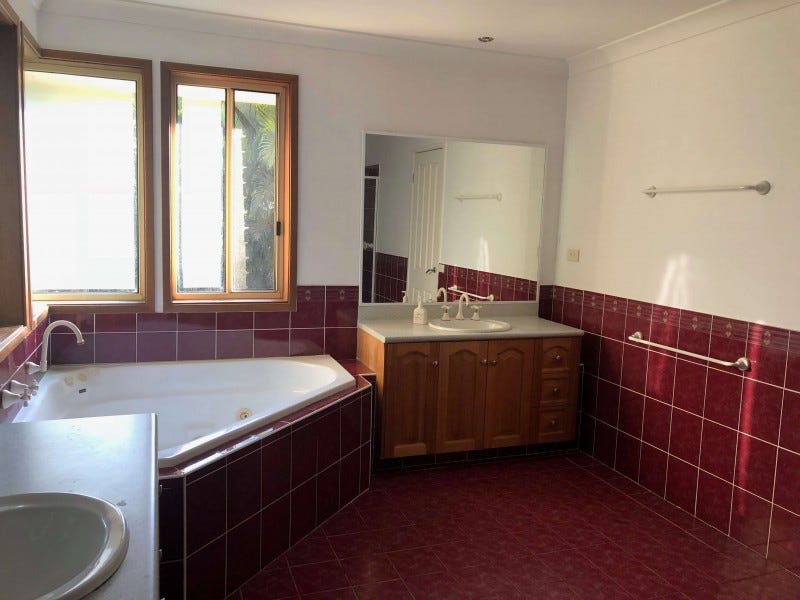 Potential plus! But the price? "The enormous size of my ensuite bathroom meant that every time I priced the bathroom reno, I was met with scary sums that had my husband shaking in his boots."
 
After years of research, lots of saving and a Pinterest board that would give any Block couple a run for their money, you finally got the ball rolling on your new bathroom. Can you tell us about it?
Pinterest boards aside, the first step was to get plans drawn up for the space. I wanted to incorporate my laundry into the room, and so planning was key to ensure every inch of space was utilised. We engaged a draftsperson who helped turn my ideas into a functional layout. I had some pretty strong ideas about hiding the laundry and toilet behind a feature wall and the plans gave my builder a really clear guide on what we were trying to achieve.


The bathroom floor plan, now cleverly incorporating a laundry. 
 
Talks us through your tile selection...
Choosing the tiles was a HUGE decision. My builder, suggested early on in the piece that because of my indecisive nature I visit Surface Gallery, who has the most amazing showroom in Sydney (and a brand new showroom in Melbourne) to help me in my decision making. On my first visit I fell in love with a feature tile (Zelliage Igloo), a handmade Moroccan tile that I ended up planning my entire bathroom around. 



Emma fell in love with the handmade Moroccan feature tile - we can see why! The twin oval mirrors complement them perfectly.

That sounds lovely...
Then came the hard part – choosing a floor and wall tile that would complement it. After numerous conversations and a little light prodding from Adrian at Surface Gallery, we came up with the perfect combination! The tile (Piedra Light Grey) was light enough to use throughout, but with enough detail to provide some movement and interest. It's perfect! And I can't wait until winter to try out the underfloor heating!

Meir matte black tapware features throughout, complimenting the stunning tiles selected from Surface Gallery.
 
And the bathroom tapware you selected?
The tapware was an easy choice as I've worked for years with the team at Meir, who make, without doubt, the most amazing black tapware on the market. Their quality and finish is second to none. And if black isn't your thing, they also have a range of stunning rose gold, chrome and bronze finishes.

Emma selected a free-standing bath mixer - and we just love that pretty floor mat! 
 
And your basins and vanity?
That was the next stop and I had to ensure it complemented my feature tiles. I'd been eyeing off the Slabshaper basins ever since Shelley Craft installed them in her gorgeous Byron Bay home. Their organic Boat Basin had just the right amount of imperfections and thankfully the perfect colour – white! The basins are one of my favourite pieces in the bathroom!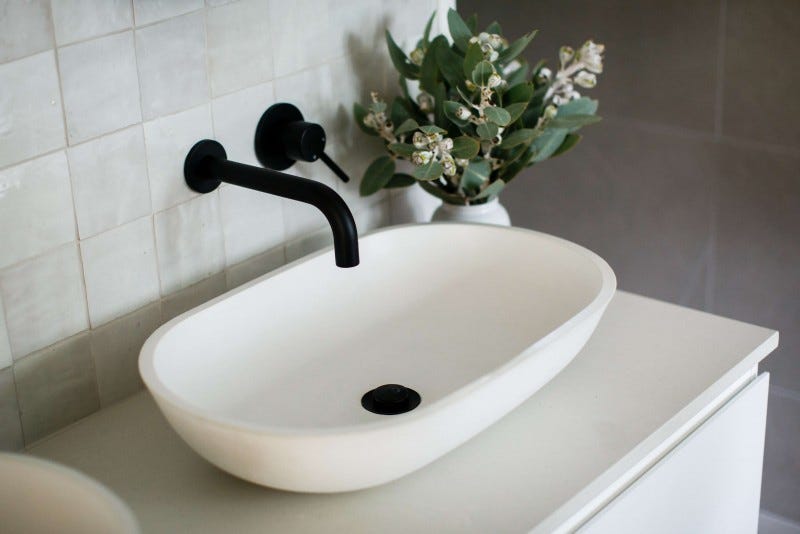 What a clean and refreshing look. The feature tile is a stunning choice especially combined with the fresh white concrete basin.
 
And THAT bath?
I finally had a perfect excuse to have a BIG shopping spree on The Block Shop - where I purchased the stone bath which I'd been eyeing off for years, the striking mirrors and the stunning pendant lights above the bath. Oh and let's not forget the toilet!



We love that Emma styled her stone bath with this ingenious caddy - perfection!
 
Favourite part of the renovation?
Once the big decisions had been made, the fun could begin - choosing the details to bring it all together.  I love my little timber stool, the fab towels from Ziporah and the Bathmate is a winner.

What moroon tiles? An elegant modern bathroom has now been created. Congratulations Emma!
 
Anything you would change?
So, after an absolutely amazing job by the team at Milestone Building, I now have my dream bathroom! Would I change anything? Well maybe - my beautiful white vanity is constantly covered in makeup, no handles = fingermarks!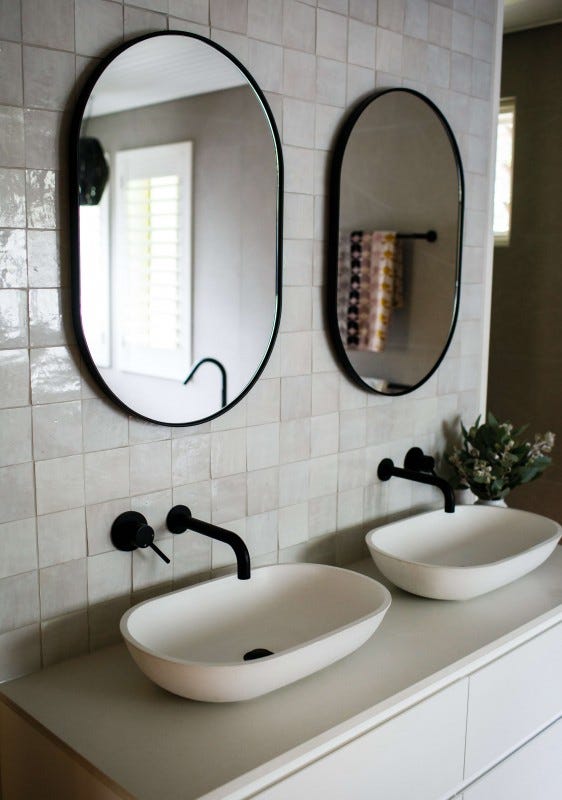 A bathroom that would give any Block contestants a run for their money!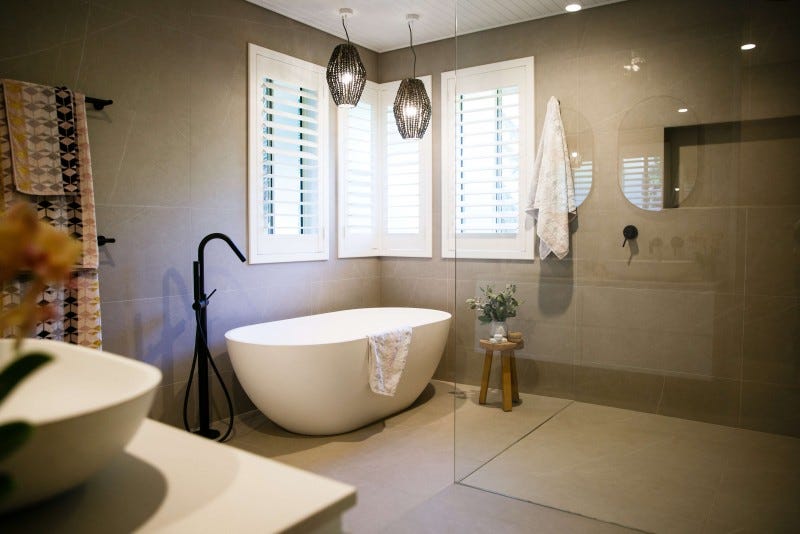 'After' photography credit: Courtney King Photography
 
Supplier List:
Builder: Milestone Building

Tiles - Surface Gallery 
Wall and Floor Tiles: Piedra Light Grey Naturale 898x448x9mm
Feature Tiles: Zelliage Igloo

Tapware - Meir

Basins - Slabshapers

Mirrors - Print Décor

Barrel Pendant Lights - Klaylife

Vanity - Accent Bathrooms

Bath -Nero Stone Bath

Shutters - Shadeco 

Underfloor Heating - Custom Heat 

Toilet - Accent Bathrooms

Towels - Ziporah Lifestyle Fidelis Bath Towels & Tenera Bath Towels 

Vulcan Floor Rug

Circle Top Stool

Bath Caddy

Soaps

Building or renovating your bathroom and laundry? Then this is e-book is for you! 


We've compiled a list of our favourite trends and must-have bathroom inclusions for 2019 HERE
 
Did you like this blog? Subscribe to our newsletter to be the first to receive news from The Block! Subscribe now to receive $20 off your next order.