Everyone loves a luxury super-sized bathroom - we're talking double vanity, his-and-hers shower and a gold bath like the one featured in Sara and Hayden's winning bathroom. But the reality is, most of us have titchy little spaces. Apartments, or older style homes, often have some pretty cosy bathrooms, and often a second bathroom or ensuite is not much bigger than your average economy class airline toilet. Yeah - not ideal.

So it's time to reno! But how to maximise functionality in your small-sized bathroom? Often, the challenge is configuring the toilet and sink to building code, while still allowing enough clearance for a shower, and room for those things we actually NEED every day, like towels, and toilet roll holders - you know, the basics.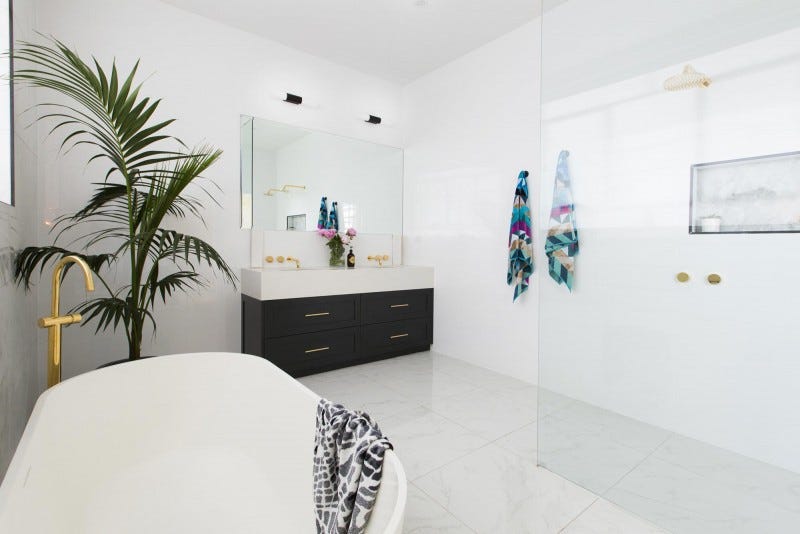 We can but dream to have a bathroom the size of this glamorous one, created by Julia and Sasha on The Block 2016.

In most cases, it's still better to squeeze in an extra bathroom where one is desperately needed, even if it is small. And you CAN make it work. You just need to know how. Read on!

Top 12 tips for redesigning your small bathroom

1. Install a corner sink
Sometimes a pedestal sink can disrupt the only available traffic lane in a bathroom. If this is the case, placing a corner sink across from the toilet works better than one placed across from the shower - the opening and closing of the shower door usually creates an awkward walk-around condition. This is your easy-fix solution.

2. Use a shower curtain
A shower curtain that moves back and forth saves space over a glass door - and it's also bang-on-trend right now. Shower/tub combos work really well in small spaces, with some tubs coming in at 60 inches in length.

3. Float the vanity
Besides visually helping the bathroom appear much bigger, mounting a vanity above the floor also frees up space for small items - tuck them away out of sight.



Deb and Andy helped to create the illusion of space by floating their amazing timber bathroom vanity in their 2019 Block master ensuite.

4. Round the vanity
Tight spaces can make sharp corners a 'hip hazard'. If this might prove to be an issue, rounding the corners of your vanity and opting for a rounded sink is a good way to avoid this. No more bruised hips!

5. Extend the counter over the toilet
This banjo-style arrangement can be done with stone or a wood slab. The extended counter creates just enough space for a few needed items - toilet placement is not affected, and the look is minimalist and clean.


6. Use a large-scale pattern
A large-scale pattern, like this wide stripe subway tile, can trick the eye into seeing an expanded space. The square footage might stay the same, but the bathroom feels a WHOLE lot bigger.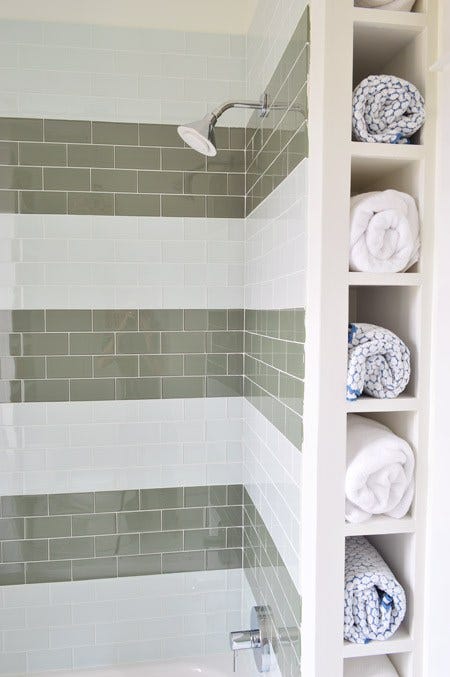 We love the way this interior has used striped subway tiles to create an illusion of light, breezy space. The rolled-up towels in the adjacent storage is also genius! Image via Pinterest.

7. Skip the shower door
If your bathroom is about 5 feet wide, that's just enough space to squeeze in a toilet and a 30-by-60-inch bathtub. With tight conditions like this, consider using a glass panel instead of a glass shower door - it will keep most of the water in the shower and free up some wriggle room.


8. Expand the mirror
In the tightest of spaces, having a mirror stretch across the wall instead of just the vanity can enable two people to use it at once. In less-than-ideal space conditions, every inch helps.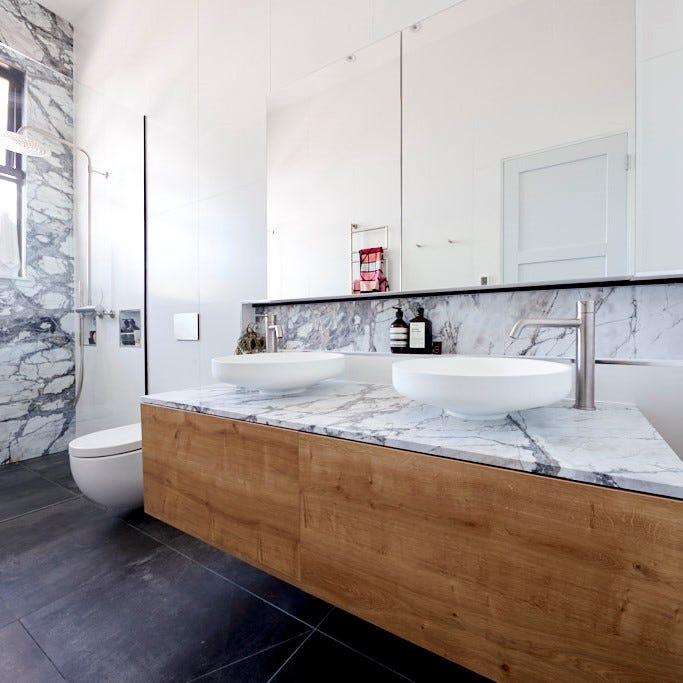 Norm and Jess created a master ensuite at the Gatwick that Neale Whitaker thought was "a small bathroom punching above its weight." We agree - we love it!

9. Mount the towel bar on a door
Where can I put my towels? It's an oft-heard question. When space is at a minimum, mounting a towel bar on the shower door keeps towels handy. You might need to store the bulk of them in a nearby linen closet, but having that one towel close by is essential.


10. Install a trough sink
The narrow, clean styling of a trough sink is a good-looking space solution. Trough sinks have a low profile - when wall-mounted, they free up floor space for storage or foot traffic.


11. Select a vanity with one shelf
Pedestal designs have gotten smarter - choose one with a small shelf to hold towels, or a basket for toilet paper. Folded towels beneath can also look great - but keep them neat.


12. Use a wall-mounted faucet
Mounting a faucet on the wall allows for a narrower sink or vanity, which in turn frees up square footage in the total bathroom. Don't be afraid to try a wall-mounted faucet in traditional design - it works anywhere!


Bianca and Carla utilised a wall-mounted faucet in their penthouse powder room, allowing for a narrow basin. When paired with a large mirror, it worked beautifully to create a larger sense of space.

Test your Block bathroom knowledge by taking this quiz HERE
Shop the 2019 Block contestants rooms HERE

2019's Best Bathroom Trends

The Block 2019 Master Bathroom Reveal Recap

The Block 2019 Master Ensuite Reveal Recap


Did you like this blog? Subscribe to our newsletter to be the first to receive news from The Block! Subscribe now to receive $20 off your next order.