We shine the spotlight on artist Kamilya Lowana White, who's stunning art was featured in House 1 - Kyle and Leslie's kitchen on The Block 2023.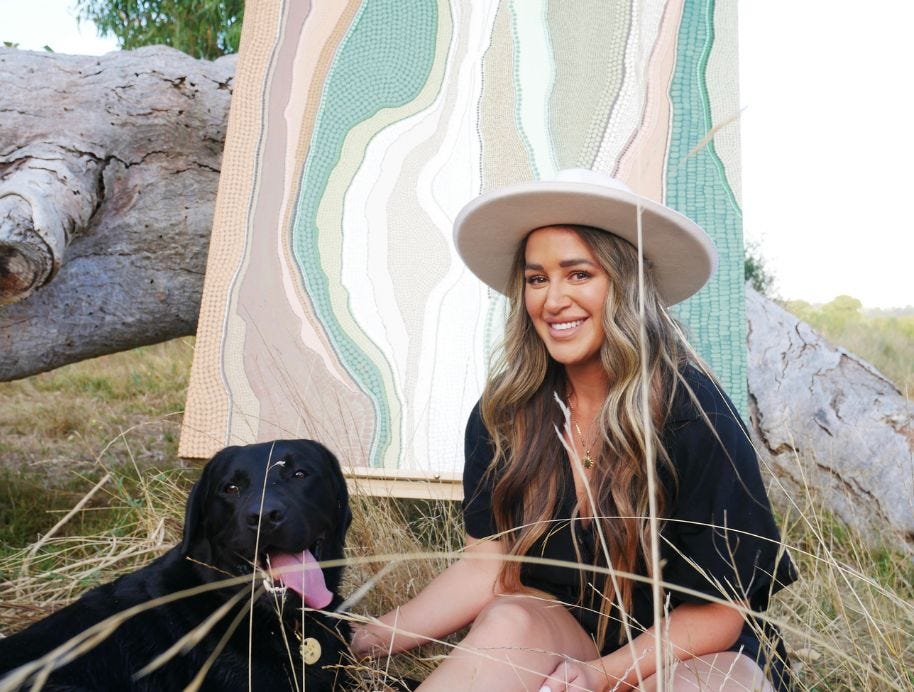 Kamilya Lowana White has had her art feature in House 1, Kyle and Leslie on The Block and it has been an instant success! Kamilya is pictured here with her Black Lab Bali, and is the proud mum of daughter Salty.
Kamilya Lowana White is a proud Aboriginal artist, born, raised and creating artworks in Naarm (Melbourne) on Wurundjeri Country.
Ever since she was a child, she has been passionate about art, and enjoys creating with and exploring a range of techniques and mediums. Stemming from her Kija Bardi heritage on her father's side, Kamilya is particularly interested in creating contemporary Aboriginal paintings, inspired by the land, storytelling and relationships with others, all depicted with a modern twist.
Kamilya finds this specific art style therapeutic and uses it to express and ground herself, while deepening her connection with culture.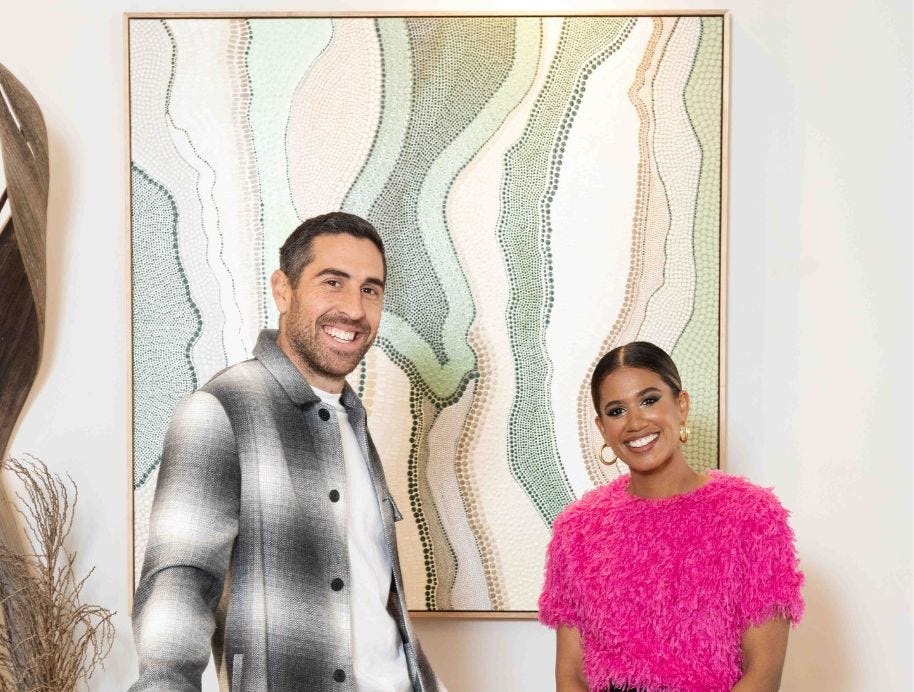 Coastal Yooroorroom, featured in Kyle and Leslie's Kitchen on The Block, is a representation of the native shrubs that link saltwater to land.
It tributes the intersection of these diverse terrains and their overlapping beauty.
Coastal Yooroorroom encourages consideration of the impact we have on our surroundings and highlights the importance of treading lightly and caring for the land, for our actions are etched in Country and will be for years to come beautiful blooms, the sea garden is a place where time stands still and the calm water washes away weary thoughts for those who journey through.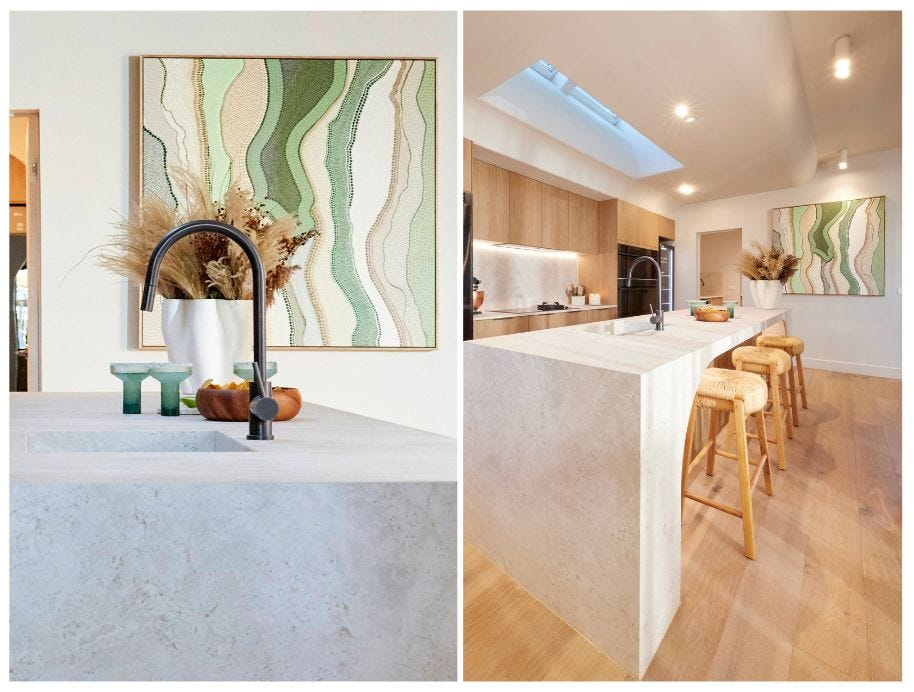 Coastal Yooroorroom was featured on The Block 2023 in House 1, Kyle and Leslie's stunning kitchen. The artwork has literally flown out the door since!
Tell us a bit about yourself…
My name is Kamilya White and I am a proud Kija Bardi woman and contemporary Aboriginal artist.
My Mobs are located within the Kimberly Region of Western Australia but I was born, raised and living in Naarm. I paint under the name Studio Lowana based on my middle name Lowana which means 'girl'.
I live with my fiancé Nick, our beautiful daughter Salty and gorgeous black Labrador Bali.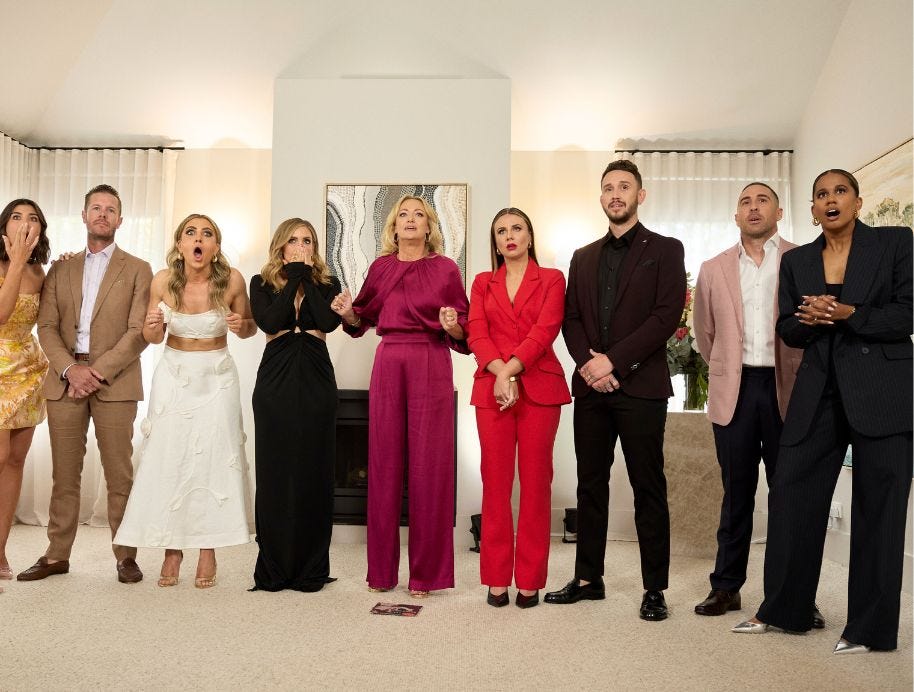 Kamilya's artwork "Warlengem - First Rain Storm" was also featured in The Block 2023's jaw dropping auction as a stunning backdrop.
How long have you been producing your art?
In short, my whole life. My mother in particular has always been a lover of all things arty so together, her and Dad encouraged a sense of creativity in our household.
For as long as I can remember, art has been a passion of mine and although I have tried many different forms, painting has always been my favourite way to express myself and tell stories.
Where do you draw inspiration from?
The world around me – the land, ocean, my family, and our cultures.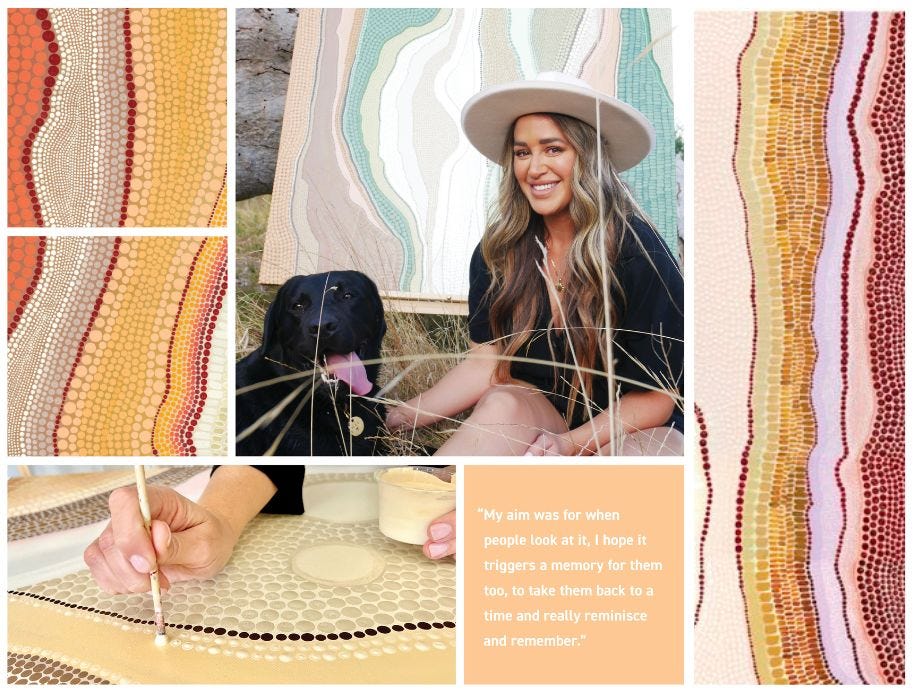 Kamilya says her aim is for when people see her art "it triggers a memory for them too, to take them back to a time and really reminisce and remember"
How would you describe your art?
Contemporary Aboriginal art that is innovative and largely inspired by the land. It often involves mixed painting methods – like spray, stroke and with the use of various tools to create intricate details.
Your art features on The Block this year?
When I was initially approached by Artist Lane, I was thrilled by the possibility of featuring on this year's season of The Block and sharing my art with a wider audience.
Although I had limited notice to create and deliver my works of art, I was driven by this excitement of potentially taking my hobby and small word-of-mouth business to a new level.
I was visiting my parents at the time of receiving a phone call notifying me that my Coastal Yooroorroom piece was selected by House 1 contestants, Kyle and Leslie, so was lovely to share the special moment (and a bottle of champagne) with them.
This initial reaction of complete shock was later experienced again a few weeks later when I heard news that another of my artworks was also selected to feature in Kyle and Leslie's House 1.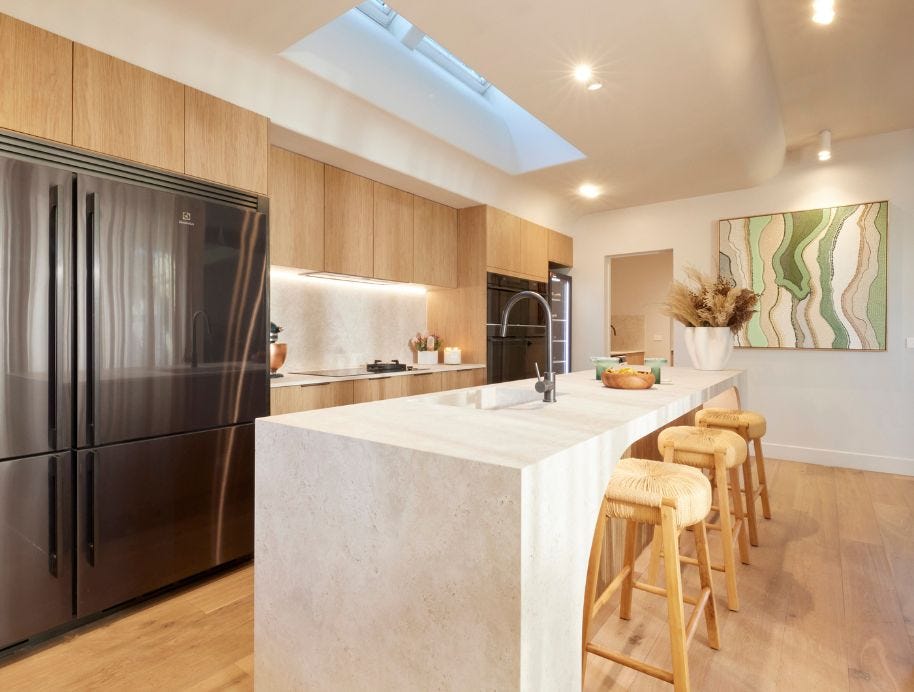 The judges complemented the artwork saying it was "stunning" and praised Kyle and Leslie for subtly working green tones in to their minimalistic- curvalicious kitchen!
What does it mean for you to have your art featured on The Block and be a Block Shop artist?
It honestly means the world. I am honoured to have my work feature on The Block and am incredibly grateful for the opportunity to showcase my art on a national scale, alongside so many artists that I look up to.
It inspires me to continue to create and share my culture and I cannot wait to see where this may take me and my small business.
Favourite Block couple?
I may be biased as they selected my artwork to feature in House 1, but I am cheering on Kyle and Leslie.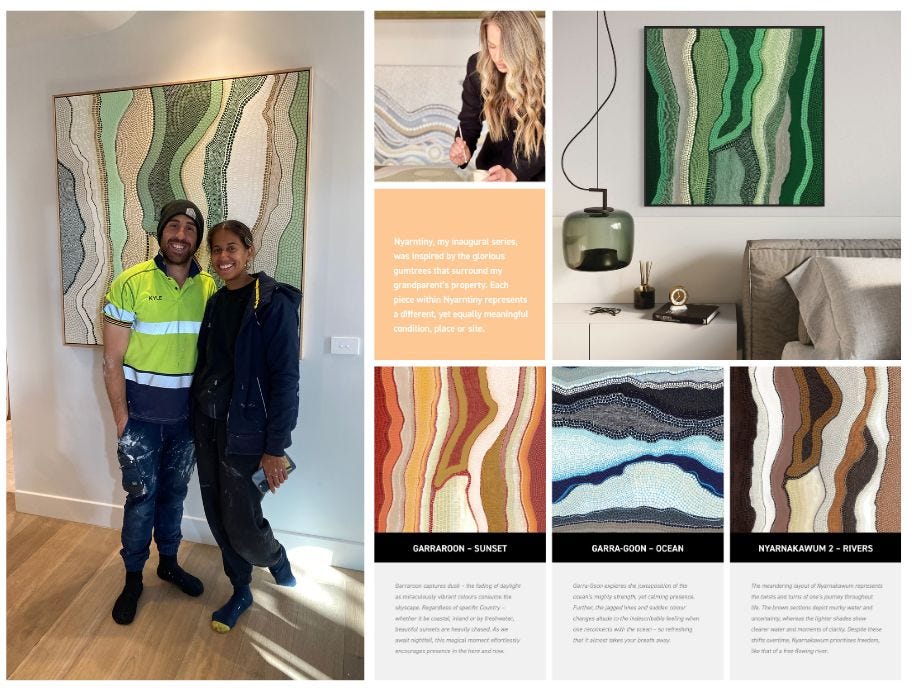 Kamilya's Nyarntiny Series, is her inaugural series, inspired by the gumtrees that surround her grandparents property, each piece within the collection is represents a different, yet equally meaningful place or site.
Are there any particular artists that inspire you?
Yes, absolutely – I am inspired by many, a few of which are named below:
· The Kalkadoon sisters from Cungelella Art @cungelellaart
· Brad Turner @bradturnercreative
· Gumbaynggirr, Dunghutti and Bundjalung mother and daughter duo Miimi & Jiinda @miimiandjiinda
· Ngul Ngul man Lowell Hunter @saltyone
Where do you like to create your art?
I create at home in a well-lit spot with music on, usually with my daughter running around (and sometimes getting involved).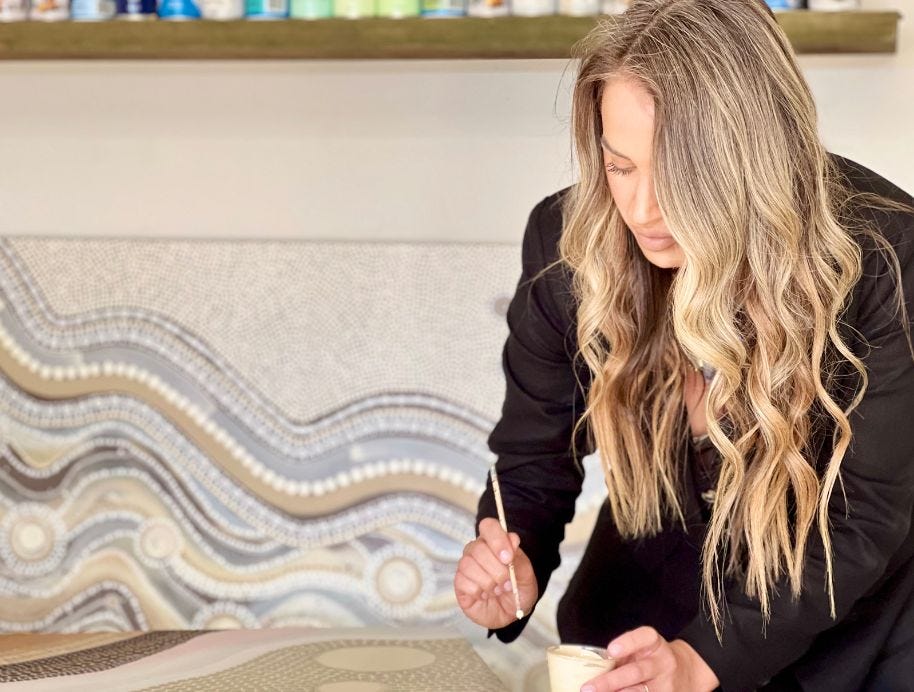 Do you have a playlist / podcast you like to create to?
Not quite – I don't have a specific playlist that helps to get the creativity flowing. I often just find one on Spotify that connects with me and my artwork at the time, which changes day by day.
How do you fit your art around life/kids?/work- Any tips?

My daughter attends childcare twice weekly which usually frees me up to dedicate most of the day to creating and painting. On other days and pending the amount of energy I have (after running around after Salty), I occasionally paint into the night to meet deadlines as needed.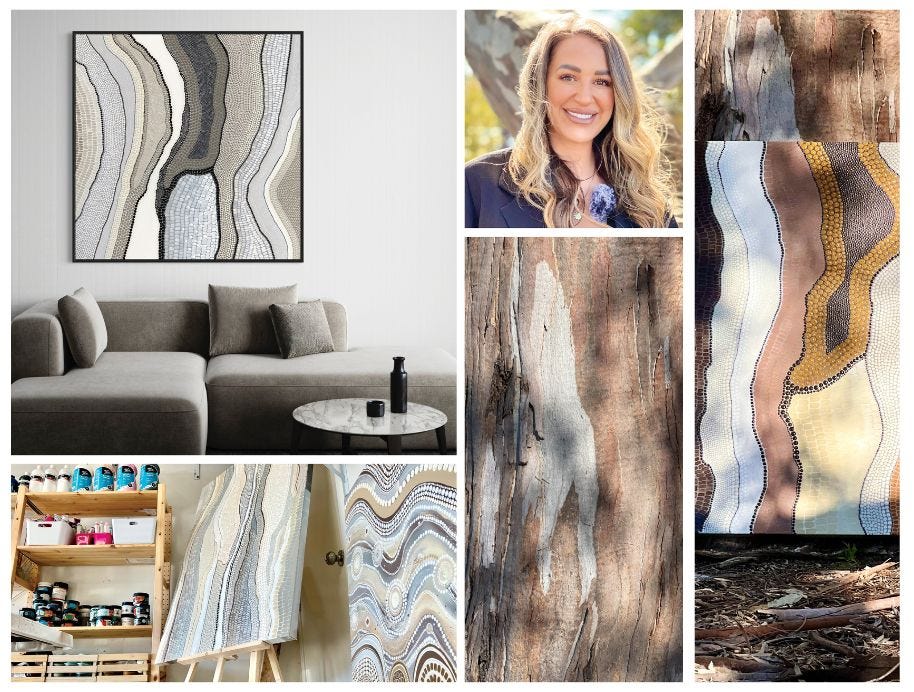 Kamilya's artwork creates a real sense of nostalgia, perfectly portraying the iconic gumtree with it's unique patterns and colouring her artwork is pure perfection.
Favourite holiday destination?

Despite being fortunate enough to travel around the world (which my background as a Flight Attendant and the subsequent staff travel flights helped to facilitate), a trip to Western Australia was the standout.
I am a lover of saltwater as it makes me feel at home and the beaches on the West Coast are indescribably beautiful.
Oldest and/or daggiest thing you have in your house that should be thrown out but you just can't bring yourself to?
I am known to be a very sentimental person, which happens to being a running joke with my family and fiancé. Without pinpointing a specific item, there are many that probably should have been thrown up a long time ago.
Favourite room in the house?
Our living room is easily my favourite room. It is spacious and flooded with natural light, meaning my indoor plants thrive in this space. The living room is a calming space that also happens to be the spot we gather when family and friends visit, so reminds me of many special memories.
If you could renovate one room in your house which would it be?

I would love to renovate my daughter's playroom. It was not initially designed to be a playroom and that is clear when looking at it.
It would be great to make the space more functional and despite her having a built-in swing, more playful. My fiancé is a builder and we have a number of ideas of how we would like to re-design and style it but have not managed to find the time just yet.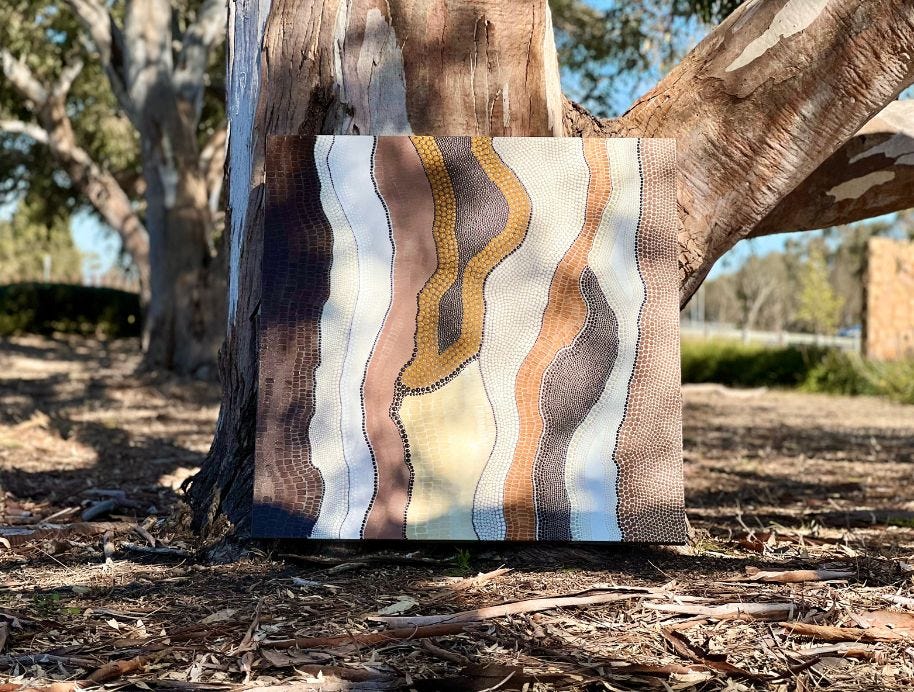 We are so thrilled here at The Block Shop to be able to feature Kamilya's work to The Block audience, the team here are adding to cart as we speak!
Have you built your own house?

Yes, we built our first home and moved in in 2020. Although we love having a place to call ours that we had say in designing and styling, it is not our forever home. We are looking forward to creating a custom build home that better suits our wants and needs, including a spacious and organised painting studio for me to work more efficiently in.
Favourite decor item in the house?

Definitely pillows. When a bed is well-made and the couch tidy, I think fluffed-up and perfectly place cushions provide that homely, finishing touch.
Favourite artwork you own?

It would have to be one of the pieces I painted a couple of years ago. It is a large statement piece that holds prime wallspace in our open kitchen/living room. It represents a personal story of journey as a family.
Most treasured possession (other than kids or partner!)
Another hobby of mine is collecting plants (and trying to keep them alive). Of my plants, my many cacti would have to be my most treasured. I own several different varieties that are planted together in our backyard.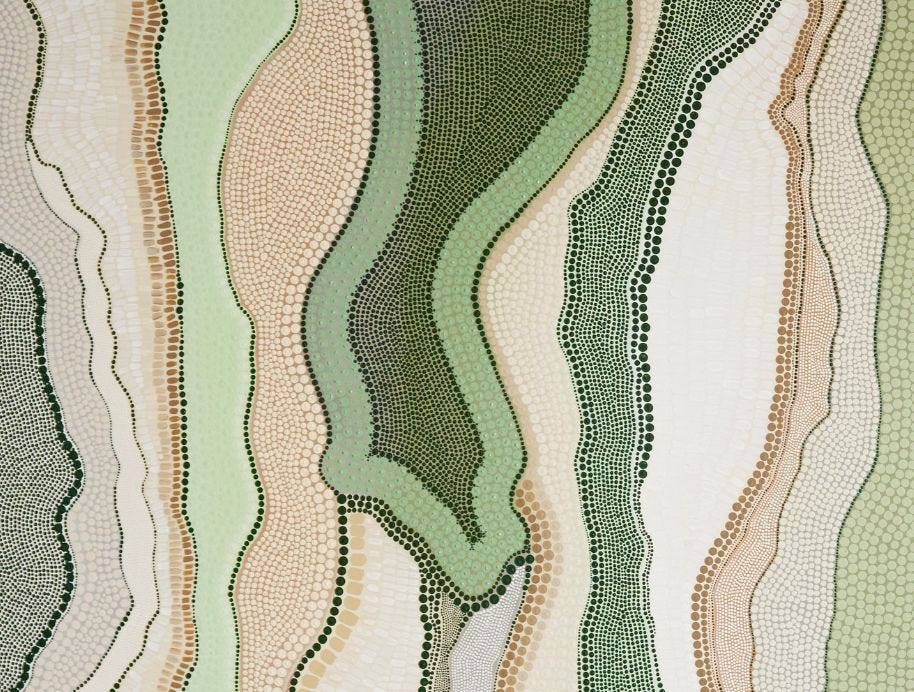 Take a look at The Block's highest selling artwork of the season so far, up close and personal makes you appreciate the hours upon hours that go into Kamilya's art.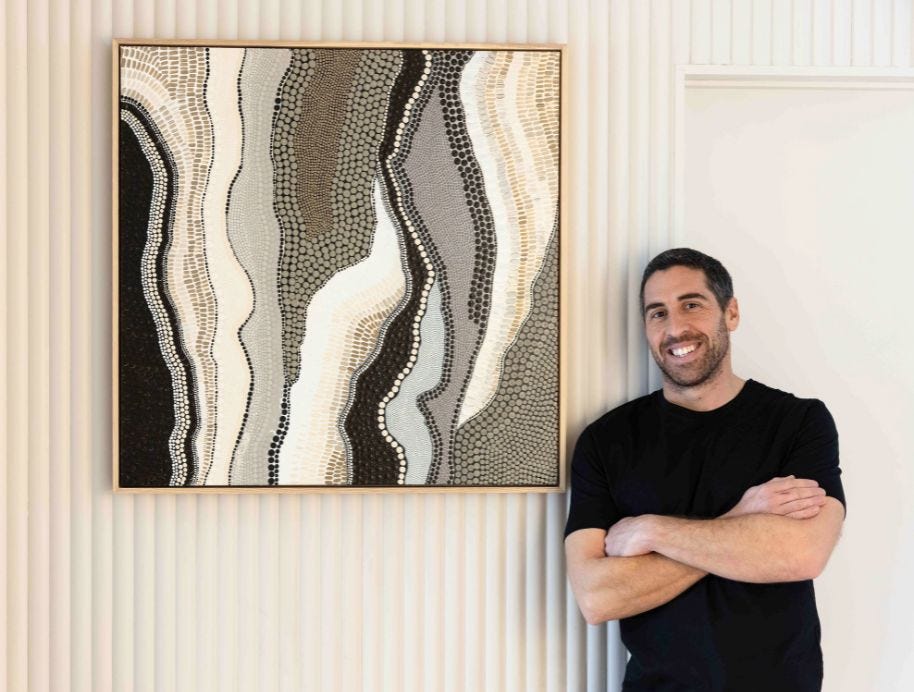 The Block Shop would like to say a huge thank you to Kamilya Lowana White for talking with us, we can't wait to see where her next artwork pops up in House 1.
Considering your next art purchase? Catch up on the latest trends here.
Are you loving Leslie and Kyle's style so far? WE DO! Check what your unique style is here.