Anna Blatman is a regular artist seen in The Block Homes, thanks to her bright and unique style that Blockheads love!
Anna's artwork has been a popular choice again on this season of The Block, Anna's work featured in House 5 Eliza and Liberty's upstairs living area, the girls loved playing with pops of colour and they knew Anna Blatman is an iconic addition to any Block home.
Anna has another collab with Grafico this season which also appeared in Kyle and Leslie's pilates studio.
Last year saw Anna popular with Scott Cam, having featured two pieces in his house and a bathroom which had a Wallpaper collab between Anna and Grafico, another in Sharon and Ankur's Guest Bedroom.
Here we get to speak with Anna and find out more about her and her beautiful artworks.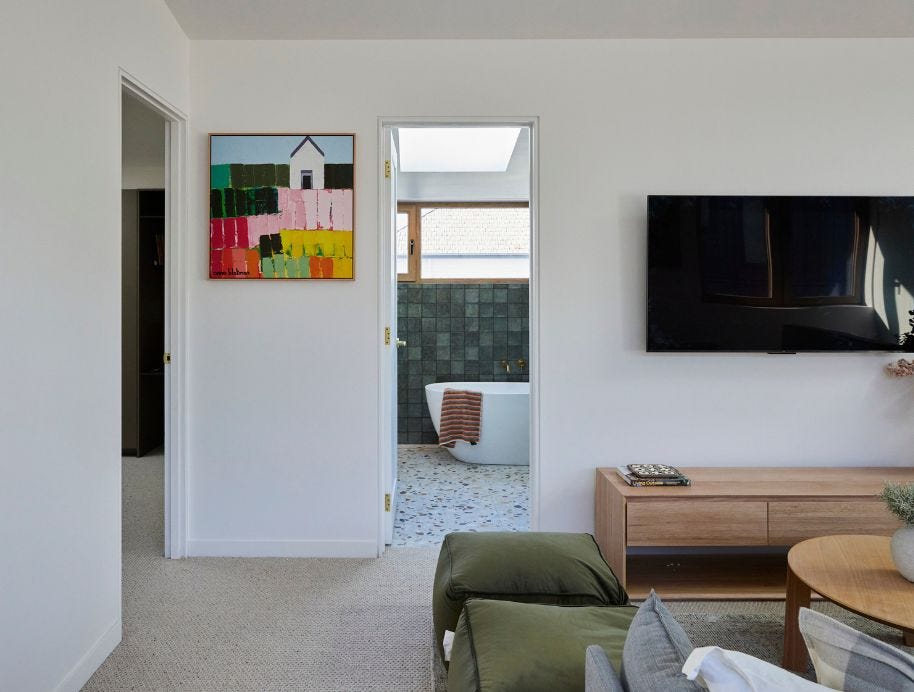 Eliza and Liberty liked adding pops of colour in their house, Anna Blatman artworks were a perfect choice.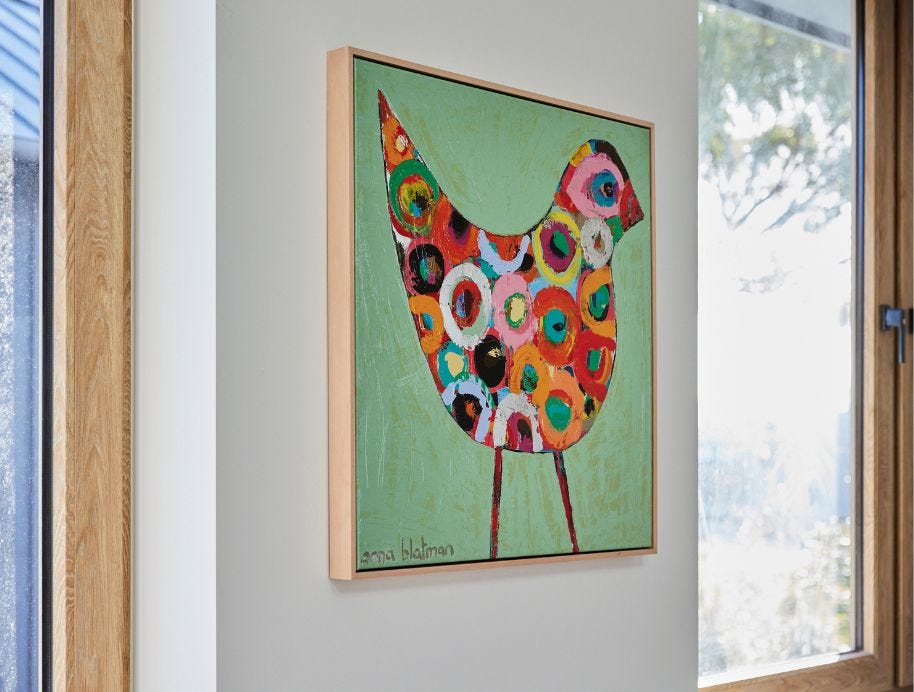 We loved seeing Anna's art "Roy" grace our screens again in House 5 Eliza and Liberty's stunning house.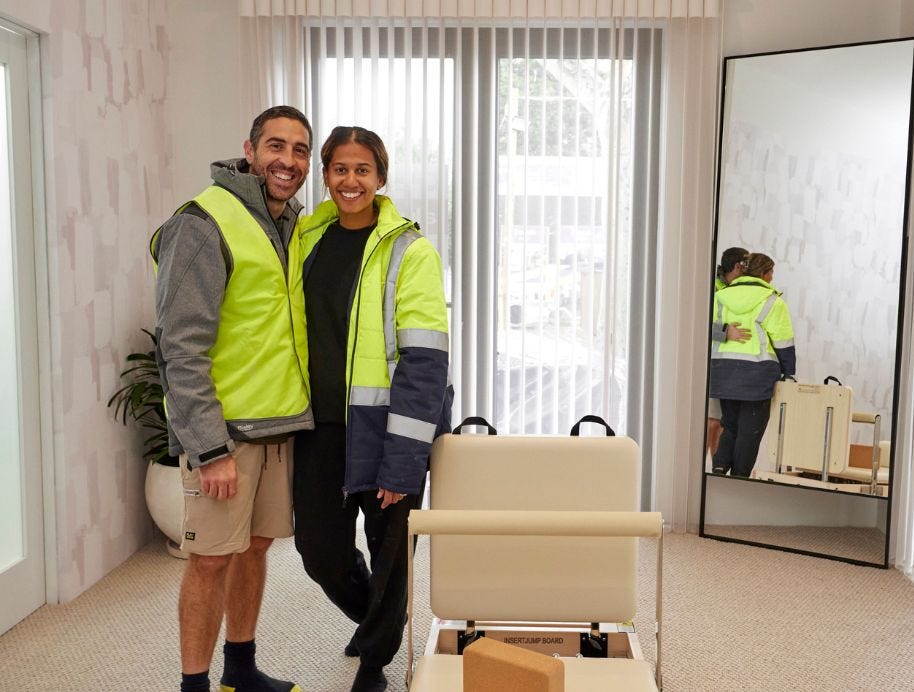 Kyle and Leslie chose Anna Blatman's collab with Grafico to feature in their neutral studio space and pilates room.
The "Kelly" wallpapaer created a perfect warmth in this otherwise neutral room.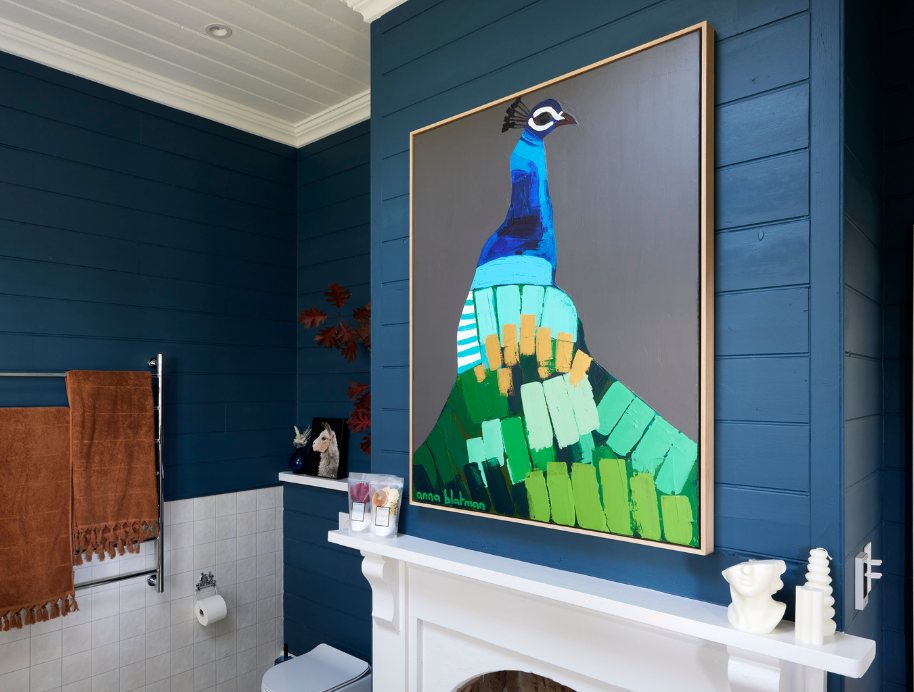 'Cornelius' was featured early on in the series in 2022 in Scott Cam's Master Ensuite and what a striking way to start! The artwork against that striking blue wall, ooh la la!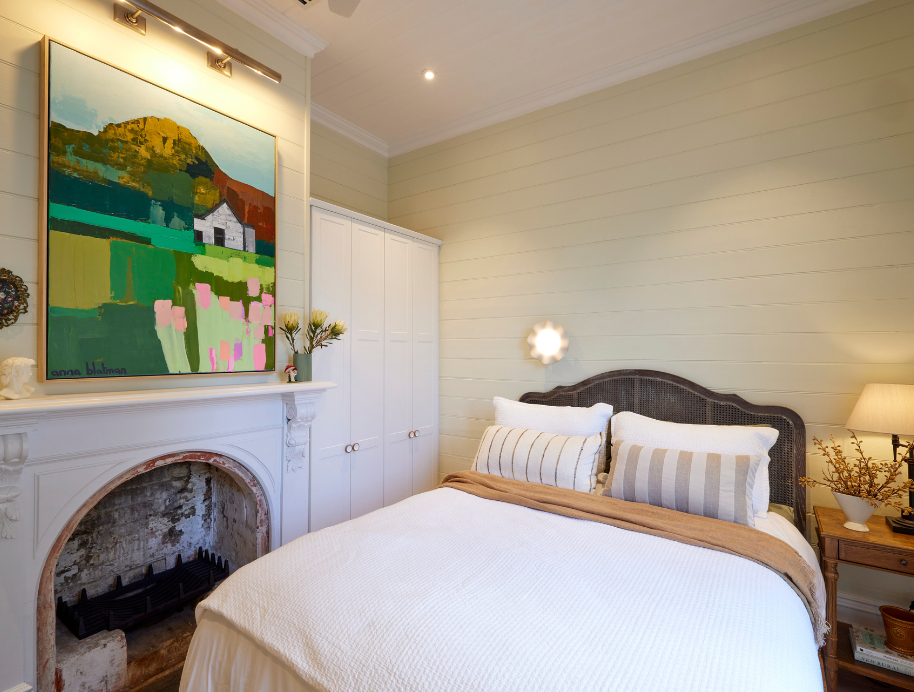 Scott Cam's Guest Bedroom featured 'Hanging Rock' by Anna Blatman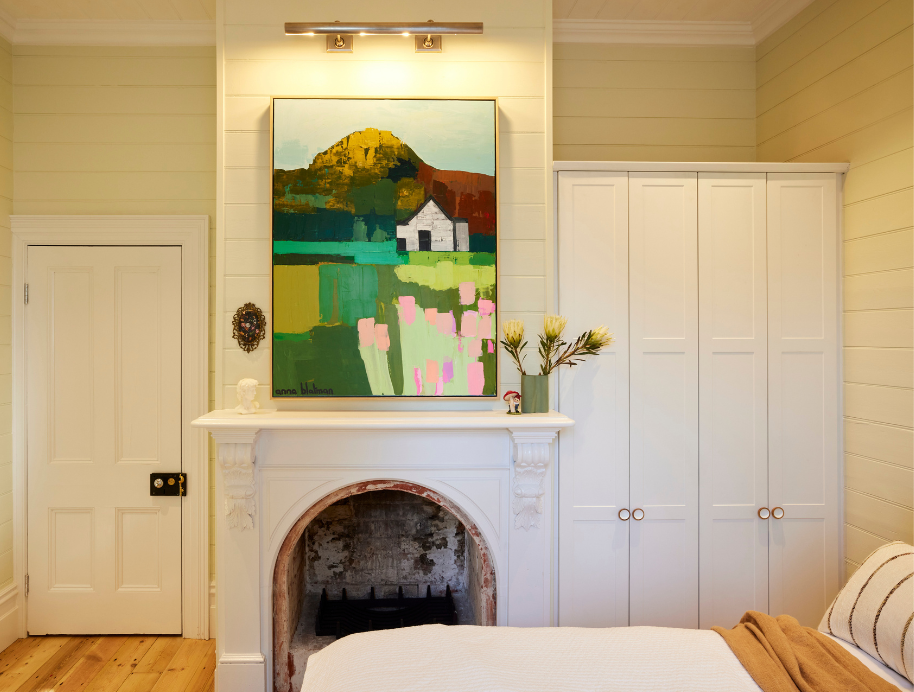 'Hanging Rock' is a distinctive geological formation in central Victoria, Australia. Located a few kilometres north of the Macedon Ranges where The Block 2022 is situated.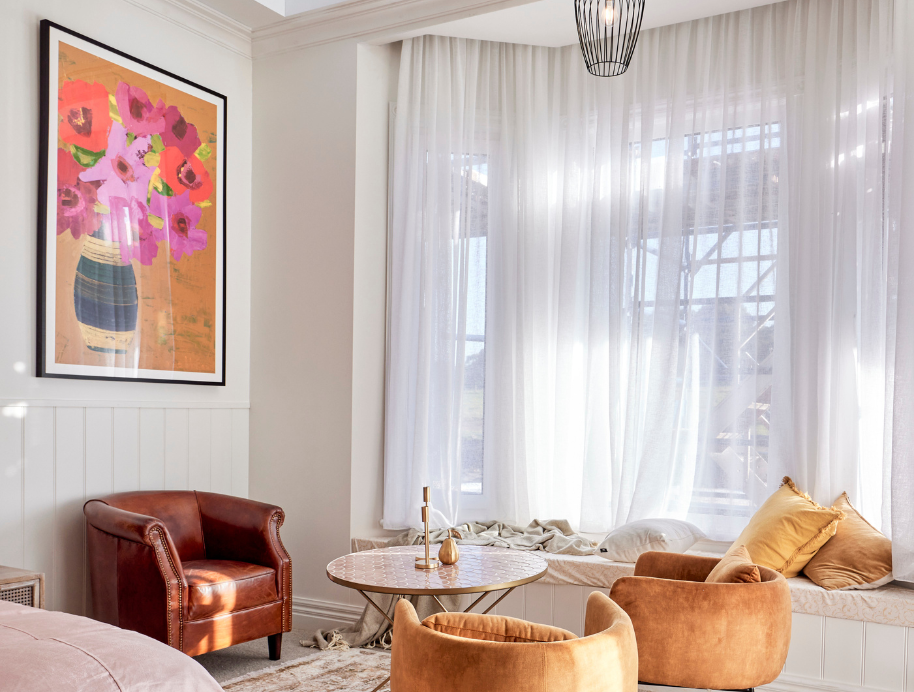 Sharon and Ankur used Anna's Artwork 'Paulina' in their Guest Bedroom.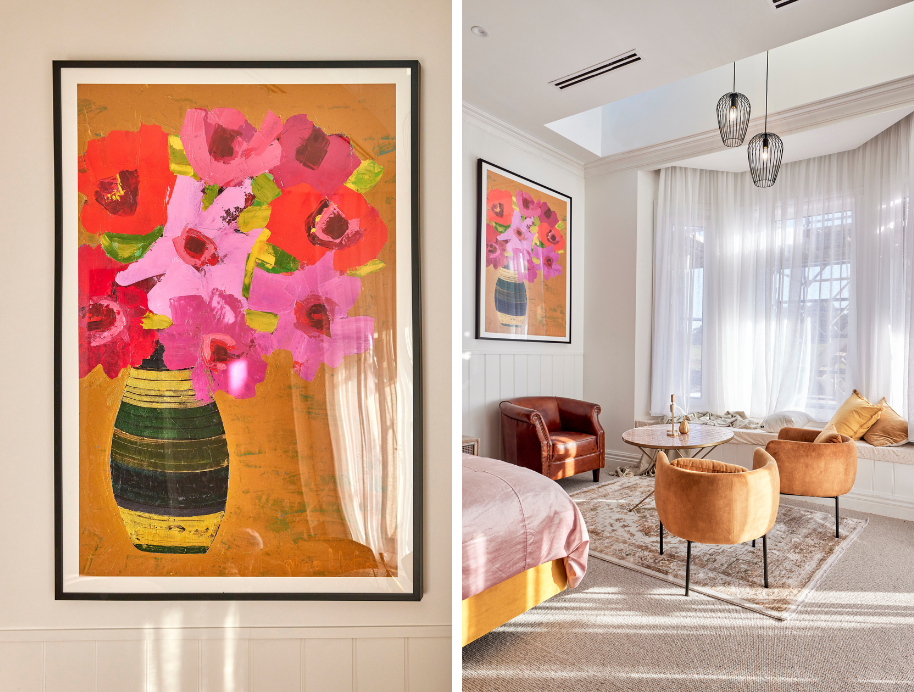 We love 'Paulina' by Anna Blatman, she is the fun girl you need in your life! Pics by @David Cook Photography.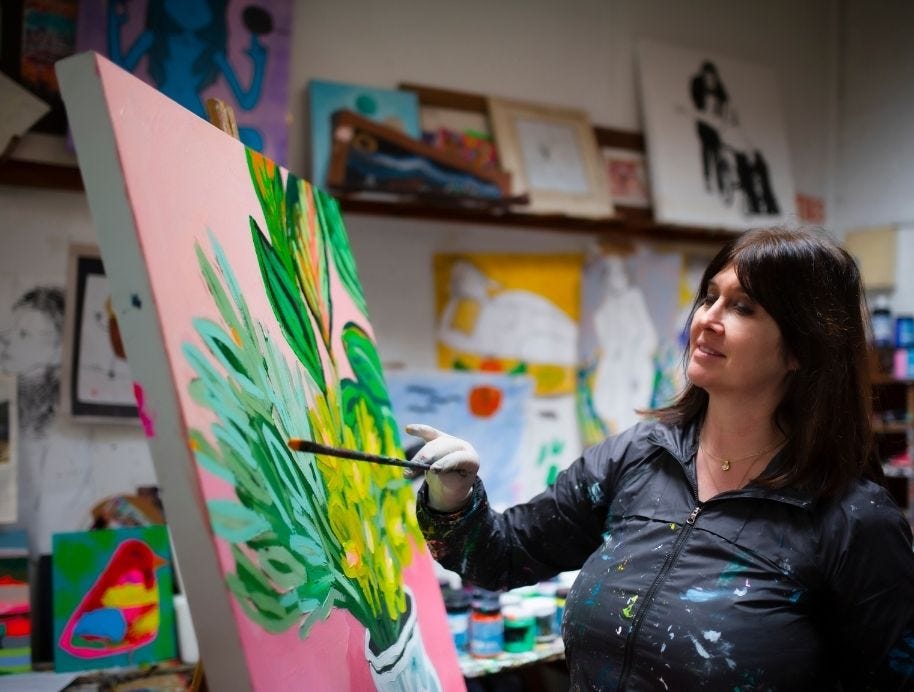 After 30 years of painting, I am very excited to see my artwork hanging on the walls of The Block!


Tell us a bit about yourself…
I always find it hard to describe myself. If I could describe myself in one sentence it would say I'm a positive person who loves everything nature has to offer and I try to get it on the canvas in my own way.


Where do you draw inspiration from?
My inspiration definitely comes from the impressionists and the 60's painters. Van Gogh, Cezanne and Warhol and Rothko .

How long have you been producing your art?
I have been painting for 30 years and yes that's ages but at times I feel like I'm just starting out again. On those days I dig deep to find something positive to paint.


Kirsty and Jesse pictured with Anna's work 'Orange Galore' in their stunning Block Kitchen.


How would you describe your art style?
A modern impression of how I see nature. I've always felt my style leant itself to the general public as I see myself as the average person and if I like it then others will too.

I'm forever grateful that I get to paint six days a week and get to inspire young artists to be free to be creative. I receive weekly emails from art teachers all over the world telling me their students chose my paintings to copy. We all need colour and may your life be full of colour!

Your art features on The Block this year again?
After being on The Block Shop it was exciting to have a print selected by Kirsty and Jesse last year who put my artwork in their kitchen.
I was so excited when I got the call that my work was selected again by multiple contestants in The Block Treechange this year.
The Block is a massive show and many friends and I watch it to get great ideas for interiors. After 30 years of painting, I am very excited to see my artwork hanging on the walls of The Block!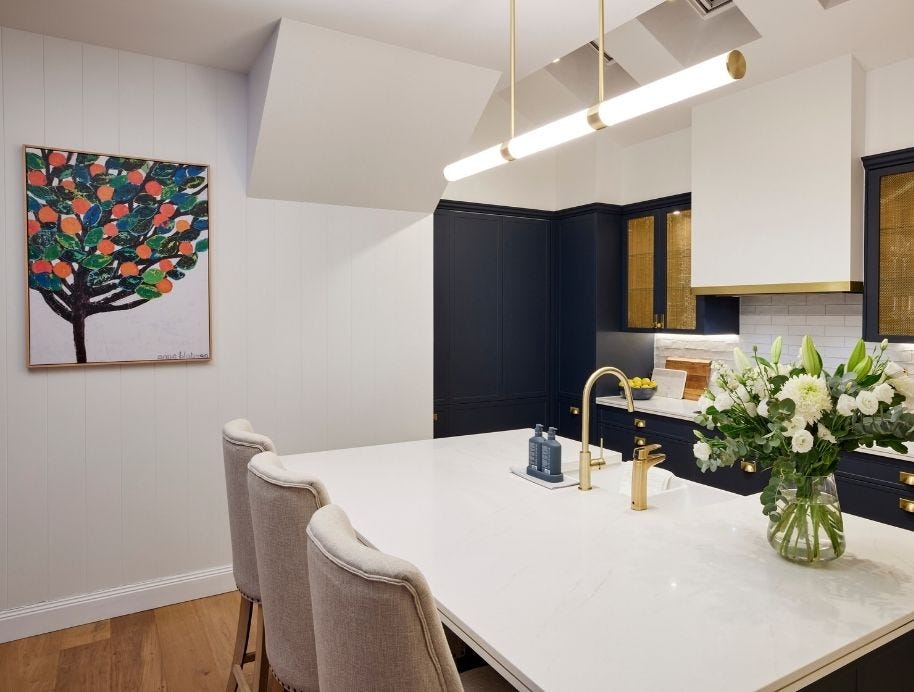 Kirsty and Jesse's country meets Hamptons kitchen took the judges breath away. We think Anna's artwork gave them the win!


What does it mean for you to have your art featured on The Block and be a Block Shop artist?
I'm hoping that more people get to know me and get to see my vibe. In this day and age, there are so many artists so to be selected for one of the rooms was fabulous. I follow Mark and Mitch on Instagram and they are one of my favourite couples. I am actually good friends with the family that owned the Oslo hotel that The Block took over a few seasons ago.

Are there any particular artists that inspire you?
I love artists that produce works that I could never do. I love a good colour combination and appreciate that it's a talent to put colours together.


Where do you like to create your art?
I like to paint in my studio. I'm not for painting on location and I like to listen to podcasts of all my favourite radio shows. I love funny shows and listen to over 5 different ones. I love to laugh while painting. Nothing depressing!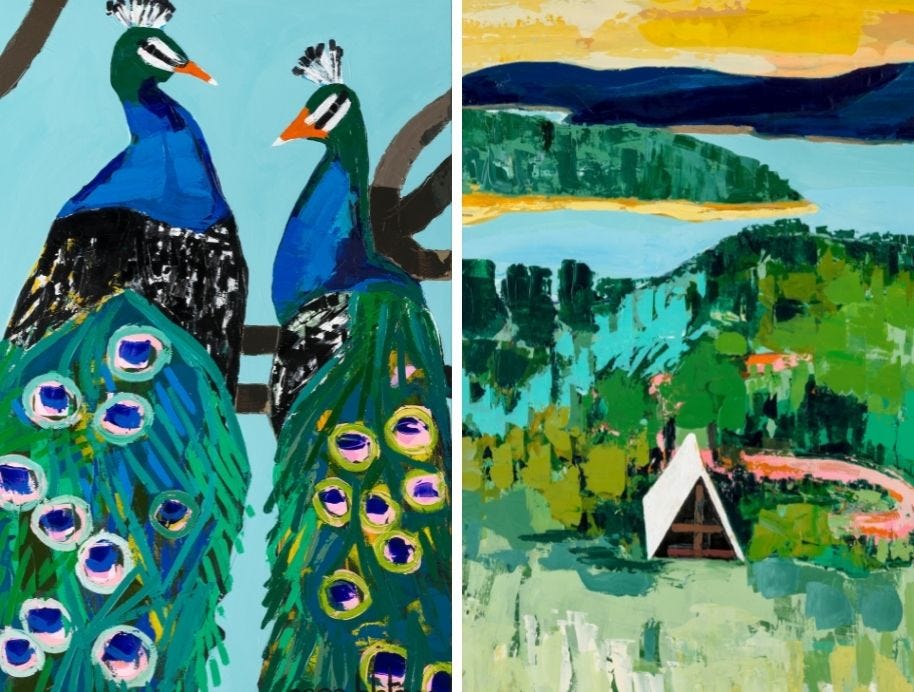 "I'm a positive person who loves everything nature has to offer and I try to get it on the canvas in my own way," Anna tells The Block Shop.


What does a typical day look like for you?
I'm up at 6 am and have two coffee's then head to the studio by 7am where I create until 12 noon. I've had the same hours since day dot. Then I go home and have lunch, a cat nap and then back into my paperwork, ordering supplies, talking to shops I supply and customer enquiries, before cooking dinner and retiring to the couch to relax and play with my dog Jaya.


Favourite holiday destination?
My favourite destination is Noosa or anywhere there is a beach and shops. Noosa offers natural beauty with the national park and great beach. I don't go away often so I need to chill out in a place that offers everything.


Are you based in Melbourne?
Yes, I have a three-bedroom home in Elsternwick. California bungalow and every room has things in it that I love. The most decadent things in my house are MCM House's large mirrors. One in our bedroom and one in the lounge and I bought an Art Deco chaise lounge a few years ago.

"We all need colour and may your life be full of colour," we couldn't agree more!


Any renovations planned?
I would do one bathroom as it hasn't been renovated for at least 35 years but it's still ok for the moment. I would love a pool. That's my dream...


Favourite artwork you own?
I have brought home only 5 paintings in all these years. They are usually ones that I can't part with and I put it out to the universe for them not to be sold. I have two pieces of art that were actually boards that I clip my paper to and they have 14 years of palette knife cleaning and brush strokes. Everyone loves them and the story behind them.


A perfect Sunday afternoon…
Would be a botanical gardens walk with the dog and then maybe a bite out and then rest on the couch and chill and maybe friends over for takeaway if that is ever allowed to happen again!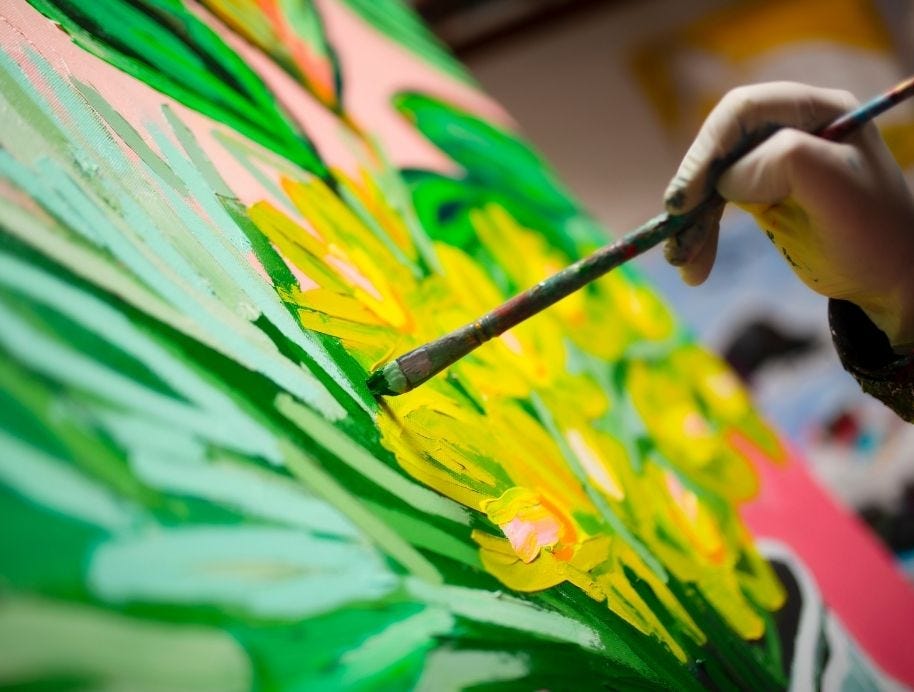 Browse Anna's colourful artworks that are sure to put a smile on your face HERE