Have you checked out Alisa and Lysandra Fraser's gorgeous Instagram account? You should - it's great. And a serious treasure-trove of great renovating advice. We're obsessed! Here, the girls share some of their most popular Insta Advice posts.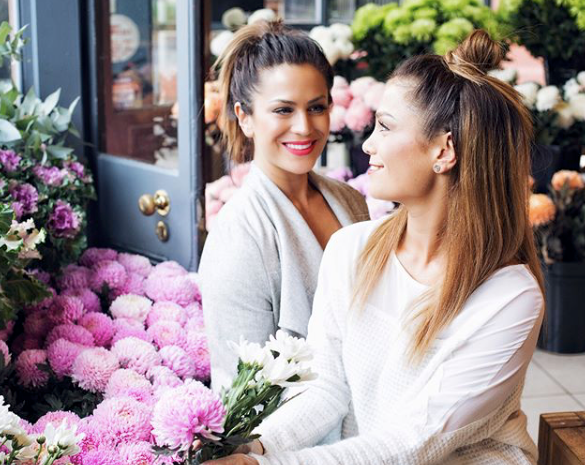 Neutral spaces are serene spaces
You may love colour, but you don't necessarily need to paint your walls with it. You can use a palette of neutral hues or textural wallpaper to create a timeless look that leaves room for pops of colour, which you can bring in with your bed linens, pillows, lighting and other accessories. A neutral palette, such as this one (pictured below) that we created for a client in Adelaide, also works well because you can refresh the look and feel of your bedroom by updating your accessories every season.


Create an illusion of space
Renovating a small bathroom, powder room, or laundry? Give it the illusion of space by going bold with your wall colour, tile or wallpaper selection, just as the super talented Deanne Jolly has done here in her bathroom. Darker hues on your walls in the entire space (not just one feature wall) add a dramatic look and feel that distracts the eye from assessing the size of the room. We love this powder room, which features seagrass wallpaper in muted earthy tones, giving it not only grandeur, but also additional textural appeal.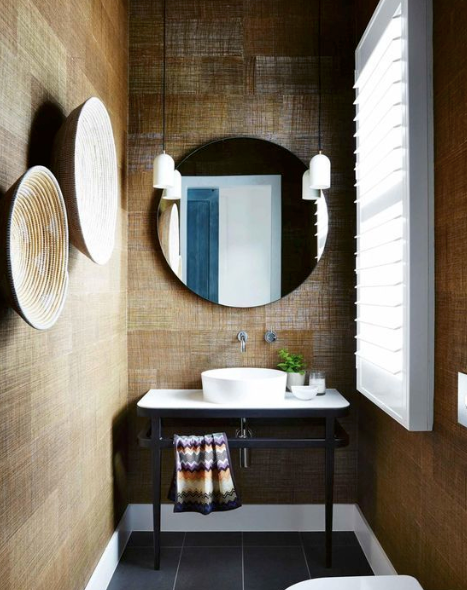 Styled by Dee Jolly & Julia Green. Photographer: Armele Habib
Think outside the box
When it comes to buying the right coffee table, alternative choices can add great visual appeal to your living room. Consider using an oversized ottoman or pouffe, or even a trunk wood-block coffee table like the one we chose for one of our developments in Victoria. Keep it simple, bold and uncluttered!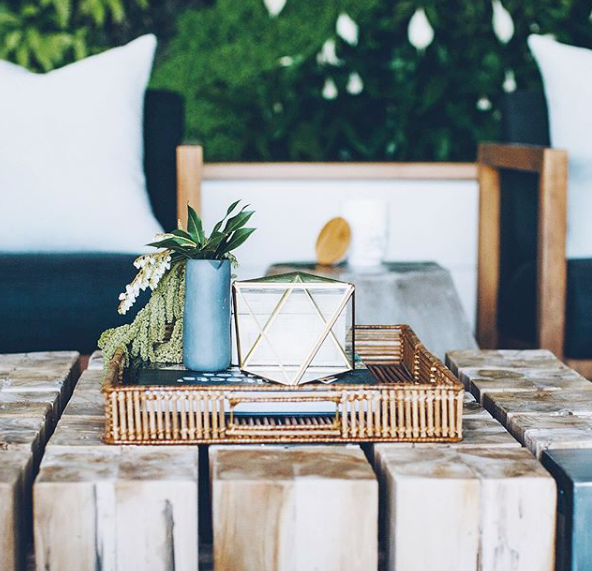 Landscaping is not an after-thought
Renovating for profit? Landscaping should be high on your budget list, and not of a lesser priority. A recent university study found that homeowners achieved 109% on every landscaping dollar spent – higher than any other home improvement. Good landscape design can add 5-11% of additional perceived value to your property, which could make a big difference on auction day.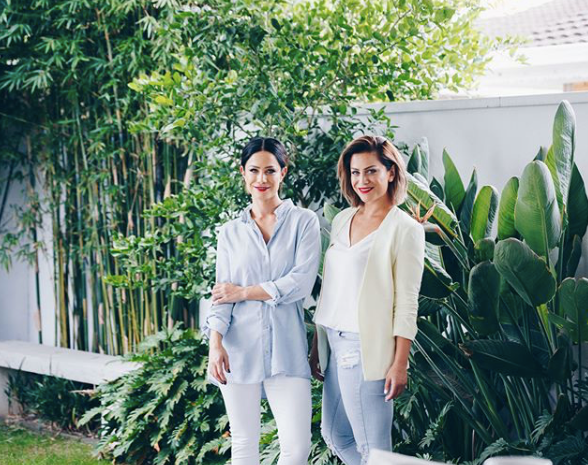 Photo at South Australian Finesse Built property featuring luscious tropical landscaping.
De-clutter your bedside
Your bedside table arrangement is just as important as the decor in the rest of your bedroom. If you've been putting up with a cluttered bedside table that lacks any appeal, make this your next decorating project! Start with tidy up and re-arrangement; you'd be surprised what this will do for your energy. Add good lighting (not too bright) with a proportionate bedside lamp, or a hanging pendant, which will free up more space. Add a touch of nature with fresh flowers or compact green foliage, and some inspirational or grounding elements, such as a beautifully scented soy candle, a semi-precious crystal, and your favourite go-to bedtime read. Then finish off by making it intimate with a framed photo of memories with those you cherish!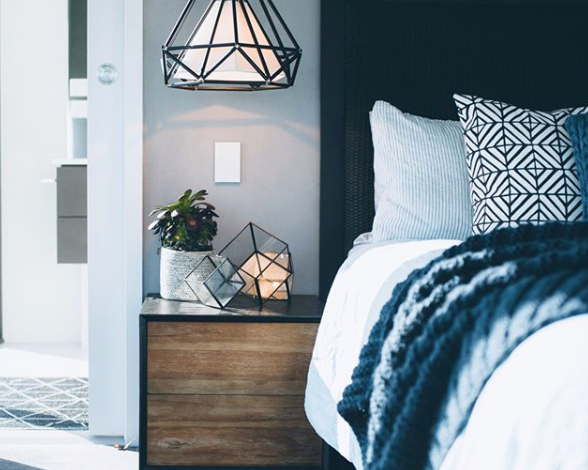 Mirror cabinets in bathrooms work
Here's a design question we get asked very often: "What's more space efficient, vanity drawers or a mirror vanity cabinet?" Whilst drawers are essential in any vanity unit, we cannot go past the organisation that a mirror cabinet provides. The shallow depth shelves mean that you never have to dig deep or look hard enough to locate your cosmetics, and in our experience it keeps a bathroom super-tidy and clutter-free. Whilst a mirror vanity cabinet may cost a little bit more, it's totally worth every dollar you spend!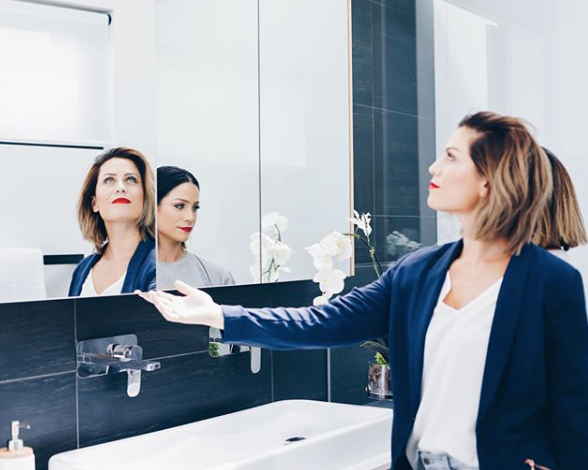 Your hallways shouldn't be forgotten
The most important transitional space in your home is the hallway. It sets the tone for the design of the rest of the main rooms, much like a visual preview of your home. Remember, first impressions count, and so does the amount of light in your hallway. Balance out the energy of this space by toning down a blindingly bright hallway with a darker wallpaper or a feature wall colour like we have done here, and likewise, brighten up a dim and dark hallway with the clever use of mirrors to bring in more light!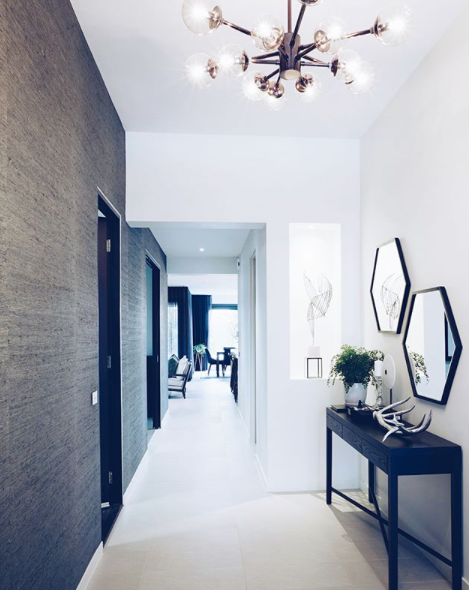 Layer different textures
You can easily create opulence with upholstery and the layering of different fabrics; luscious velvet in jewel tones is trending big this year. Use it for occasional pieces like ottomans, and cushions, or for a bold statement upholster your couch or bed with velvet for the ultimate luxe look!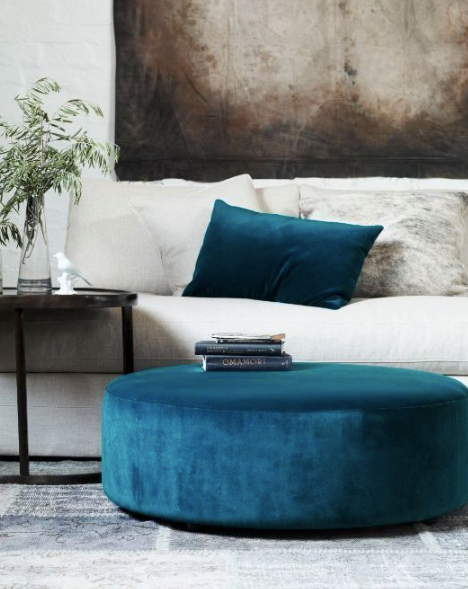 Pick your curtains and blinds early
At what point in a renovation or build should you choose your window coverings? As early as possible! That's why we're working with Luxaflex Australia to make all our selections for our Albert Park project. Renovators who leave this selection to the end often feel that they have to compromise on their window covering selections as they have run out of budget, but this will only see them ending up with buyer's remorse. There is nothing more disheartening than stepping into a home that has been beautifully renovated, only to see no window coverings, or ones that are poorly chosen and do not reflect the value of the home.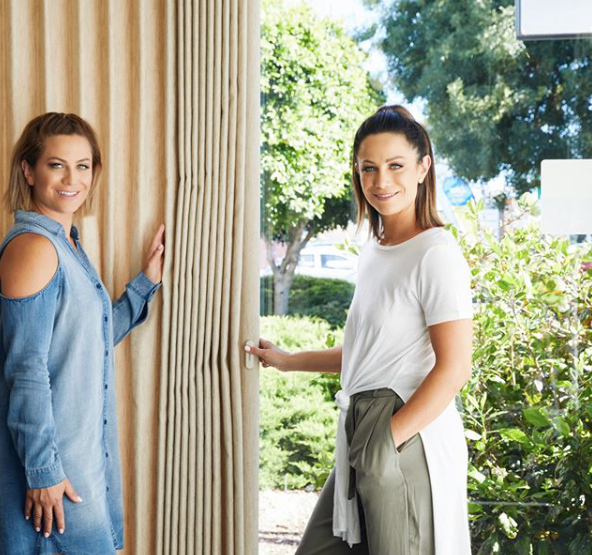 Many thanks to Alisa & Lysandra for allowing Insider Style and The Block Shop to share in all your gorgeous images and valuable insta info!

For more tips follow Alisa & Lysandra on Instagram HERE

Did you like this blog? Subscribe to our newsletter to be the first to receive news from The Block! Subscribe now to receive $20 off your next order.