Scott Cam's Top 5 Tips

Over the years I've seen even our most seasoned Blockheads come undone during bathroom week. Given I've done more than a few bathroom reno's over the years I wanted to share with you 5 things everyone should think about before starting on a bathroom reno…


1. Have all your tradies in place, cause there's a lot of trades involved in a bathroom reno!




Find yourselves some good trades like Tess and Luke with their Block winning builder Matthew from Elevate Building Group.


2. Make sure your waterproofing is 100% waterproof and is authorised by a licensed water-proofer.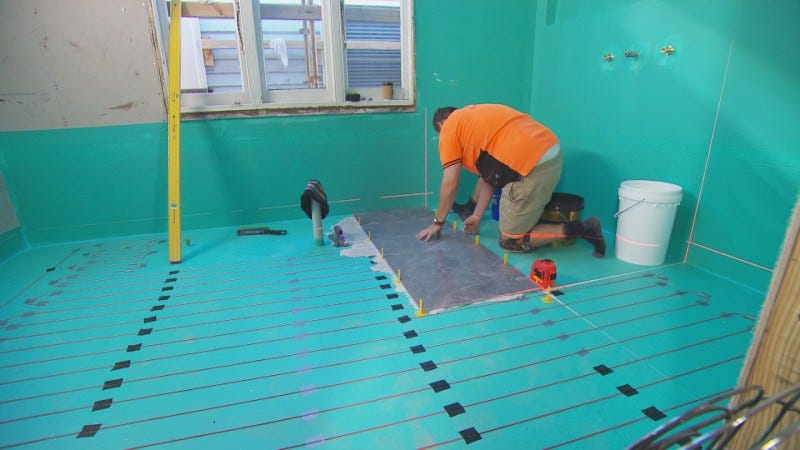 Waterproof Wednesday! It's a thing, right?

3.
Plan your bathroom out well in advance so you know exactly where everything is going and making sure that you've got enough room to sit on the toilet, enough room to swing a cat in the shower.



2019 Block contestant Andy always able to make light of every situation...even bathroom week!
4. Make sure your tradies like your tiler, this is very important. And make sure your tiler has come recommended, as it's very easy to muck up tiling, so make sure your tiler is a good one!


Tip 4 I will repeat its an important one - make sure your tiler has come recommended!

5. And most importantly - WATCH YOUR BUDGET!


Your bathroom is your sanctuary and we can help you freshen up your space with our range of indulgent bathroom accessories and towels. You'll love our range of bath towels, bath mats, basins, bath taps and vanities for your bathroom. Shopping online for bathroom accessories is easy at The Block Shop, an online furniture and home store based in Australia. With great shipping options Australia-wide, it's never been easier to ship bathroom accessories to your door-step.

Did you like this blog? Subscribe to our newsletter to be the first to receive news from The Block! Subscribe now to receive $20 off your next order