Sydney artist Maggi McDonald shares the inspiration behind her "feel good" abstract works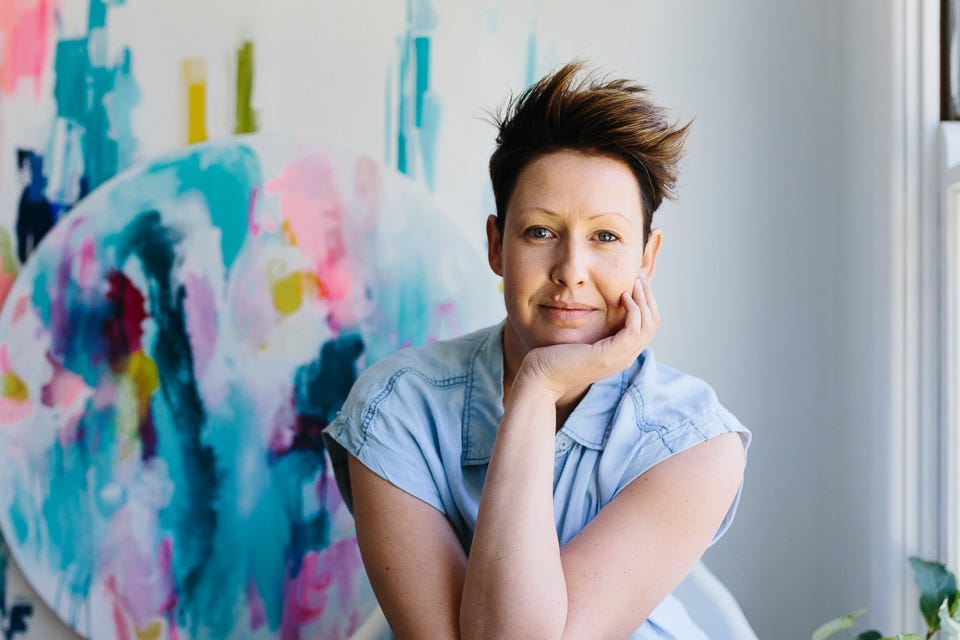 Tell us a little about your background?
I used to work in department store retail, but I went back to school four years ago to study design. I then went on to do my diploma in surface design, basically designing wallpaper and patterns for fabric, and now I paint full time, run workshops and I freelance design patterns.
What made you turn to art again?
I went through some personal trauma and had this 'A-ha moment' that I needed something for myself and needed to do something creative. I grew up in a really creative household, but life takes over and creativity takes a back seat. I decided to go back to school when my son started kindy which was full on, but it was the best thing that I ever did. Maggi McDonald Art & Design was born.
Where do you find your inspiration for a painting?
I'm very inspired by colour. Colours jump out at me from pretty much everywhere. I'm inspired by nature always. I'm a complete beach bum, I love the ocean, so you'll see there are lots of ocean colours in my artworks. It's very abstract, but I'm inspired by colour and the emotions that colours evoke in people. I want my paintings to make people feel good. The colours really speak for themselves.
What goes through your mind when you're looking at a blank canvas?
You know what? Sometimes it's really scary, and other times it's the coolest thing ever. It's just an endless possibility. Most of the time I will have a basic colour palette in my head, but I'll have no idea what it's going to look like at the end of the artwork. It's just following the paint along where it wants to go. I find it's quite mindful. There's not so much thinking about it. It's more about being in the moment and being guided by where the paint wants to go.
What does a typical day look like for you?
I usually start my day with a very strong coffee, then I will do an hour of admin, then school drop off. If I'm lucky I get to go for a little swim in the ocean, and then it depends: I might be dropping off commissioned artwork, making videos for my Instagram or other days it's just painting barefoot in the studio, which are the best days. Then it's school pick-up! It's a never-ending juggle, but it works.
How should someone go about choosing artwork for their home?
It's important to choose something that you absolutely love because it's usually an investment piece. But you don't always have to go with the biggest pieces of art. You can collect smaller pieces and build up a gallery wall.
Tell me about how your involvement with Hannah and Clint and Artist's Lane?
I was already working Artist Lane, who were licensing some of my work, and they asked to do a curated collection with Hannah and Clint which was amazing. It's a really beautiful collection, so that's been fantastic for my business as well.
How do you spend your time when not working?
I like to ride my bike, I've got a beautiful turquoise bike, I'm very proud of it. And I love the beach. If I can be in the water, I'm happy. We tend just to try and have a slow day on Sundays with the family and just recharge for the week.
To see more of Maggi's range of stunning artworks click HERE

Did you like this blog? Subscribe to our newsletter to be the first to receive news from The Block! Subscribe now to receive $20 off your next order.