Get your mind out of the gutter - we're talking about the handle type. Here are our top picks for making sure you get the best hardware for your cabinets, drawers and doors…


It's often overlooked, but don't underestimate the power of a good knob - it can make or break a room. Which is why you need to put some thought into what hardware you're going to finish your cabinetry and doors off with. Here are some handy hints on how to make sure you're choosing the right hook, handle and hardware for your home.


Top tips on how to choose the right hardware for your home


Think about what style you're renovating in
This might seem basic, but when you're renovating, it's important to have this front and centre in your mind when choosing handles and hardware. For example, a heritage look will be out of place in a mid-century home. Likewise, a Scandi-style handle will look just plain odd in older-style Federation homes. Don't be afraid to use Pinterest or Instagram for inspo.



The design of this Kethy Australia Cornet Handle suits different styles fro Shaker, Hamptons to industrial. as seen in Deb and Andy's knock out winning Block kitchen.

Choose your hardware last
When designing cabinets for your home, it's best to consider the hardware LAST. If you do this, you can then adjust your fasteners to the style of cabinetry you're using. Once you've got all your ducks in a row in the rest of your home, you can then go through and choose handles and knobs that are consistent throughout your renovation.
Get to know your doors
Take them out to dinner, buy them flowers - do whatever it takes! Just make sure you are on intimate terms with your doors and drawers BEFORE it's time to purchase your hardware. You're going to want to know your door's thickness, how it swings, it's width, and what holes you have. Ditto for drawers. Take lots of photos on your phone before visiting a store, or heading online.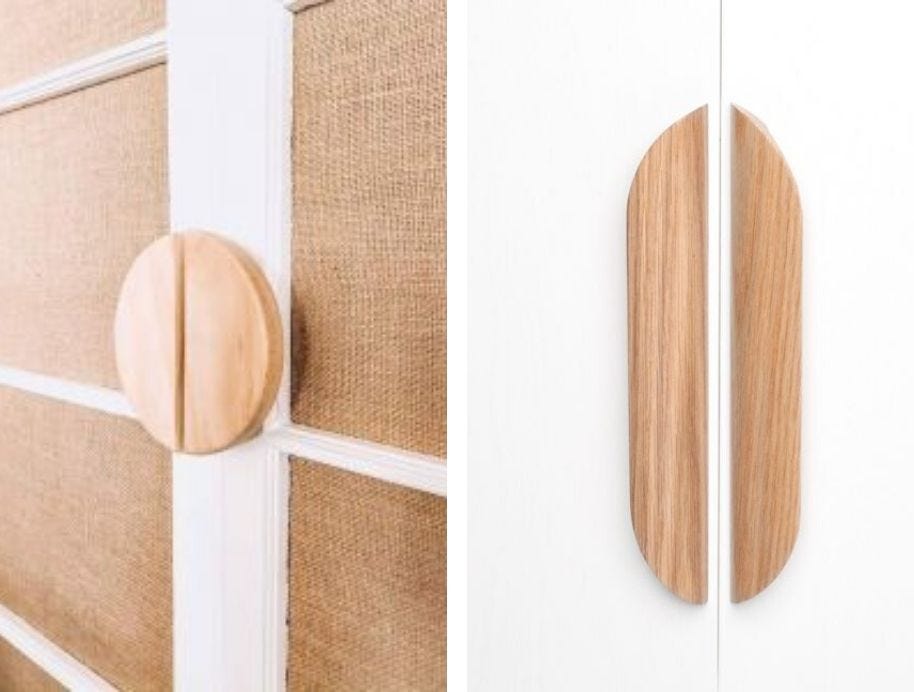 Timber handles are proving a popular choice for 2020! Timber is a stylish way to bring texture and liven up your kitchen, bathroom or laundry or even update a piece of furniture. Shop our most popular handles HERE

Do you need knobs or pulls?
This is an important one. There is a world of difference between a knob and a pull - especially in the kitchen. If you're choosing for drawers, knobs will more than do the trick, but if you're planning a pantry or larger pull-outs, use a pull - it's waaay more comfortable. This is particularly important for drawers that will store pots and pans - they can get pretty heavy, and you don't want your fingers getting too much of a workout each time you go to open them.



El'ise and Matt used black sleek handles in their 2019 Block kitchen.


Curved or square?
This fits with what we were saying earlier with the style of your home - the shape of your cabinetry will determine which style of handle you choose. For example, if you're designing a modern home with lots of sharp, angled edges, then you will want to opt for more angular fasteners. If your renovation or new-build has more rounded corners or a more old-fashioned heritage hark-back, look at continuing that theme with rounded knobs and pulls.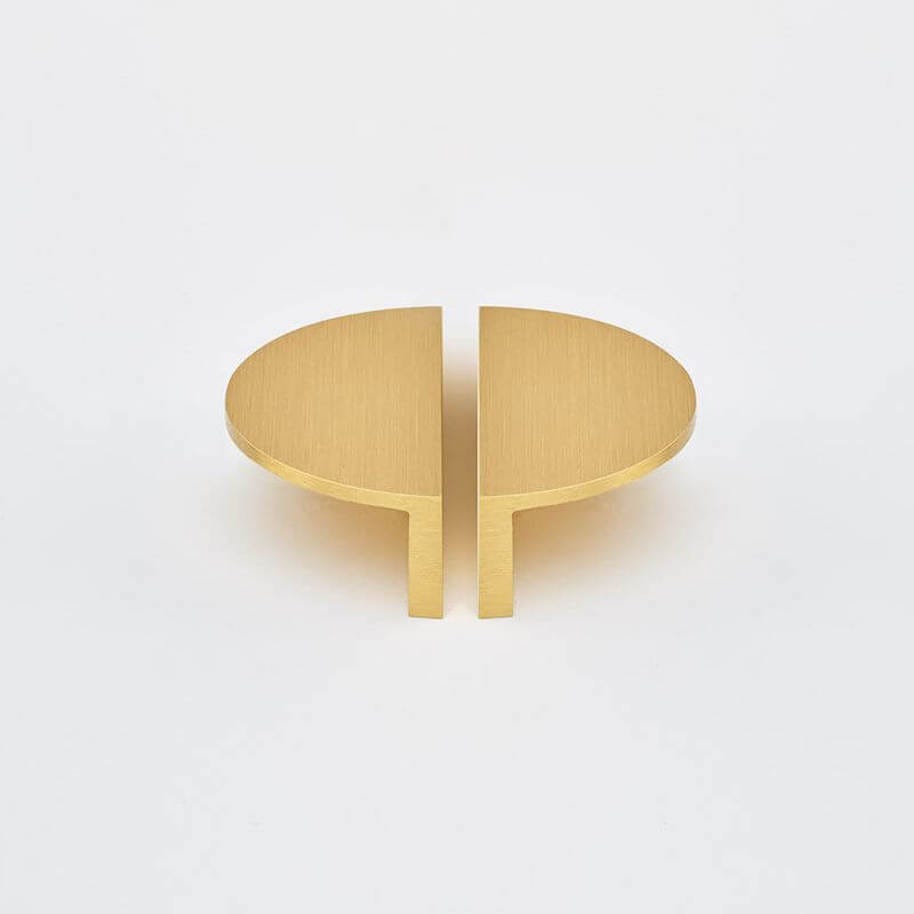 We love this stunning natural brass 'Luna' half moon pull.


Think about your finishes
This is important - especially if you're looking at updating your bathroom. While we're all for the currently on-trend 'eclectic' look, in our humble opinion it doesn't translate well to bathrooms. In these spaces, it's always best to try to match your tapware and towel rails to your drawer pulls - having matte black fittings and brass knobs will look just plain wrong.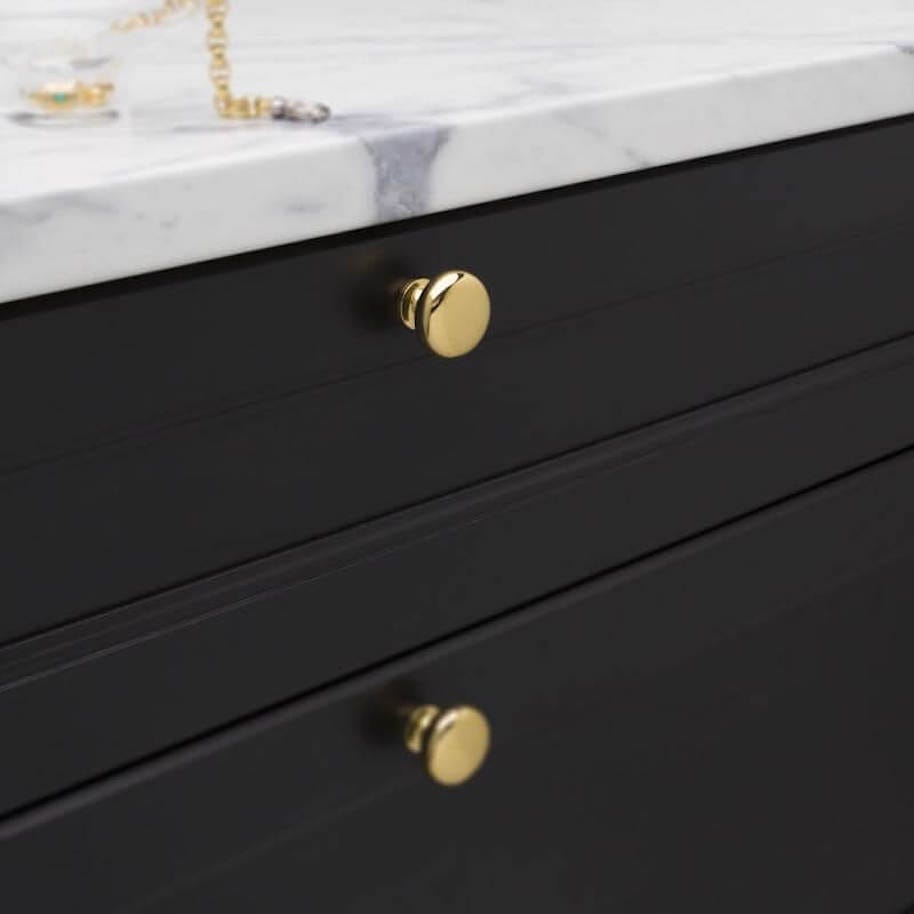 Made of solid brass, the mushroom knob is a simple and stylish way to update your kitchen or bathroom vanity with this year's metal trend.

Opt for comfort
We can't stress this enough - comfort, comfort, comfort! Especially in high-use areas, like kitchens. Sure, those angled Scandi-style drawer pulls might look terrific, but how do they FEEL on your hands? And how happy are you going to be about poking yourself in the hip every time you brush past them while cooking? Yep - remember to think about function over form ALWAYS when choosing your hooks, handles and knobs.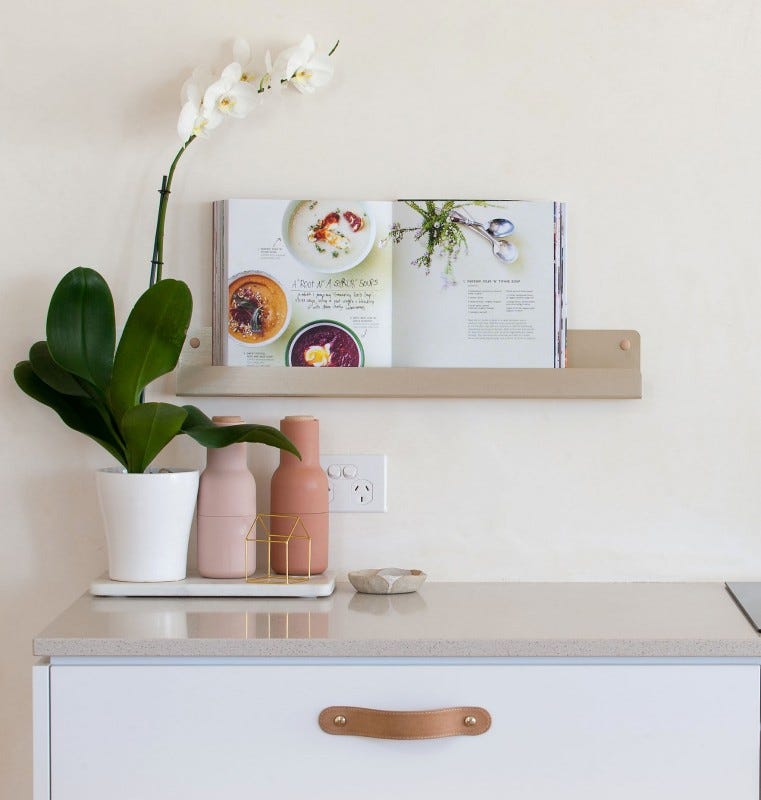 This gorgeous suede leather handle is a unique addition to any form of cabinetry.


Order a few extras
Whatever you choose, make sure you always order a few extra - because: life. Sometimes a screw might break, or a finish will rub back, so it's always great to have some in reserve. We can't tell you how many times we've gone to replace something and found they're no longer in stock! Having a few extra lying around is also great if you purchase something from Ikea or Kmart and want to make it fit better with the other objects in a room. Consider changing the knobs on those ubiquitous cube drawers - trust us, it makes a world of difference.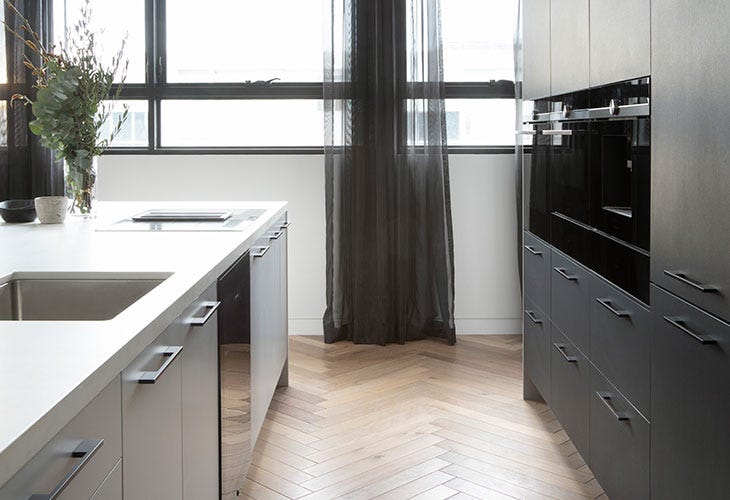 Bianca and Carla selected an elegant handle in their stunning penthouse.


Want to avoid handles altogether? Do so at your peril!
Touch catch or push-to-open drawers and cabinets are a great option if you're opting for a sleek, minimalist look in your home. But buyer beware - although it might look sensational in your kitchen, be careful about placement. The last thing you want is drawers popping open when you lean against them to prep food or cook. In these cases, invisible handles, or integrated handles along the profile of the cabinetry prove a much better option.

The Block Shop has a huge curated selection of hardware for all your cabinetry needs HERE

For further inspiration view the revealed Block bathroom & kitchens HERE
Tips for selecting a bathroom vanity HERE