This year, interior design trends are changing and it seems that these changes are coming at an even faster pace to Australia than they have ever before. If you're planning to update your home for 2017, there are trends to adopt and to avoid. Our friends at Black Mango have listed the 6 interior design trends that you want to look out for.
1. Matte Finishes
When it comes to kitchen appliances, the new look for the kitchen is decidedly matte. Forget about brushed metal and surface sheen and go for finishes that are matte for a bold, yet unexpected look. These finishes really add depth to the overall look of your kitchen and are ideal for contrasting with the other interior design elements that you'll find in this room.
2. Jewel Tones
Forget about beige. The new look for walls in 2017 will be purely bold colours. If you want to make your home on trend, opt for deep jewel tones like amethyst, jade, and sapphire. These colours are also awesome choices for accessory options and you can feature them in throw pillows for the sofa or as linens for the bed.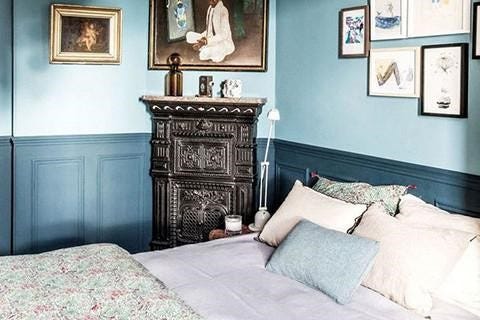 3. Cork
Interior designers are finding new and interesting ways to use cork in a home. Not only is it a stylish material, it is also an option that will add warmth and texture to your space. Instead of using it the old way as a message board, these days, cork is being used to clad entire walls. It also serves a dual function allowing you to pin notes to the wall as needed. This is a perfect solution for helping you to get organised in your home office or for a child's bedroom.
The trend for 2017 is bedrooms with drama and the bedhead is the ideal piece of furniture to create that ambience. As 2017 continues, expect to see more upholstered bedheads in a wide variety of colours. Tufted bedheads are an ideal option that adds glamour and style to your bedroom.
Tropical prints have been everywhere on the fashion runways and this trend also extends to the home. Adding tropical prints as wallpaper and upholstery fabrics is in for 2017. If you don't want to feature this type of bold pattern everywhere in your home, a simple throw pillow for the sofa will do. You can always buy a sofa in a neutral colour and then spice it up with throw pillows in bold patterns.
Adding portable lighting in your home is a great way to show off your sense of style. Using portable lighting makes it easy to change design options as you see fit. Brick lamps and concrete pendant lamps are interesting options to install in your home and will add flare to your space. When it comes to lighting choices in 2017, you can expect to see more careful choices rather than just basic lighting.
If you are looking to outfit your home with the latest interior décor trends 2017, check out Black Mangos unique furniture collection. From chic to casual, we offer an array of options to suit your unique tastes and functional needs.
Did you like this blog? Subscribe to our newsletter to be the first to receive news from The Block! And subscribe now to receive $20 off your next order.